Winged Migration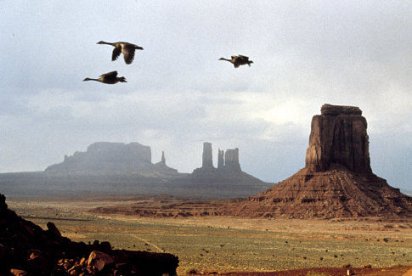 You know who loved this movie? My cats. They are not TV-watchers by nature, but both of them were entranced for at least twenty minutes by the screen when I played this DVD last night. They have short attention spans so they eventually gave up on it, but they both watched it much longer than they've ever sat through anything on Animal Planet.
You know who else loved this movie? I did, despite my somewhat irrational fear of birds. Everyone's got their phobias, I suppose, and this is mine.
For the documentary
Winged Migration (Le Peuple Migrateur)
, producer Jacques Perrin, three directors, five film crews, and dozens of camera operators followed the migratory patterns of birds on all seven continents for four years, in many cases working with imprinted flocks that allowed the crew to fly ultralight planes right alongside the birds. The result is a breathtaking visual spectacle that is at once thrilling, dramatic, funny, tragic, and at times (for me, at least) a little bit frightening.
Copywright
reviewed this film
way back in July and gave it the high praise it deserves. There is little else I can do but agree whole-heartedly with that praise, particularly the descriptions of the photography.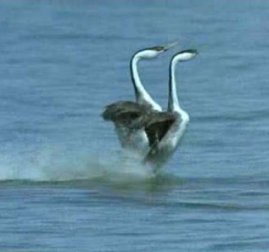 Some highlights for me:
* The poetic ballet of the red-crowned cranes, as they preen and dance in almost perfectly choreographed synchronicity.
* The antics of the Clark's Grebe on a pond in Oregon, as they swim contentedly along and then suddenly rise up and run across the top of the water.
* A flock of Canada Geese, on their way north for the summer, fly alongside some cowboys marshalling a herd of wild horses through the American Southwest.
* A small bird with a broken wing, left behind by its mates, struggles to escape a crowd of hungry crabs alongside a deserted seashore.
* The sky is nearly blotted out by the sudden whoosh of thousands of sandhill cranes taking to the air (by far the most frightening spectacle for the bird-o-phobic).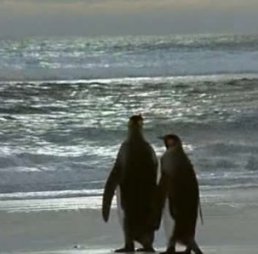 If I have any criticism of the film at all, it's that the slight storyline applied as framework (a vague theme of "the promise to return") doesn't really work, or at least isn't all that compelling. The closest it comes to working is in bookended scenes of storks migrating through a farmyard. At the beginning of the film, a woman comes out of the farmhouse and tries to get near enough to them to feed them, but they get spooked and fly away. By the end of the film, she literally has them eating out of her hand. It's a nice pair of images, but it feels too staged.
But that's a small nitpick for a film that isn't really supposed to be telling a story in the first place. It is rather a celebration of birds in flight (or in waddle, in the case of the flightless penguins), as close to their majestic surroundings as possible. Wild Kingdom it ain't.
My only regret is that I didn't see it on the big screen when I had the chance. The DVD includes a making-of featurette, but I kind of wish I hadn't watched it. It's like having a magician reveal his secrets -- sometimes it's better to keep the magic intact and wonder.