Joker Recommends
-Top 20 List
-House of Flying Daggers
-The Aviator
-Bad Education
Yun-Fat Recommends
-Eight Diagram Pole Fighter
-Los Muertos
-Tropical Malady

Allyn Recommends
-Eternal Sunshine of the Spotless Mind
-Songs from the Second Floor

Phyrephox Recommends
-Top 20 List
-Design for Living (Lubitsch, 1933)
-War of the Worlds
-Howl's Moving Castle
Melisb Recommends
-Top 20 List
-The Return
-Spirited Away
-Spring, Summer, Fall, Winter...And Spring
Wardpet Recommends
-Finding Nemo
-Man on the Train
-28 Days Later

Lorne Recommends
-21 Grams
-Cold Mountain
-Lost in Translation

Merlot Recommends
-Top 20 List
-The Man on the Train
-Safe Conduct
-The Statement
Whitney Recommends
-Femme Fatale
-Gangs of New York
-Grand Illusion

Sydhe Recommends
-In America
-Looney Tunes: Back In Action
-Whale Rider

Copywright Recommends
Top 20 List
-Flowers of Shanghai
-Road to Perdition
-Topsy-Turvy
Stennie Recommends
Top 20 List
-A Matter of Life and Death
-Ossessione
-Sideways
Rodney Recommends
Jeff Recommends
-Dial M for Murder
-The Game
-Star Wars Saga

Lady Wakasa Recommends
-Dracula: Page from a Virgin's Diary
-Dr. Mabuse, Der Spieler
-The Last Laugh

Steve Recommends
-Top 20 List
-Princess Raccoon
-Princess Raccoon
-Princess Raccoon
Jenny Recommends
-Mean Girls
-Super Size Me
-The Warriors

Jason Recommends
Lons Recommends
-Before Sunset
-The Incredibles
-Sideways


(c)2002 Design by Blogscapes.com

The Blog:
Serenity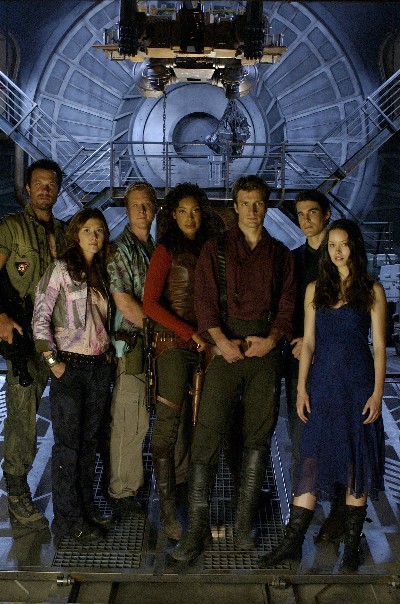 Many of you are familiar with Joss Whedon and the devoted following his work has. His television shows are only something I've recently gotten into through DVD's. "Buffy the Vampire Slayer" was really one of the best shows ever on television. It was blessed with a long seven season run, one where the characters were able to grow and change. When it was over, it felt like the time had come. In contrast, a later Whedon series was snuffed out of existence, painfully giving us a taste of something fantastic only to disappear before we'd scratched the surface. "Firefly" lasted just 14 episodes, and was certainly up to the standards of Whedon's other great television. It was a fun mix of futuristic cyberpunk and western. Similar to "Farscape", the crew of the Firefly class transport ship Serenity were a band of rogues and fugitives, each with their own secrets and pasts and thrown together because of circumstances beyond their control. The outskirts of space are wild indeed and those with the fastest draws and the quickest wits are the only ones to survive. At the same time, Whedon's style is to make you feel comfortable in these genre conventions only to pull the chair out from under your expectations. What's really sad is what might have been. Whedon left many clues and cracked ajar doors to each of the characters, but we never got to any pay off. We were left to drift away like the thwarted bounty hunter in the final shot of the last episode, left only to ponder the possibilities.

Though I don't know the details probably nearly as well as Shroom, I know that Fox really screwed the pooch with "Firefly". They showed the episodes out of order. The show was on Friday night which is just terrible in and of itself. It got canned and was replaced by, wait for it, "Fastlane". So it was with great surprise and happiness that I learned that Whedon had somehow convinced someone to finance a feature film continuing where the show had left off. Not only that but a screening of the rough cut was being shown in Boston, and 9 other cities, May 5th. My friends and I eagerly went online the morning the tickets went on sail. The website was behaving badly, but somehow we managed to get tickets.

So tonight I saw it. The lobby of the theater was crowded with people, all clearly belonging to the Whedon fan demographic. We filed in after being frisked by security officials from Universal, who informed us anyone operating a camera during the film would be ejected and arrested. The crowd was positively giddy. I haven't sensed such a buzz in a movie audience since the first Star Wars prequel. They started singing the theme song and impressively "
The Hero of Canton" (see the episode titled "Jaynestown"). Then all of the sudden Sean Maher and Morena Baccarin came into the theater and the crowd went nuts. It was a pleasant surprise. They stayed afterwards for photos and signed 8x11 posters for the movie. Then the lights went out.
Before the film, there was a message from Whedon to the hardcore fans in attendance. He was very funny, thanked them all for helping to make the film a reality and told them to "spread the word" of sorts. As he said "cancelled television shows do not get made into feature length films". He also explained that we would be seeing a rough cut and that some placeholders were in for special effects or music.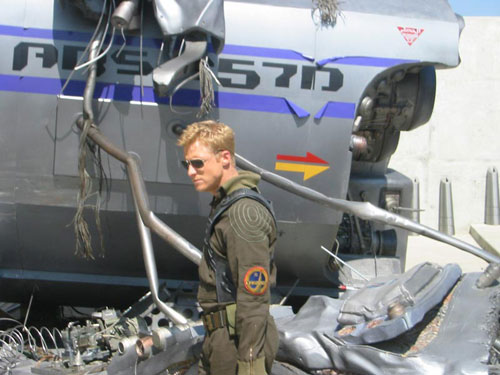 So it began, and I'll talk about it first without revealing anything. It was wonderful. I haven't enjoyed a movie this much since maybe early last year. I don't know how anyone who watched and liked the television series could possibly be disappointed in this film. It is very faithful to the television series and there are very few concessions made to try to appeal to a wider audience. Whether that ultimately seals the fate of Firefly forever is something we'll see this fall, but will certainly be very agreeable to anyone who considers themselves a fan. There are choices Whedon makes to make the film comprehensible to someone who knows nothing of the series, and I think they are mostly successful, but the full emotional pull of the film is probably stunted for such a viewer.
Technically, it was clear this isn't a finished film. They need to clean up the print. It needs a full digital makeover to fix things like lighting problems in particular. Also there are clearly special effects sequences that aren't finished. Some are scenes are spectacular and others were just not done. It will probably never be up to the standard of the modern summer blockbuster as the budget for the film was about $40 million. But then of course, the special effects are wholly unimportant.
The story is the heart of the film, and Whedon's great touch with humor is everywhere. Here is where he's at his best at toying with your expectations. When a tough guy is obviously headed for giving a tough guy answer, he instead becomes flummoxed and speechless. It keeps the dialogue fresh and fun.
Spoilers from here on out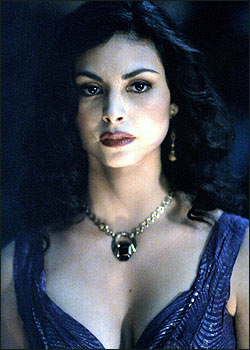 The film centers around two elements of the show that it never had a chance to fully explore. The first is obvious and was the central story of the series: River and her past. The movie opens showing how Simon helps River break out of the Alliance laboratory where she is being experimented on. We learn we've actually been watching a holographic reenactment of the escape being studied by an anonymous and ruthless assassin that the Alliance has put on River's trail.
The other major element is the Reavers, the mysterious unhumans who rove space, raping, killing and pillaging anything that comes in their path. We meet the crew preparing for a job, they are criminals (with hearts of gold!), and there is a long shot with no cuts that moves around the entire ship introducing the characters for the uninitiated. It's a clever way of doing it. You see each crew member at work in their role and the conversations reveal the tension about Simon and River being important wanted fugitives on the ship. Ultimately, the job goes bad because the Reavers drop in. Right away, this gives Whedon the chance to show Capt. Mal Reynolds as an anti-hero as he throws a man off his vehicle to expedite his own getaway, and then shoots the man dead after he's captured by the reavers, saving him from being raped and eaten alive.
Its revealed to us that River was being made into a weapon for the Alliance, a super warrior of sorts. Her psychic abilities have given her access to information that the Alliance wants snuffed, so their goal has changed from wanting to capture her to wanting her dead. The assassin sent after her is similar to the bounty hunter in "Objects in Space". A cold sort of unfeeling killer who is also philosophical about their role in the world.
REALLY BIG SPOILERS NOW! YOU ARE WARNED!
So the chase is on. There is lots of good fighting, space combat, gun fights, Mal Reynolds outsmarting people. It's good fun. There isn't much progress made on the Mal/Inara romance, but there is a little on the Kaylee/Simon front. There are some startlingly sad moments, as first Shepard Book is killed by the anonymous assassin's goons. Then later towards the end, there is an exciting bit where Wash crash lands Serenity, and there is humorous relief that they made it down safely, and suddenly Wash is horrifically killed. It was pure Whedon, wrenching you wildly from one emotion to another. It was painful to watch, and then Zoe is expected to shrug it off for the moment and get the job done. The ending is satisfying though, as the crew succeeds in revealing to the Verse the nature of the Alliance's responsibility in creating the Reavers.
OKAY, DONE SPOILING
As I said, Firefly fans will be very happy. There is still a lot of material to explore in the story of Serenity, and hopefully we will get to see more of the story. I'm not that optimistic, as this isn't the sort of gimmicky effects laden film that is going to pack them in the theater, but maybe by some miracle the "Serenity" will be successful enough that Whedon gets another crack on television. Here's to hoping.
Dispatches from the Doldrums of Spring
Millions:
It's certainly different, I'll grant it that. Whether or not that translates into a good thing probably depends on the viewer. Personally, I found the screenplay's fuzzy spirituality at odds with the worldview of director Danny Boyle. I give him credit for trying to stretch and make a cute family comedy with a little bite to it, but he wasn't able to divest himself of his mile-wide cynical streak. This leads to things like the disconcerting scene between the shop-happy Mormons and the cops. Apparently, the message here is that we're all either greedy sons-of-bitches or holy fools. Have fun with that, kiddies.
Melinda and Melinda:
It is with a heavy heart that I come to realize that maybe, just maybe, it's time to give up on Woody Allen. At least he stays behind the camera for this latest embarassment. The 'comedy' half of the film is occasionally entertaining, due mainly to the efforts of Will Ferrell (whom I think I would now watch in pretty much anything); the 'drama' half, on the other hand, is a fucking disaster, and Woody bludgeons the film's momentum to death every time he shifts back to the dramatic portion. The problem, possibly, is that Woody has constructed two narratives around a character who possesses all the magnetism and appeal of a moldy English muffin. It's difficult to believe that at least one other character wouldn't finally lose patience with Melinda and start slapping her around while screaming, "Get over yourself, you dizzy bitch!" Especially in the dramatic portion. Woody's renowned talent with actors is also mysteriously in absentia here -- of the vast and varied cast, only Ferrell and Chloe Sevigny manage to acquit themselves of crimes against screen acting. If "Match Point" turns out to be a dud, I'll call it quits on Allen for good.
The Amityville Horror:
How refreshing to find a satirical film that doesn't practically shout its intentions at the viewer! This reconstruction of the poorly remembered 1980 box-office hit takes its surface cues from its source materials, but underneath the manufactured jump scenes and the ghostly hooey, there's an extraordinary and ever-so-subtle parody of modern horror and the haunted house genre. Director Andrew Douglas puts on the trappings of today's cliched rumble-shock fear flicks, but there's an off-balance quality to his use of these things. Between the shaky-cam and the jumpy cutting and the ear-splitting sound cues, one can perceive a winking sense of humor, as if none of this is meant to hurt you. "Something tells me we've all been here before", Douglas seems to say to his audience. His digging-up (if you'll excuse the pun) of the Indian-burial-ground trope, in this context, is the film's finest satiric florish: In taking a 'true' story that from the beginning has always been patently unbelievable and reframing it as the hoariest of haunting cliches, Douglas tips us off to his intentions. He's here to bury the genre and fuck the praise. Note too, the film's casting. Ryan Reynolds downplays his identity as a breezy comedian, but in his knowing channeling of Jack Nicholson and a hundred other cinematic psychos there is a playful wit. Melissa George, too, turns in a perfectly overbaked performance. (The way she delivers the line "I'm living in their house" is unbeatable for a good belly-laugh.) In fact, I would go so far as to say that this new "Amityville" is the most enjoyable comic horror film... wait, Douglas says here in Fangoria that he was trying to actually make a scary movie. Oh, shit. So I guess the gales of laughter that erupted from me were unintended. Sorry, Andrew. Don't mean to piss on your parade or anything.
The Hitchhiker's Guide to the Galaxy:
So this is it, huh? I'm not sure if an unfamiliarity with the source material is a hinderance or a blessing in this case. It'll blast my geek credentials to hell by admitting it, but I've not read even the slightest bit of Douglas Adams. As I understand it, though, his work is heavy on the sardonic whimsy. That's all well and good in print, but whimsy's tough to keep afloat in the medium of film, especially in Hollywood. To get an idea of what this film is like, imagine the cheeky tone of Adams's novels. Now imagine a film trying to maintain that tone after the Hollywood Mafia has gotten ahold of the material, slapped it around, pistol-whipped it, cut off its nuts and stuffed them in its mouth, and as a topper fitted it with cement shoes and an overcoat to match. Got that image? Sucks, doesn't it? That's about how it goes here. Neophyte director Garth Jennings does the film no favors either -- his clumsy staging and nonexistent sense of pace destroy any chance for resuscitation. Scene after scene crashes to the ground, and though we can see the humor it's merely theoretical. (The point at which the film truly lost me was during the mock religious ceremony. I felt like Peter Falk in "The Princess Bride": Yes, very clever. You're a smart boy. Shut up.) Jennings can't keep his actors in the game either -- everyone looks like they don't give a shit and would rather be somewhere else. The visual invention is neat, true, but the film itself seems unimpressed by its own wonders, so why should we be any different? There are a couple modestly clever bits (the falling-whale-and-begonias scene was amusing), but then if a modest cleverness is all your ambition will allow why the hell are you even bothering me? Get outta my face, movie.
2005 Tribeca Film Festival
I unfortunately was not granted press access to the latest Tribeca FF so what with the end of the school semester and all I did not get to cover all that I could, and therefore drifted towards the works of accepted auteurs rather than taking very many risks. My reward for this old-fashioned approach was a totally disappointing selection. I apologize for simply linking these images to my website, but posting all the coverage would knock most of Milk Plus' articles off the main page. It should be kept in mind that the review for 2046 is considerably more detailed and thoughtful than the others because I had seen the film before and the review was not written under the same conditions of haste as the others.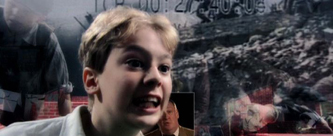 The Tulse Luper Suitcases, Part 1: The Moab Story (Greenaway, UK)
: C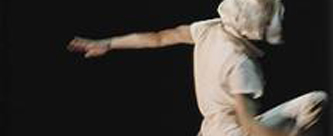 Towards Mathilde (Denis, France)
: C-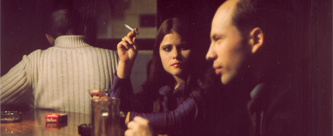 4 (Khrjanovsky, Russia)
: D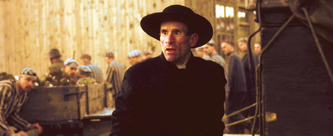 The Ninth Day (Schlöndorff, Germany)
: D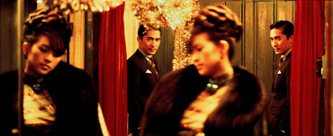 2046 (Wong, Hong Kong)
: B-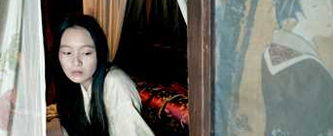 Singing Behind Screens (Olmi, Italy)
: C