Save the Green P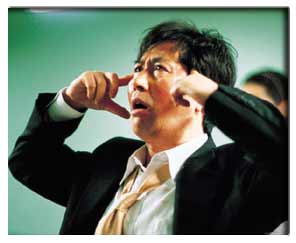 lanet
—while not a great movie by a long shot—is the quintessential example of the reason more and more hungry film-fans are familiarizing themselves with imports from East Asia. Obviously one can't judge a whole industry by the meager amount of product that finally gets distribution in the States (and even this film came out two years ago in South Korea), but regardless, there certainly is a regular flow—increasing in domestic visibility and popularity—of films like this one. Written and directed by Jeong Jun-hwan the film flaunts, engages, uses, parodies, subverts, and eventually gives into several dozen generic conventions—usually all at the same time. Like
Oldboy
and
Kung Fu Hustle
,
Save the Green Planet
is a very smart movie that knows a heck of a lot about movies.
What kind of film is this and why does it showcase the current attraction to popular Asian cinema? For all its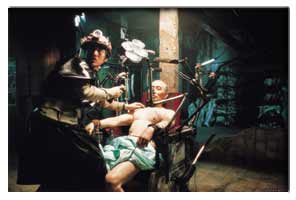 flagrant narrative gear shifting the plot is relatively simple. A man (Shin Ha-kyun), fearing the influence of aliens disguised as humans within our population, captures a high-ranking corporate official who he thinks is really a high-ranking alien (Kang Man-shik). While the police try to find the official, the man proceeds to try to torture him to obtain information to save Earth from alien destruction before the next lunar eclipse. From this setup
Save the Green Planet
is a horror film about aliens invading earth; it is a thriller about a serial killer; it didactically promotes pacifism; it is a story of social oppression and corporate abuse; it is a dark comedy about insanity and cinematic sadism; and it is a social critique the inhumanity of society at large, and so on.
Like the multitude of other poly-generic works coming out of East Asia, Jeong's film embraces social criticism through creativity, spontaneity, surprise, and by playing with cinematic conventions that used to be separated into different, separately marketable categories.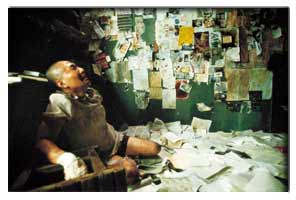 Back in the old days of cinematic self-awareness a subversive genre film like Robert Altman's
The Long Goodbye
would stick to severely undercutting what the audience was familiar with to make a point. Jeong's strategy, like many other postmodern filmmakers, is to subvert convention by grafting convention onto convention to form a new and unrecognizable amalgam. The downside to this, which can also be found in Park Chan-wook's
Oldboy
, is the directors' on-going struggle to break free of a reliance on an overall generic structure to keep their movies together. Both Park's film and Jeong's drag in their middle hours because both director's bookend their films with so much cinematic excess in both terms of conceptual ideas and through continuous bursts of directorial flair that they find themselves unable to make an understandable story without giving in to some of the existing conventions that they try so hard to—and are so good at—twisting, undermining, and critiquing.
Save the Green Planet
starts out with so much wild energy—with a kidnapping, a bizarre romantic relationship, torture, fantastical dreams of the protagonist, and a twisted tone shifting with glee from comedy to horror to cynicism—that the following hour or so of an entertaining but fairly flat serial-killer hunt almost seems from a different movie.
The good news is that the large majority of these extremely playful (and usually, to an increasingly unsettling de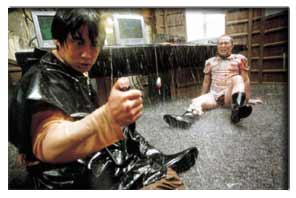 gree, extremely violent) films being brought over here are showing audiences not how trite and old fashioned Hollywood cinema is, but rather how popular, intelligent Hollywood filmmakers are failing to show an active awareness of Hollywood's artistically-crippling industry aesthetic standards by subverting them as creatively as Jeong. Or maybe the problem is that most of those great old directors who laid the groundwork for someone like Altman were emigrant imports from Europe who already looked at Hollywood with the critical eye of outsiders, and frankly directors like Park, Miike Takeshi, and Jeong have more freedom to break Hollywood's rules when they are safely overseas. I suppose we should count our blessings that such rebellion actually makes it over here, even if it is still struggling to be consistent.