Shroomy Angry....
I've been on a sort of work-induced hiatus lately, so I have not had a chance to really write much lately; hell, when I go to
Bad Education
later today, it will be the first movie I've seen in about a month. I have however, been keeping busy watching DVD sets of my favorite television shows (
Gilmore Girls
S1 & S2,
The Wire
S1 & S2,
MI-5
Season 2,
Wonderfalls
,
Angel
Season 5, and
The Shield
Season 3, for anyone who is interested), but that is a topic for another time. No, instead, I want to write about two subjects that I've heard about in recent weeks, two subjects which makes my blood boil. Shroomy is angry!!!
Topic 1 - Warner Brothers announces a "Re-Imagining" of the Classic Looney Tunes Characters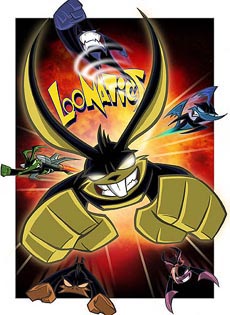 This is probably my single most WTF moment of 2005, at least to date, Warner Brothers announced last week that they were re-imagining the classic Looney Tunes characters for the "new millenium" and a Saturday morning timeslot on the Kids' WB block. Described in various media outlets as "slightly sinister" and "angular," the new characters are super-heroes fighting crime in the year 2772. Among the characters getting the new treatment are Bugs Bunny, Daffy Duck, the Road Runner, and Wile E. Coyote. Names have not been finalized, but according to media reports, they will be derived from the original characters (i.e. Buzz Bunny), and will retain some vestige of their original personality. According to Sander Schwartz, President of Warner Brothers Animation "The new series will have the same classic wit and wisdom, but we have to do it more in line with what kids are talking about today," which of course means fights, chases, and special crime-fighting powers instead of some of the funniest, smartest, wittiest dialogue to ever be shown on American screens and television sets. While the honchos at Warner Brothers put the best spin possible on the raping of an American artistic legacy, the true nature of the endeavor is quickly revealed: corporate synergy and making a quick buck for a network losing out to its cable competitors. According to David Janollari, President of Kids' WB, "both boys and girls enjoyed the
new action figures
in test runs of the show," and that success would mean mega bucks for the merchandising, home video, movies, and video games divisions. "That's the ultimate goal of all kids programming," says Mr. Janollari. "If we score, it's a gold mine." I think I just puked a little in my mouth.
Topic 2 - The "Controversy" Over Million Dollar Baby
Will someone please tell Rush Limbaugh and Michael Medved to please shut the fuck up. Though I'm much more sympathetic to the groups actually affected by spinal cord injuries, Debbie Schussel takes the cake for sheer insanity; she thinks that the film will win the Oscar (which it should, being by far, the best film nominated) "because it's Hollywood's best political propaganda of the year. ... because it supports killing the handicapped, literally putting their lights out." Did these people actually watch the film, or was it just a slow news week when it came to Terry Schiavo? SPOILER ALERT, Frankie's decision is clearly the toughest of his life, he does so only after much soul-searching, and it leaves him so torn up emotionally, that he literally disappears forever. Sure, sure, that makes euthanasia, which I'm a proponent of, look like such an easy thing to do. Let's start rounding-up the handicapped and gassing them. Blech. The film's treatment of its subject is somewhat morally ambiguous, though perversely conservative critics should be elated that the film comes down squarely for individuals rights. What a bunch of morons.