Joker Recommends
-Top 20 List
-House of Flying Daggers
-The Aviator
-Bad Education
Yun-Fat Recommends
-Eight Diagram Pole Fighter
-Los Muertos
-Tropical Malady

Allyn Recommends
-Eternal Sunshine of the Spotless Mind
-Songs from the Second Floor

Phyrephox Recommends
-Top 20 List
-Design for Living (Lubitsch, 1933)
-War of the Worlds
-Howl's Moving Castle
Melisb Recommends
-Top 20 List
-The Return
-Spirited Away
-Spring, Summer, Fall, Winter...And Spring
Wardpet Recommends
-Finding Nemo
-Man on the Train
-28 Days Later

Lorne Recommends
-21 Grams
-Cold Mountain
-Lost in Translation

Merlot Recommends
-Top 20 List
-The Man on the Train
-Safe Conduct
-The Statement
Whitney Recommends
-Femme Fatale
-Gangs of New York
-Grand Illusion

Sydhe Recommends
-In America
-Looney Tunes: Back In Action
-Whale Rider

Copywright Recommends
Top 20 List
-Flowers of Shanghai
-Road to Perdition
-Topsy-Turvy
Stennie Recommends
Top 20 List
-A Matter of Life and Death
-Ossessione
-Sideways
Rodney Recommends
Jeff Recommends
-Dial M for Murder
-The Game
-Star Wars Saga

Lady Wakasa Recommends
-Dracula: Page from a Virgin's Diary
-Dr. Mabuse, Der Spieler
-The Last Laugh

Steve Recommends
-Top 20 List
-Princess Raccoon
-Princess Raccoon
-Princess Raccoon
Jenny Recommends
-Mean Girls
-Super Size Me
-The Warriors

Jason Recommends
Lons Recommends
-Before Sunset
-The Incredibles
-Sideways


(c)2002 Design by Blogscapes.com

The Blog:
A Scene at the Sea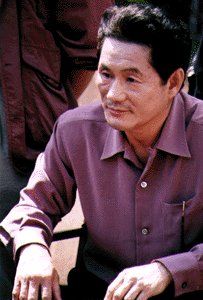 Back in 1991, anyone paying attention to the film career of Takeshi Kitano would have probably been surprised by his third film,
A Scene at the Sea
(kind of like people primed on the video releases of
Sonatine
and
Hana-bi
were probably unprepared for
Kikujiro no natsu
), a sweet love story and an ode to surfing without a whiff of the violence that Kitano was, and is, notorious for. Even without a storyline centering around cops and yakuza, the film is distinctly Kitano: there is a relationship where love is expressed via actions not words (quite literally, the central couple, Shigeru and Takako are deaf, and they do not utter one word of dialogue in the entire film); an emphasis upon the sea as a place of life, expressed through play, and death (there are two directors currently working today that I always associate with water: Kitano and his obsession with the sea, and the "darker" Tsai Ming-liang, whose films are dominated by torrential downpours, humidity, dripping faucets, dirty rivers, etc.); though still in an embryonic stage, the human form in a silent, motionless pose (in my opinion, Kitano is the best working director when it comes to creating tableaux's with the human form); the elliptical cutting and barely there plot; and a film laced with Kitano's off-beat, slowbuild brand of deadpan humor.
A Scene at the Sea
, Kitano's first film in which he did not appear (he is credited as the writer-director-editor), begins when the deaf-mute sanitation worker Shigeru, finds a broken surf-board in the trash; the ever industrious Shigeru repairs the broken board, and with his doting girlfriend Takako in tow, attempts to learn how to surf. At first he's a source of amusement to the local surfers and their girlfriends, as well as a pair of bumbling soccer players who eventually also turn to surfing (and who provide much of the film's comedic content), but soon his perseverance and improving skills gains him both acceptance and the attention of a local surfing guru who encourages Shigeru to enter some amateur tournaments. At the end of the film, Shigeru drowns in an accident, though this tragedy is expressed in subtle, elliptical fashion which I was struck by and would like to describe:
1. The scene begins on a gray, overcast morning, in contrast to the normally sunny seaside town we are accustomed to. In an extreme long shot, we watch Shigeru, with board in hand, walk along the sea wall towards the beach (an action repeated many times throughout the film), with the camera panning to follow him as he exits frame right. There is a pause as the camera lingers on the shot, and then a noticeable jump cut as we then watch Takako from the same camera set-up. Sheltering herself from the drizzle with a blue umbrella, she also walks across the frame. As before, the camera lingers on the grey scene after Takako has exited the frame.
2. There is another cut, and from a new camera set-up, another extreme long shot, we watch Takako walk down the stairs leading the beach, taking her customary spot in the sand. She stands still for few moments, before Kitano cuts into a medium close-up of Takako, whose brightly colored, striped sweater is offset by the deep blue of the umbrella. With only her eyes she scans back and forth along the shoreline.
3. Kitano then cuts back to the extreme long shot of Takako, who is now noticeably centered within the lonely confines of the frame, before quickly cutting back to the medium-close up of Takako expressionlessly searching for Shigeru. She looks off camera to her left, and then Kitano cuts to a POV shot of the pounding surf, which he holds for several seconds, before cutting back to the medium close up of Takako
4. Kitano now holds the close-up on the mute Takako, whose eyes now seem sadder (though on further analysis, her expression really hasn't changed that much, perhaps this is an example of the Kuleshov effect), before cutting back to the POV shot of the surf. Kitano breaks his established pattern ,cutting into a close-up of the surfboard, which takes up the entire length of the frame, being tossed around by the tide. Then he cuts back to the medium close-up of Takako, which is again held for several beats, before cutting back to the POV shot of the surf. This particular sequence finally, ends with another cut to the extreme long shot of Takako standing at the center of the frame, which is again held for several seconds, providing a sense of symmetry to the sequence of shots, before Kitano cuts to the next scene, Takako sitting alone on a ferry we saw earlier, with Shigeru's surfboard leaning against the bench.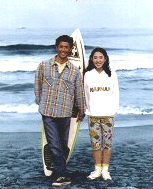 The payoff for this atypical sequence is one of Kitano's most beautiful images. As life goes on in their seaside town, Takako visits Chiba, the site of Shigeru's first tournament. She tapes a picture of the happy couple on the beach to his surfboard, and pushes it out into the water. This is crowned by another extreme long shot of the surfboard, floating calmly, silently on the placid, azure surface of the sea.
What comes next is equally surprising, as Kitano doesn't end the film there. Instead, he cuts to a pre-credit montage, which reprises what was really the emphasis of the film: beaches, beautiful seascapes, sunny days, Shigeru and Takako playing together on the beach, friends and surfing comrades posing for pictures, minor characters being deftly defined in short sketches, all of which actually composed 95% of the movie. Kitano's choice to leave the audience with a taste of what came before the drowning, is very appropriate, a bittersweet reminder of love and life.
Troy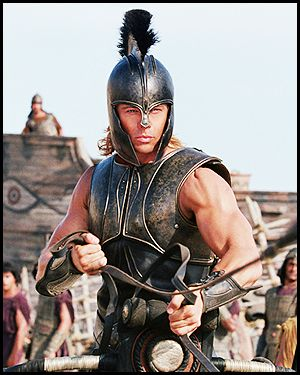 Women love a bad boy. David Benioff, fresh off his brilliant script for Spike Lee's terrific
25th Hour
, has written (probably with the help of several highly paid uncredited studio script doctors, whom I hope are responsible for most of the bad dialogue) a sword-and-sandal period adventure that couldn't be further from the present-day New York elegy of his debut – but both films have as their sexy heroes a brutal, authority-defying bad guy. Brad Pitt hasn't kicked this much ass in anything but
Fight Club
and
Snatch
, and even then his fists of fury were no match for the blade-slicing, spear-chucking,
Matrix
-diving warrior Achilles that he plays in
Troy
. And just after he murders enough people and rolls around sweaty, naked, and caked in dirt and blood, that's when the enemy slave girls go nuts and yank him into their beds.
Plenty more material in Petersen's summer blockbuster appeals to a modern-day crowd, and it's material that's timeless enough to feel appropriate for the days of Greek mythology that Homer made so famous. Nations still went to war over land, greed, and power, and one of the best lines spoken to Achilles is: "War is young men dying and old men talking; you know this. Ignore their politics." And when it comes time to debate the existence of God and the relevance of devotion, Achilles says to his new girlfriend Briseis, "Why do you choose to love the Gods? I think you'll find the romance one-sided." With good, old-fashioned themes that can the press buttons of any generation,
Troy
is ripe for good, old-fashioned Hollywood movie-making.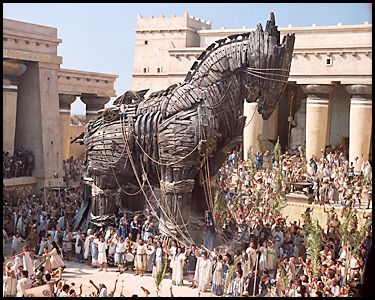 While the extreme amount of special effects makes this film quite different from the 1950s blockbusters of yore, the fast-paced, pulpy storytelling, opulent costumes and set design, skillfully choreographed action, and bold, earnest performances allow it to fit the mold in the same way films like
Titanic
and
Gladiator
did. Both of those Oscar-winners suffered from equally cornball dialogue, and
Troy
has some laughable lines. But only flicks like this, where massive sets swallow hundreds upon hundreds of (computer-generated) extras and props, can make us forgive shots like Pitt staring off screen in slo-mo into the wind and sun, and Orlando Bloom's Paris uttering "We will be together again, in this world or the next."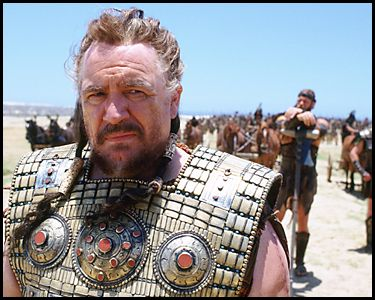 What makes
Troy
a likable work of grand entertainment is Benioff's characterization. There are very few obviously "good" or "bad" characters here, since the morality is relative and everyone has a solid motivation for what they do. Soldiers aren't automatically loyal to their leaders, one country doesn't have the righteous mandate to victory over the other, and when two proud men of warring sides are fighting each other, each has a good reason for it and neither deserves to die. Thanks to Eric Bana's fiery performance, having been awoken from the trance Ang Lee put him in, the character of Hector is as sympathetic as Achilles or Helen (played by a brain-dead, talentless Diane Kruger), the latter of whom couldn't help but leave her abusive Greek husband Menelaus (an always appealing Brendan Gleeson) And when Brian Cox, having loads of fun as the power-hungry Agamemnon, spits out the word "peace" three times, mocking its stupidity while he's trying to go to war, one gets the feeling this guy has the same thirst for control mixed with contempt for his people as George W. Bush.
Troy
won't go down as one of the great Hollywood period epics, but it's a rare summer thrill ride that is pleasing enough in spirit and theme to push us through its moments of cringe-worthy dialogue and hokey, outdated sincerity. Compared to something as simplistic and lugubrious as
The Alamo
, with cardboard villains and a worthless subtext, this war picture has a few more brains to go along with its brawn and is a far more enjoyable voyage to the past.
THE WARRIORS (1979)
(Spoilers abound...)
"
Warriorrrsss…come out and playee-yayyyyyyy
" If you've seen Walter Hill's 1979 cult-classic The Warriors, it's a given that you've mimicked Luther's (David Patrick Kelley) infamous battle-cry. Extra bonus points if you've inserted 3 beer bottles on your fingers and clinked the bottles whilst loudly chanting. This stunt is especially effective if you'd like to get rid of unwanted party guests. You know, the ones who stay wayyyyy too late and are boring you out of your skull. If you attain the insane fever-pitched banshee yelps like Luther did and keep maniacally clinking those bottles, I guarantee you'll clear your house out. And if by some chance, the boring party-guests are too drunk and stupid to be frightened by the macabre nature of this routine and they insist on spending the night, switch to Plan B: tie them to a chair, douse them in gasoline, put on your Steeler's Wheel's album and invite Michael Madsen over. That'll teach em. But I digress…..
The Warriors was released to an avalanche of negative publicity in 1979 with reports of real-life gangbanging erupting in cinemas across the nation. While there is brawling and bashing a-plenty, the film is utterly benign in comparison to some of the more violent movies of today. The Warriors are UNARMED, for fook's sake. What they lack in weaponry, however, the Warriors more than make up for in style, resourcefulness, mad ass-kicking skills and all-around coolness. They are 9 bare-chested, leather-vest wearing, wee sexy Coney Island bastards who, along with thousands of gang members from the 5 boroughs of NYC, attend a clandestine gang convention in the Bronx. With a temporary truce declared, the gangs gather to listen to the fiery rhetoric of prominent Grammercy Riffs gang leader, Cyrus (Roger Hill) who wants to unite all the gangs to march as one against the whole city. "
Can…You…Dig..It?"
Luther, a psychotic and very, very excitable member of the rival Rogues, has another plan in mind for Cyrus. He shoots him dead. In the ensuing chaos, Luther hysterically points and accuses Warriors leader, Cleon (Dorsey Wright), of assassinating Cyrus. Unfortunately, Luther's bait and switch stunt works. The truce is off and the safety of the Warriors' Coney Island home turf is several long and danger-filled subway-train rides away. Cleon falls prey to the police in the ensuing melee and the 8 remaining Warriors must "
bop
" their way back home without him. The loss of Cleon sets up the very wise and sensitive Warrior, Swan (Michael Beck), to take over leadership responsibilities. Of course, it doesn't hurt that chicks dig him both in the audience and on-screen. Chick-magnetism aside, Swan must endure the requisite power struggle between he and the trigger-tempered, macho, misogynistic Ajax (James Remar). The power struggle is very brief, however, because The Warriors have incurred the wrath of every street hood and gang member in the city and have to get the heck outta Dodge (or the Bronx as it were). Unarmed (I repeat…UNARMED!) and wrongly accused of a crime they didn't commit, the Warriors continue to "
bop
" their way from the Bronx all the way back to their Coney Island home turf, while being endlessly pursued by rival gang members. The gangs are fueled by the implied superiority of Cyrus's gang, the Grammercy Riffs (shout it:
RIFFS!
), who appear to have 10,000 members, which makes me wonder why THEY couldn't spare a little manpower to hunt down the measly EIGHT Coney Island gangbangers. Apparently they're all about taking credit for the end result...Dude,where's your WORK ETHIC??
Also on the Grammercy Riffs payroll, is the radio "DJ" (Lynne Thigpen). Her funkified low voice and luscious lips (the luscious lips being the only thing the audience ever sees of the DJ) are integral to the look and pace of the storyline as she lobs her sexy, sultry taunts at the Warriors via her radio mic. "
Be lookin' good, Warriors. All the way back to Coney. You hear me babies? Good
". Too bad the Warriors don't have radios. DOH. The DJ also spins appropriate songs (Nowhere to Run) and provides simmering news updates after each gang is successfully ass-kicked or outwitted (or both) by our Coney Island Warriors. I say "our" because you root for the Warriors like your favorite sports team, especially when they are outnumbered, which is always. They take on every gang whose path they cross because they HAVE to, or in the case of Ajax, because he wants to. To Ajax, not fighting is equivalent to "turning faggot". That his "demise" comes courtesy of a *gasp* FEMALE is beautiful irony. It should come as no surprise that James Remar went on to be typecast for years as a foul-tempered bad guy.
The gangs are very eclectic, (there's even a nod to the infamous Droogs, say AMEN!), ranging from the Turnbull AC's (not sure what AC is the acronym for), to the baseball bat-toting Baseball Furies to the all-female Lizzies
(the chicks are PACKED..the chicks are PACKED…),
to the preppy big-necked overall-wearing rollerbladers (who knew the art of brawling on rollerskates could look so effortless? Most of us fall down just standing on rollerskates…) to my personal favorite – The Orphans. Hapless losers with a Capital "L" plastered on all their gang-wannabe foreheads, these rag-tag doofuses are so low on the gang food chain that they didn't even hear about the major gang event in the Bronx, they have no stylin gang "colors", and worst of all, they're CUCKOLDED by the neighborhood tart, Mercy (Deborah Van Valkenburgh). Mercy relentlessly baits and berates the Orphans after they decide to peacefully let the Warriors just "boogie on through" their turf. When the Warriors refuse to take off their leather vests (DAMN…I was so hoping they would…*droooool*..), the Orphans lamely attempt and fail miserably at blocking our boys from passing through. A single Molotov cocktail sends the Orphans packing. I think a flaming Pina Colada would have sent these dorks running. David Schwimmer (obviously in his salad-days) plays the whiny-assed, pathetic Orphans leader (back when David had a "slow" eye). Fortunately David put this whiny-assed character behind him so he could grow as an actor and eventually play eternally whiny-assed, pathetic Ross on Friends. For 1 million an episode no less. Schwimmer was able to pay for corrective eye surgery with his new-found wealth and is now branching out into directing, which apparently is a birthright of all sitcom actors. Bleccch. OK, the leader of the Orphans really isn't David Schwimmer, it's some lesser known chain-snatchin-mariachi-motherfucker-Schwimmer-lookalike named Paul Greco who happens to have a gimpy eye. I just needed to vent on Schwimmer because he's so bloody annoying. I occasionally go off on tangents, in case noone has noticed.
The final gang showdown takes place on Coney Island, when the exhausted Warriors finally arrive home at the crack of dawn (with skanky Mercy in tow...she somehow manages to get Swan under a romantic spell..) and the realization hits them, as it does the audience "
We fought all night to get back HERE
?" Yeah, tell me about it. Coney freakin Island. Paradise it ain't. However, the Grammercy Riffs finally decide to get off their lazy duffs and exact some medieval revenge on the pussified Luther. And our Warriors? Well, their destination may not be paradise, but the journey they take us on and the adventures they encounter to get us there, provide for some wickedly entertaining and enjoyable movie viewing. The movie may look dated now, but The Warriors and New York City will always rule.
Dig that.