Joker Recommends
-Top 20 List
-House of Flying Daggers
-The Aviator
-Bad Education
Yun-Fat Recommends
-Eight Diagram Pole Fighter
-Los Muertos
-Tropical Malady

Allyn Recommends
-Eternal Sunshine of the Spotless Mind
-Songs from the Second Floor

Phyrephox Recommends
-Top 20 List
-Design for Living (Lubitsch, 1933)
-War of the Worlds
-Howl's Moving Castle
Melisb Recommends
-Top 20 List
-The Return
-Spirited Away
-Spring, Summer, Fall, Winter...And Spring
Wardpet Recommends
-Finding Nemo
-Man on the Train
-28 Days Later

Lorne Recommends
-21 Grams
-Cold Mountain
-Lost in Translation

Merlot Recommends
-Top 20 List
-The Man on the Train
-Safe Conduct
-The Statement
Whitney Recommends
-Femme Fatale
-Gangs of New York
-Grand Illusion

Sydhe Recommends
-In America
-Looney Tunes: Back In Action
-Whale Rider

Copywright Recommends
Top 20 List
-Flowers of Shanghai
-Road to Perdition
-Topsy-Turvy
Stennie Recommends
Top 20 List
-A Matter of Life and Death
-Ossessione
-Sideways
Rodney Recommends
Jeff Recommends
-Dial M for Murder
-The Game
-Star Wars Saga

Lady Wakasa Recommends
-Dracula: Page from a Virgin's Diary
-Dr. Mabuse, Der Spieler
-The Last Laugh

Steve Recommends
-Top 20 List
-Princess Raccoon
-Princess Raccoon
-Princess Raccoon
Jenny Recommends
-Mean Girls
-Super Size Me
-The Warriors

Jason Recommends
Lons Recommends
-Before Sunset
-The Incredibles
-Sideways


(c)2002 Design by Blogscapes.com

The Blog:
Gone in 60 Seconds
Psych! Like I'd ever willingly watch more than five minutes of the Nic Cage-Angelina Jolie travesty (five minutes was about all I could tolerate when I saw it on TNT); hell, I'd actually be offended if anyone thought that. No, I watched the recently released DVD of the 1974 original, the B-movie cult classic by junk yard entrepreneur/stunt driver/independent filmmaker extraordinaire H.B. "Toby" Halicki (the "King of Car Crashes"), who looks amazingly like a thinner, scruffier Aaron Eckhart, though in early 70s high style fashions (if nothing else, the clothing and wigs that the characters wear as disguises are the obvious inspiration for the Spike Jonze directed Beastie Boys' video "Sabotage"). So what is this film principally known for? Well, there is the fact that Halicki gives a mustard-yellow, Ford Mustang nicknamed "Eleanor" top billing, but more importantly from this viewer's standpoint, is the 45 minute sequence of vehicular mayhem that dominates the last half of this 98 minute long film.
Until that exercise in "pure cinema" begins, the film is a nearly plotless fetishization of expensive cars (there is one long, long tracking shot which Halicki cuts back and forth to, that luxuriates over the shiny chrome and expensive finish of ritzy stolen car after stolen car) and the cool professionals who effortlessly steal them. And I do mean effortlessly; it's almost humorous how easily the gang of thieves take these cars right from underneath their owner's noses (example, the sequence where the gang repeatedly steals limousines left idling by their drivers; they just walk nonchalantly up to a Caddy or Rolls-Royce, get in, and take off). Halicki stars in the film as Maindrian Pace, the ultra-professional leader of the car thieves who all, ironically enough, operate under the front business of insurance investigators specializing in car theft. To the chagrin of his coworkers, Pace commits to delivering 40 high-priced cars to a South American gangster with only a few days to spare. The first half of the film is taken up by the gang easily fulfilling their contract, stealing cars left and right all over Los Angeles (that and I learned how to change my car's VIN if I wanted to). These scenes are shot very economically, looking like Halicki often took his camera, crew, and actors out onto the street for a little guerilla filmmaking; hell most of the first half of the film is shot without synchronized sound, so much of the sparse, jargon-laden dialogue is delivered in voice-over. Another thing to appreciate in these early sequences is the film's sense of humor, as when Pace's Robinhood-like propensity leads him to frame-up a hard-ass insurance investigator, or when one of the thieves, attempting to steal a pimped out car, is surprised and chased away by a tiger in the backseat.
After finding a major stash of heroin in one of the stolen cars, a fight erupts between Pace, who wants nothing to do with the drugs, and one of his whiniest partners, Eugene. This fight leads to Eugene tipping off the cops to Pace's final attempt to steal "Eleanor" (all of the targeted cars are given female codenames), the famous yellow Mustang. This is where the film really picks up, as Halicki and company tears up the greater LA Basin, in the process wrecking over 150 cars. What is amazing is that all of this was actually done on the streets, freeways, and empty fields of Los Angeles (you can actually see the crowds of people gawking in the background), all done straight up, with no SFX hanky-panky. Hell at times, it looks like they just strapped a camera to the dash or car mount and went nuts. Plus, it's not just about driving really fast (though some of the forward POV shots through the windshield are vertigo inducing) or bashing a car out of the way; it involves Pace outsmarting his pursuers, using his driving skills to literally get himself out of the tightest situations again and again. And its not just cars chasing cars, Halicki laces the hair-raising stunts with many humorous vignettes (the DJ reporting on the chase which, unbeknownst to him, involves his own car; the old granny who uses her umbrella to bang furiously on the hood of the passing Mustang and cop cars as they tear through a park; the carload of pot-smoking, beer-drinking youths who haphazardly weave in and out of the chase, etc). Not only that, but Halicki does not just ignore the consequences of the car chase; some of the innocent bystanders, after getting caught up in the chase, are badly hurt and end up trapped in wrecked, sometimes burning cars. Still, the key to the film is the chase itself, which is capped off by an impressive car-jump, a clearly one-shot stunt which was captured by several different camera angles simultaneously. God, it was a lot of fun watching it on my parents' big screen TV (btw, I'm at my parents' house dog sitting). And the final car-wash switcherhoo, which allows Chase to get away scott free is such a hoot. It's something that has to be seen to be believed. Great stuff. Who needs plot, characterization, or dialogue when you have some kick ass car chases/wrecks!
From the Tribeca Film Festival: The Last Train
In war movement is everything, but in cinema movement is generally thought as needing a purpose. This purpose is most easily formulated through narrative and Aleksei German's debut film
The Last Train
is about the failure of two kinds of movement to collate, that of war and that of narrative.
German's film is almost prototypical in its art house obliqueness and relationship between aimless humans and the rustic landscape upon which they wander. The story takes place during one of the horrific winters in World War 2 somewhere on the Eastern Front and the inexactitude of location and time is carried on to the soldiers themselves who know not whether their army is advancing or retreating. The Last Train follows two German non-soldiers, a doctor and a postman, who not only fail to kill any enemies but also fail at their respective professions. On the frozen hinterland of the Russian steppes there is little mail to deliver and few bodies to treat; everyone is either barely alive or recently dead. Opening with a languorous and slow moving car ride that follows that doctor's journey from a train yard to an abandoned manor house serving as a hospital near the front, the film seems most concerned with the aimless movement of war participants. The soldiers seem to know neither where they are going nor why they are trying to get there. The doctor is quickly separating from the army headquarters-if one can call an officer and his underling an entire headquarters-and the soldiers of the film seem to disperse into the unending Russian blizzard as if picked up by the wind and thrown off the face of the earth.
The doctor and postman end up lost in the hinterland and stumble their way through dense snowstorms with little purpose and no direction. Amid long stretches where the only sound is the whine of the snow on the wind or the trudging of boots through the terrain there are long one-sided conversations in
The Last Train
where characters absently babble either oblique philosophy or report banal life stories. The two men meet an isolated cabin full of Russian women and a lost Russian soldier, as well as running into a band of partisans, but with no end goal in sight-"no plot" as the doctor puts it-and no narrative arc to a war that is confused and lost in the vastness of Russia these men have no where to go and nothing to do other than keep moving until they die.
In this manner German's film is a unique and highly tangible meditation on war; a far more gutsy, not to mention pretentious, extrapolation of Terrence Malick's
The Thin Red Line
which spent most of its running time watching its G.I.'s sit around or walk to battle rather than actually fighting. At its more entertaining moments The Last Train sometimes teeters between absurdism and horrendous bleakness. At first it seems that every soldier outdoors in the freezing cold is comically sniffling as if their lives depended on it, and when the doctor arrives at the headquarters he finds the captain in charge hacking and coughing to the point of ridiculousness. But once the doctor is discharged to wander around the "front" it seems everyone is suffering some the same obscure but common plight of inner sickness trying its best to leap out of the broken human bodies. As the people try to expel the disease by blowing their noses and racking their bodies with constant coughing, the dynamic, unrelenting blizzard outside seems to be an exterior manifestation of the inner condition. To what end it is never clear. Aside from the effectives of disturbing long takes that seem to track more the development of the snowstorm than the lives of the film's protagonists,
The Last Train
is an obscure work of unknown purposes. To be sure, it makes an stunning, odd, and effective picture on the philosophy of the narrative[less] of war and the way cinema can revise the generic portrayal of the war experience, but one can take only so much meandering dialog and unclear ideas.
La Dolce Vita
LA DOLCE VITA
, 1960 (Director Federico Fellini, starring Marcello Mastroianni, Yvonne Furneaux, Anouk Aimee).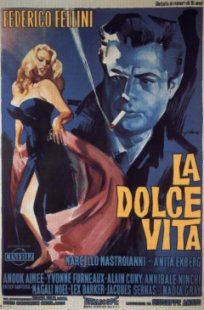 I watched this movie once before several years ago, maybe around 1990, and as it turns out I retained very little of it, except an undying love for Marcello Mastroianni. Watching it again Friday night at the Nuart Theater in West L.A. was like seeing it for the first time. I came home and I couldn't stop thinking about it. I went to bed and dreamed about it -- in Italian, no less. I got up Saturday morning and watched it again, this time the version I'd taped off TCM last weekend -- incidentally, the subtitles in TCM's print were a lot better – I can't say if they were more accurate, but they were a lot more thorough.
La Dolce Vita
tells the disjointed story of the disjointed life of Marcello Rubini (Mastroianni), a tabloid journalist who once harbored dreams of being a novelist. As the movie begins, Marcello is discontented with his life, with his fiancee (Yvonne Furneaux), with his work. He takes advantage of his proximity to the rich and famous to have dalliances with beautiful women, including the breathtaking Maddalena (Anouk Aimee) and American film star Sylvia (Anita Ekberg).
The film is told in a series of episodes – not following any real plot but rather following Marcello through his life and his work as he goes along. At all turns he is surrounded by his friends, the ruthless tabloid photographers he works with – one in particular, his friend Paparazzo (from whose name the term "paparazzi" was coined). The photographers are always on hand to capture the joys, the sorrows (okay, more often the sorrows) and the revelry of The Sweet Life that Marcello reports.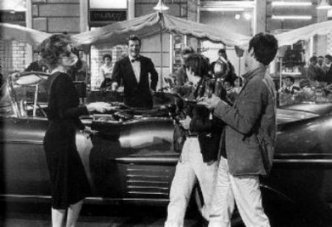 The only time Marcello seems to come out of his shell and really come alive is in the presence of his friend Steiner (Alain Cuny) -- who, not coincidentally I'm sure, we first meet in a church. Steiner seems to have everything that Marcello longs for -- he's surrounded by his books and intellectual friends in a nice big house, he's got a wife and two beautiful children. At a party, Steiner confesses that his life isn't all that it's cracked up to be. "Don't believe that salvation is closed up in a room," he tells Marcello. Steiner is so stifled by his closed-in life that he has to record the sounds of windstorms in order to feel a connection to nature again.
After this interlude, Marcello tries to get back to writing his novel, at a deserted café outside of Rome, where he meets a young girl who works there as a waitress. We don't get to know her very well, but she's about the only woman in the movie that Marcello doesn't try to make love to. He tells her she looks like an angel; she is amused by him, this older man flirting with her, and doesn't take him seriously.
Marcello works a balancing act for a short while, between novelist and journalist, between the party crowd and the intellectual crowd, but it's obvious that one or the other will win out eventually. A chance meeting with his father offers him an opportunity to reconnect with his family and get to know his old man. He seems disappointed, though, to learn that his dad is just like he is – a drunk, hedonistic old sex fiend.
After a crisis involving his friend Steiner, the bottom falls out for Marcello. He gives himself over entirely to a life of debauchery -- wild parties, loose women, drinking, orgies. In the end, he can't even recognize the man he used to be (or once had a chance to be), anymore than he can hear his "angel," the same one from that deserted café, over the sounds of the sea -- she beckons to him, but she is drowned out by nature, the same sounds that Steiner had to record and play back to comfort himself with.
I think it's a profoundly sad story. Marcello starts out confused and discontented; by the end he's bitter, twisted and filled with self-loathing. Along the way we see some occasional impulse in him to live a good life, a fulfilling life. But after he sees what happens to his friend Steiner, the man who had it all, he just gives up, and gives in to his baser side. Which would probably be fine if he enjoyed it, I'd cheer for him -- but he just looks so damn sad.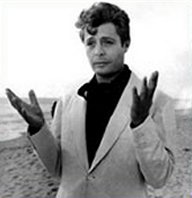 It's not an easy movie to get through. There are some slow moments and at three hours it's a little taxing. But one thing is for sure -- it's been popping up in my mind all weekend. Very few films have stuck with me like this one. Favorite images and/or scenes: the trumpet player with the balloons at the Cha Cha club; the "echo chamber" room scene where Maddalena proposes to Marcello; the "Miracle Tree" and the children who claim to have seen the Madonna; Sylvia and Marcello in Trevi Fountain -- actually, his whole pursuit of Sylvia is funny and awkward and clumsy and a little sweet.
La Dolce Vita
is playing at the Nuart through Thursday and will be at the Egyptian as part of a Fellini retrospective in June. If you're in L.A. you've got a couple chances to see it on the big screen, take advantage of it.
Looking Forward, Looking Back
Whoo-hoo! I was on the radio today. OK, I'm usually on the radio every Sunday because I'm the only person that ever calls into our local college radio film talk show. But today, I was on for a really long time discussing the highlights of this semester's film screenings, as well as a few of the upcoming Summer blockbusters. That got me thinking. The beginning of May is the perfect time to take stock of the first third of the year, as well as to look forward to the Summer blockbuster season. What were your filmgoing highlights of the last few months? Any film related news that you found particularly important (how about the two year anniversary of Milk Plus on March 11th?). And finally, what are you most looking forward to in the near future?
From the Tribeca Film Festival: Zatoichi
Takeshi Kitano resurrecting the long running, now dead Japanese movie series about a blind masseuse swordfighter could be roughly transposed to Hollywood if Sean Connery had made 20 Bond films and then died,
prompting a good friend of his to eventually convince Woody Allen to write, direct, and star in a continuation of the series several decades later. Okay, maybe that is the worst analogy ever; Kitano at least is known for his violent yakuza films and a subtler brand of deadpan comedy, and most Zatoichi films really are just yakuza movies with swords instead of guns. Appeased by a friend of the series' original star to bring back the legend, it looks like Kitano has briefly turned mainstream. Strangely enough, the Kitano brand smoothly transfers to commercial moviemaking with artistry largely intact and rousing entertainment values at an unusual high. The film cuts surprisingly deep; like most Kitano films but even more so whilst pursuing the vein of a venerated series,
Zatoichi
plays by the all the rules of genre while still having a terrifically playful sense of fun.
Perhaps the most relaxing facet of the film is that Kitano treats his narrative like just another nonchalant entry in the series as if it had never died off. Thus even considering
the title of the movie, and Kitano's face and name plastered all over the film as far as the eye can see (writer, director, editor, star), the ex-yakuza wandering masseuse really is not the focus of the movie. Instead, just like a catalyst lead in a Western, the bleached blonde slowly ambling killer wanders into a town and ends up in the center of inter-gang warfare and various personal vendettas that take the focus of the story. Todanobu Asano shows up for example in the role of a ronin with the burden of a consumptive wife and he takes up any task, however immoral, to bring in their livelihood. His path, and those of several others in the film, including a losing gambler impressed by Zatoichi's ability to hear the roll of the dice and a duo of assassin geishas, eventually will cross that of Zatoichi. Being blind affords him other high sensitivities, and just like the old series Kitano's masseuse dispenses justice with an eerie nose for wrong doers and an impossibly quick sword that invariably helps solve the problems of the wrongly done.
Kitano's experimentation inside this framework comes from his amusing play with the idea of Zatoichi's blindness. The film places a distinct emphasis on sound and vision. Kitano's habitually staccato cutting for his trademark "explosions" of violence for the first time has a logical explanation in one of his movies. There is much more blood and swordplay and action in
Zatoichi
than any of his previous films, but the action is cut and chopped up, deemphasizing continuity and skill of swordmanship and hammering home Zatoichi's sightless world of snap-reaction to sudden changes in sound and movement.
Though Zatoichi isn't really at the center of the film, his sightlessness is. Visual gags just keep rolling throughout, among them unintentionally fake looking CGI blood, and Kitano's anachronistic hair color. The sound effects of the film are startling and equally emphasized; every time a sword is drawn the speakers seem to snap at the audience, and the film builds a very quirky audio world that
emphases both these outbursts of violent noise and the more musical rhythms of daily life. These latter sounds make up the backbone of
Zatoichi
's mainstream sense of fun where rain drops, dices rolls, the clack of betting chips, and peasants working in the fields all make their own sort of music. The film's soundtrack becomes a unique form of diegetic hip-hop, which fits very naturally not only with Kitano's half-joking tone of the work but also the concept of a blind protagonist. Less obvious than the funky use of sound are the conventional flashbacks combined with Kitano's slightly broken up editing habits. Since
Zatoichi
focuses more on the many secondary characters that surround the blind man than the blind man himself Kitano employs several flashbacks to flesh out each character's back-story and to provide exposition for their current motivations. That, like the exuberant pleasure of the film's natural hip-hop, is the traditional explanation for the flashbacks. The
more artistic interpretation is that Kitano is collapsing visual space in a way that humanizes the nearly anonymous and wordless Zatoichi. Having the characters muse on the way their past intermingles with and determines their current courses of life pumps
Zatoichi
full of compassion not found in its just but anonymous hero.
While Zatoichi's flashback is an amusingly apsychological bloodbath during a rainstorm, the geishas and wandering ronin fade in and out of reality and their vision criss-crosses the past and the present, giving heart to the film by lending their visual memories to Zatoichi's silent cipher. The ronin's distant past explores the conflict between an honorable samurai heritage and the financial worries of masterless ronin. The geishas, who ensair men with their sexual charms, dance before them and then strangle them to death, tell of a family massacre and their long and sacrificial path to retribution. Their stories are plain and effective and help ease the pain that this Zatoichi, purposely standing apart from the original actor's warmth and friendliness, is basically a hollow superhero-like fighting machine despite Kitano's addition of platinum blond hair and a hunched shuffle that makes him seem practically elderly. The other characters' back-stories are far more emphatic and painted in broad strokes of honor and troubled times, and the way Kitano blurs the line between simple conventions and exploring the principal hook of the original series in the idea of a blind swordsman helps make
Zatoichi
something more than just another violent samurai movie. Sprinkled as much with humor as it is with blood, the film has a little bit for everyone, and if that waters down Kitano's art than it is a successful trade for a darn of a good time.