Vera Drake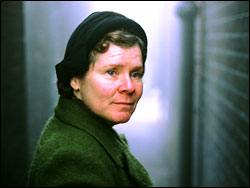 I've seen our possible, terrifying future by taking a glimpse at the recent past, thanks to Mike Leigh's masterful period drama,
Vera Drake
, which has now displaced Richard Linklater's
Before Sunset
as my favorite film of the year. But this is not just a film for pro-choice advocates; it is a morally complex drama populated with fully realized characters. The first half of the film, as Leigh and cast explores the rhythms and mundane drudgery of daily life in working-class London, circa 1950, is almost documentary-like in its meticulous attention to detail (aided by Dick Pope's photography and the excellent production design), so much so that I felt like I had intimate knowledge of both the Drake family and its neighborhood; while the episodic second half, as the machinery of "justice" grinds down both the titular heroine and her family, is an effective melodrama that refuses to descend into simple cliché (the police maybe officious, but they are never less than sympathetic, and I got the distinct impression that they hardly believed in the law that they were enforcing) or outright sentimentality. The best moment of the film is when Reggie put things in perspective during an awkward Christmas celebration, resulting in an unexpected bit of humor in a rather dark portion of the film
I do have a few, minor complaints. Personally, I could have done without the consistent choral music and the subplot involving the bitchy sister-in-law who becomes increasingly odious as the film draws to a conclusion, though that character's desire to hold onto her newly won middle-class propriety plays into Leigh's larger examination of class issues throughout the film. This is not a complaint, but typical of Leigh, he expends a considerable amount of screentime in
Vera Drake
to class issues, specifically contrasting the methods used by both the upper and working class women to obtain abortions (not surprisingly, the upper-class women have access to semi-legal, and safer, professional methods since they can pay for them).
Imelda Staunton's award-winning performance as Vera is very sympathetic and outright heartrending, and though we mostly share her POV throughout the film, Leigh handles these potentially bathetic scenes with great delicacy and reserve, often expanding his focus at just the right times to encompass the greater effects of Vera's arrest upon the Drake clan, who, not surprisingly, react in various ways to the news (Syd's reaction is probably the most interesting; the most outraged, he was earlier also depicted as a young man on the prowl, and perhaps responsible for getting some girls in trouble himself). The surprise of the characters actually seems quite genuine, a credit to Leigh's collaborative and organic working methods, since only Staunton knew of her characters secret prior to the filming of the revelatory scenes. Of course, another benefit of this approach is the rich characterizations the film offers. For example, even though Vera seems simply altruistic in her desire to "help the girls," her attitude when dealing with them, while pleasant, is distant and businesslike, even when her clients are going through an emotional meltdown, and I found that character trait somewhat off-putting (though she's still better than the greedy brokers and doctors who fuel the backroom abortion trade). I could not help but admire that kind of attention to detail, especially since it gave me a great deal to think about at the film proceeded.
Vera Drake
is the first film in a long time that has actually motivated me to write about it as soon as I got home. I'm going to be very tired at work tomorrow, but not only did I regard the subject matter as prescient given the results of the elections, this film affected me emotionally so much that I just had to write about it as soon as possible. Great stuff. Bravo to a filmmaker whose films I generally admire, but do not love.