From the 42nd New York Film Festival: Tropical Malady
Tropical Malady
is split in two narrative sections, erotically and sumptuously connected in themes and imagery. In the first half, Keng (Banlop Lomnoi), a soldier assigned to a forest division, works at a heartfelt, but disparate relationship with Tong (Sakda Kaewbuadee), a young man he met on a mission in the jungle. Thai director Apichatpong W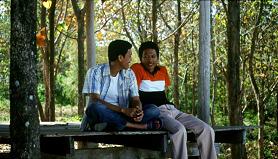 eerasethaku's film begins with a philosophic quote reasoning that humans are beasts who must act as trainers to suppress their beastliness, and tension between the primal and the modern is most apparent in this section's alternately deeply passionate and awkwardly incongruous romance. Tong possesses a background ripe with tradition-his grandfather tells stories of ghosts, his uncle claims to remember 200 years worth of past lives' memories-and he himself remains unsophisticated in his illiteracy and life in the countryside. When he comes to town he wears the camouflage of the military and when asked if he is a soldier he replies that he thinks the uniform will help him get a job, but really the camouflage seems like a naïve attempt to blend into an unfamiliar and unfriendly environment. Keng's situation is not elaborated on as much, but his generic homoerotic evocations stemming from his military friendships try to find a permanent object of love in Tong's sweet country boy.
Both men seem at once willing to embrace their relationship and filled with abstract trepidation. Tong nearly ref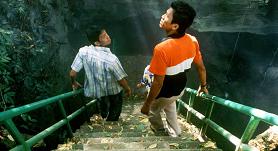 uses to go into town with Keng, so much of their time is spent in the countryside, gazing at the jungle, and languidly hanging out with Tong's family. In a critical scene, the two lovers descend into a sacred cave and are told a legend about traveling through a dangerous passage where only the blessed with survive. Tong is eager to engage the tradition and venture into the blackness, but Keng is notably frightened. Though both willing, neither man is capable of taking their mutual affection to the next step, and each moment of intimacy is awkward and tentative. It always seems like their affection is able to exist but unable to express itself physically or totally.
During a late-night drive Tong stops to take a leak on the roadside, and in a gesture of intimacy Keng passionately tongues Tong's hand. Tong is amused at first, but then tries to sink into the physical feeling, and then attempts to return the favor. Keng laughs, equally unphased by the experience, and Tong walks away from him, disappearing into the night. At this point
Tropical Malady
shifts a mythic spiritual re-envisioning of the first half's pus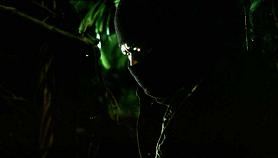 h-and-pull attempts at intimate connection. In this story a lone soldier (Keng again) enters a vast jungle to track down a missing villager who is harassing the area around Tong's village, this time going to far as to steal cattle. The audience is told in titles that there is a legend of a shaman able to take on the form of animals and that his spirit terrorizes visitors of the forest. The soldier quickly catches on to his mystic quest when human handprints in the mud turn into those of a tiger. Catching a glimpse of a naked man covered in elaborate body tattoos, the soldier gives chase and fights with the being, but the strange man triumphs and expels the unconscious soldier from the forest. Undeterred, the soldier again resumes his quest, which gradually evolves from that of investigation, to punishment, and finally to acceptance and desire to enter the spirit world.

Apichatpong Weerasethaku continues to experiment with the unusual evocations possible in non-narrative feature cinema. Tropical Malady, like Blissfully Yours before it, returns to the drugged haze of the jungle to allow humans to attempt transcendence. The soldier's primal wanderings and eventual embracing of his "beastly" nature points allusively to the Tong's inability to achieve a permanent, meaningful homosexual relationship. That the simple country boy courts military men aligns him with the side of the beast working with frustration at the most trained and repressed of male humans. The imagery of the film's first half, though as unusual, non-narrative, and inventive as anything Weerasethaku has done, is that of tentative borders between the town and the country, the spiritual and the material.

It is not until the soldier, torn fromhis inability to fully contect with Tong, readily plunges by himself into the rich, dense mesh of the forest that
Tropical Mala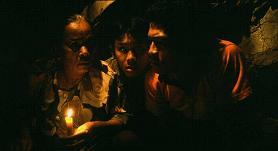 dy
suddenly seems able to fulfill itself. As he retreats away from civilization, the space that separates him from his jungle ghost prey collapses in an entwinement of vines, trees, dirt, and foliage. The soldier's languid jungle journey, filled mysteriously with horror conventions, humor (including a talking monkey who advises the soldier on his quest), and magic, suggests that those bound to the elaborately "trained" existence of constructed, refined, modern life must go through a near-impossible, primal journey to transcend a life of spiritual limitation. This in itself is not a hopeful message. But that Weerasethaku ends his film on the mystic positivism rather than the tangible story of a troubled relationship is an indicator that the possibly, however difficult and unlikely, certainly exists.
Tropical Malady
offers hope for those bewildered by their inability to consummate human relationships, indicating that the problem is one is spirit, and that indeed, it is one that is possible to transcend.