From the 42nd New York Film Festival: Woman is the Future of Man
Hong Song-soo's small, unassuming comedic film, wonderfully titled Woman is the Future of Man, is slight in the way Tsai Ming-Liang's film Goodbye, Dragon Inn or Ohayo by Ozu Yasujiro is slight. All three retread familiar themes and narratives by their respective filmmakers, and use an exact, refined visual style that is unfussy and deceptively simple. But these things do not make any of these films any less great, and Woman is the Future of Man is a quiet, sad film whose surface simplicity deeply reflects the sorrow congenital in its characters.
Though the narrative is clean, Hong's film is actually fairly playful in its chronological structure. It begins with Hyeon-gon (Kim Tae-woo) returning from America to visit an old friend of his from school, Mun-ho (Yu Ji-tae), who has acquired many of the things in that denote the life of an adult, having married and bought a house. Though seemingly grown up-both men are university graduates, Mun-ho being an art teacher and Hyeon-gon a film director-a meeting between the two reveals t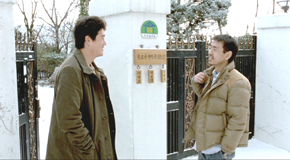 he simple-minded maturity of the two men and their ineffectual abilities to understand women and thereby be satisfied with life.

When Mun-ho momentarily steps out of a café the two are eating at, Hyeon-gon with ridiculous sincerity hits on the waitress by asking her to audition for his film. She turns down his advances and his glance wanders out the window to a beautiful woman standing in the middle of the street. The film cuts immediately to what turns out to be a flashback of Hyeon-gon's relationship with Seon-hwa (Seong Hyeon-a), whom he seems to have dated primarily for sexual reasons even though she fell hard for him. Leaving for America, Hyeon-gon promised to continue the relationship but in fact carelessly abandoned her.
In the first of a number of delicate rhymes which speak to
Woman is the Future of Man
's gentle circular structure, Hyeon-gon leaves the café to do an errand and Mun-ho hits on the waitress by asking her to pose nude for him. Denied lik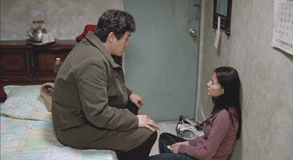 e his friend, Mun-ho's gaze rests on the same woman outside and the film flashes back to his naïve, aggressive attempts to sleep with Seon-hwa after Hyeon-gon left. When Hyeon-gon returns the subject of their shared sexual partner comes up and the two decide to travel to find Seon-hwa. Both men trying to revise a relationship they idealized and misremember, and both men are weakly and passively competing with each other to reclaim their memories of a woman they thought they understood and forgot, but whose essence now eludes them. Barely able to copulate and getting increasingly drunk throughout the film, the two men are faced again and again with their inadequacies and overconfidence in their growth as humans.

The two men go about it differently, in accordance to their personalities. Hyeon-gon is petty, insecure, over-dramatic, and childishly exploitive; Muh-ho is adulterous, a liar, dreams of banalities like job security while hitting on his students, and is completely ignorant about woman ("I didn't know women shaved their legs," he remarks after sleeping with Seon-hwa). Seon-hwa herself is not a simple character, and Hong's generous ambiguity in her motivations for again and again having these lousy male relationships is echoed by Seong Hyeon-a's performance, which varies strangely from passive to enthusiastic to cynical to rational. The trio of performances drive the subtle distress throughout all the relationships about the film, from which erupts a seemingly endless amount of attempted sex, hardcore drinking, miscommunication, and generally petty behavior that can be seen as either banally disturbing or unexpectedly laughable.
Woman is the Future of Man
is a sorrowful, funny, and deceptively undemanding film on man's vague, idealized dre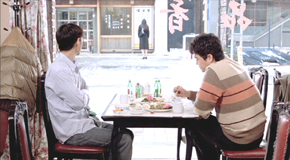 ams of a complete life. Looking at each other critically and building their own inadequacies out of competition and indeterminate goals, Mun-ho and Hyeon-gon rush forward thinking they have somehow grown beyond the mistakes of their youth. Halfway through the film Mun-ho tells his friend in a bit of revenge what Hyeon-gon had never known, that Seon-hwa had been devastated from the breakup and thought he had been "an animal." The realization comes a shock to the man, and though clearly time has passed, there has been little self-realization, clarification, or development of character.

It is Hong's light touch, efficient shot coverage (using plain camera pans, clean compositions, and group symmetry), and his cast's dead-pan ability to just barely converse with each other that lends his film the humor which relieves its near-pathetic thematic focus. Reminiscent of Ozu's Ohayo where children questioned the point of the meaningless greetings and light banter of adults, the characters of Woman is the Future of Man seem to talk around each other, leaving both trite and important questions unanswered, and their supposed intellectual sharpness deadened by permanent reminiscence, drunkenness, and sexual preoccupancy. The surface simplicity of Hong's film is actually its strong point; the ease of comprehensibility makes its subtly shine through all the stronger, and makes its combination of natural humor and pathetic unhappiness a rich, fascinating subject.