From the 42nd New York Film Festival: Triple Agent
1936, Paris. "Spy fever" has gripped the populace as the Popular Front achieves a resounding turnout at the polls and France's Leftist government is placed in a precarious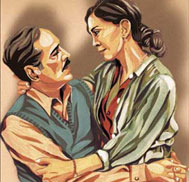 position between Bolshevik Russia and Nazi Germany. Caught up in the middle are White Russian general-in-exile Fyodor (Serge Renko), and his wife of Greek birth, Arsinoé (Katerina Didaskalu). Ostensibly working for a veterans association of expatriates who fled after the Russian civil war, Fyodor in fact is a spymaster pulling strands of information from the tumultuous state of Soviet Russia, the rising Communist threat in France, and the fascism spreading from Germany and Italy to Spain. Continuing the thematic thread of deception, Eric Rohmer's film, with the thriller-ish title
Triple Agent
, is, in fact, a marital drama framed by massive political events rather than the other way around. The film offers brief scenes of the marriage, almost all of which are restricted to domestic social spaces, separated by monthly title cards and interspersed with archive footage of the evolving national and European contemporary political developments. The contrast between the massive historical upheavals and the relative stillness of the lengthy domestic conversations provides a quivering, thin layer of normalcy that seems more fragile than the warm, comfortable rapport between the couple leads one to believe.
The brief, but telling antagonism that seeps into the marriage is the realization that, while Arsinoé's private relationship with her husband is one full of love and reticence, is in social environments Fyodor freely, though vaguely, opens up about both his work as an anti-Red and the European situation in general. Arsinoé's sense that her husband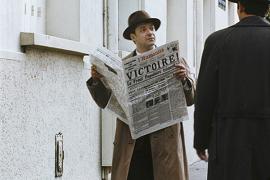 is keeping things from her, however trivial, comes to a heads and distresses that Fyodor talks more of his ideas and work with friends then with her. Fyodor calms her down with a lengthy and allusive argument about him having to lie in social situations and not wanting to lie to her, but when he next hides the true destination of a business trip from her she becomes indignant at the deception. Once again Fyodor calls upon his talents as a highly intelligent diplomat of manipulation, this time to bore her with his supposed naïve-amazement at the power he has behind the scenes of international politics. Each time Fyodor is able to placate his wife, but eventually outside political events have the force to break into their comfortable domestic redoubt and force Arsinoé to tangibly question her perception of her marriage.
Triple Agent
is an allusive, theatrical, and disarmingly airy film about the layers of illusion, self-deception, and manipulation in an innocuous marriage. Rohmer isolates the principal drama of his film to restri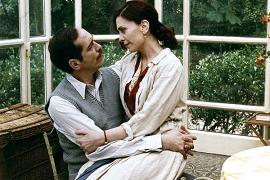 ctive interior sets, letting information trickle into Arsinoé's life only through the frustratingly uninformed talks between neighbors, her husband's friends and colleagues, and Fyodor himself. The audience is given larger contextual information in the form of chronological title cards and extensive historical footage, but in the scheme of
Triple Agent
the information can only be taken at face value. Rohmer uses a highly articulated mise-en-scene framing actors in front of clear windows or multiple open doorways in cramped spaces, and providing continual visual motifs of subjective perception to elaborate visually the implies gap of sincerity and comprehension between Fyodor and Arsinoé. Photographs, radio announcers, newspapers with various political leanings, and most emphatic of all, Arsinoé's domestic hobby of painting (which importantly is about the simple appearances and interaction of people among quaint, common social situations) places deception and misapprehension at the height of importance.
Arsinoé, who is innocent and loving and politically carefree, is the victim of the film, and the character least aware and most baffled by the machinations of deception. What she sees as a naivety about the political world is really blindness to Fyodor's blurring of his political world and that of his marriage. Unfortunately, Rohmer keeps both charact
ers from the audience in a vaguely theatrical style that places this allusive, atmospheric tension above the heads of all the characters and rarely in between them. That is the nature of the deception to be sure, but it results in a variety of exchanges that purposefully elude direct meaning and exist mainly to subtly reinforce or elaborate on the greater overarching problems in the couple's nondescript marriage. There exists sympathy for the situation, but hardly sympathy for the characters. Placed within such a heavy historical context the characters are unbelievably distilled for a Rohmer film, and much of the film survives on the mannered performances (Renko's in particular nails the pleasure he takes in watching his diplo-spy tactics string along his spouse) rather than a psychological understanding of either Fyodor's pathological deception or Arsinoé's complete misreading of her marriage.