Pennies From Heaven
, 1981 (dir. Herbert Ross, starring Steve Martin, Bernadette Peters and Christopher Walken).
Pennies from Heaven
played recently at the Egyptian Theatre in Hollywood and I missed it; shortly after that it was released on DVD and there was a lot of discussion about the film on an e-mail discussion list that I'm on, including the descriptions "revisionist deconstruction of Depression-era musicals" and "noir musical." I was intrigued, to say the least, so I put the DVD in my Netflix queue to see what the fuss was all about.
The film was a box office stinker when it was originally released in 1981, and while I didn't think it was a rotten movie, I can certainly see why it failed, especially following the enormous success of the previous screen pairing of Steve Martin and Bernadette Peters,
The Jerk
. Audiences went to the theater expecting laughs, and instead they got a depressing story and unsettling, overlong lip-synch and dance numbers (even for me, and I'm a big fan of movie musicals, especially those of the Depression era).
Steve Martin plays Arthur, a sheet music salesman during the Great Depression. He's unhappy with his home life (married to the frigid Joan, played by Jessica Harper), he's unhappy with his job despite an undying belief that he is uniquely qualified to sell songs, and he's unhappy with everything in general. He wants life to be the way it is in the songs he sells – the love, the happy endings, the good times just around the corner. On the road for his job, he meets a kindred spirit in Eileen, a forlorn schoolteacher, and they fall in love – but not the way people fall in love in the songs, not the hearts and flowers and walking on air, but sex and unplanned pregnancies and heartbreak.
Along the way, the audience glimpses the innermost feelings of the characters through song and dance – but instead of actually singing, they're lip-synching to original recordings popular songs of the day, such as "My Baby Said Yes" and "Did You Ever See a Dream Walking."
First, the good stuff. The undeniable highlight of the film is Christopher Walken's all-too-brief appearance as Tom, a pimp who coaxes Eileen into a life of whoredom. Tom is maybe the only honest character in the film; he knows who he is and what he is, and he makes no bones about it and no apologies for it either. Walken gives the role a quiet, understated menace that's chilling. If it was just the acting in his one sequence, he'd still steal the picture, but add on top of that the absolutely delightful tap/strip dance to Cole Porter's "Let's Misbehave" which is far and away the most fun number in the movie.
Bernadette Peters never had much of a movie career (this movie's reputation probably didn't help much), which is too bad because I think she's a tremendous actress – even without her singing voice that's made her such a Broadway diva. The character of Eileen is the only one in the movie that I felt sympathy for. In fact, in the first half of the film, every time she was on screen I practically wanted to cry; she was so, so sad. As worse and worse things keep happening to her; Eileen adapts to the shitty hand life deals with her in the only way she can, going from lonely schoolmarm to jaded whore in the span of 90 minutes, and is completely believeable every step of the way.
I'm a big fan of Steve Martin's, despite his recent insistence on making his living on low-level remakes like
Cheaper by the Dozen
and
Father of the Bride
. He's the best Oscar host in recent memory, and he makes up for his box office mediocrity with his books and plays – if
Bringing Down the House
makes it possible for him to do more stuff like
Picasso at the Lapin Agile
, more power to him.
Pennies from Heaven
was a gutsy move on his part, an attempt to break away from "the Ramblin' Guy" and move towards a more serious acting career.
Unfortunately – his acting kind of stinks in this movie. He still gives in to the wild 'n' crazy guy persona a couple of times, almost as if he doesn't realize it. He treats his lip-synch sequences as if he's goofing on us, going for laughs, instead of playing it straight. He's uncomfortable in his dramatic scenes. It's not surprising; this is his first role with any dramatic guts to it, and he's still trying to find his way. Six years later he found the right blend of comedy and drama in
Roxanne
, which served to be the dramatic stepping stone he was trying to find in this film.
It doesn't help that Arthur is a completely unsympathetic character. Leaving aside for the moment his hideous treatment of poor sad Eileen, what we're supposed to like about Arthur is his unflagging belief in himself and his dream for something better. At the beginning of the film he has a number of scenes stating (overstating even) his confidence in himself as a salesman – he knows what sells, he knows songs and he knows music and he knows what the public wants, and he's going to make it in this tough world.
The problem is, he's a lousy salesman. We see him failing to sell over and over again. He somehow convinces his wife to put up the money for his own music store, and he still can't sell, the store is constantly empty. So his dogged belief in his ability as a salesman doesn't come off as gumption and moxie, instead he comes off as delusional.
Also, there's something aggravating about a guy who is constantly telling himself, "If I just have this one thing I'll be happy. Okay, now I have this thing, if I can only get THAT one thing, I'll be happy. Okay, if I can just have this thing, that thing and that OTHER thing over there, I'll be happy." Not for nothing, but this is the Great Depression here. Arthur's a lot better off than half the population – he's got a home, he's got a steady job, he and his wife have a nest egg (even if they don't have a good sex life, or indeed a sex life of any kind). He's got a right to be ambitious and to dream for something better, of course, but the fact that he can't appreciate what he has is a little exasperating to me.
And then he's such a bastard to Eileen, knocking her up and then leaving her flat and alone, causing her to lose her job and move on to a life of turning tricks; he keeps coming back to her and messing her up even more. He pisses me off. He doesn't deserve the happy ending he keeps striving for. He hasn't done anything to earn it.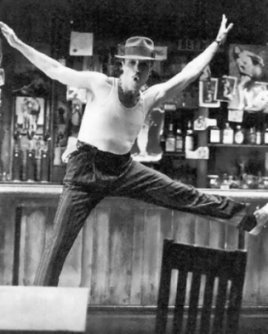 The musicals of the '30s are enjoyable, in part because they don't dwell on misfortune and squalor and poverty. There's just singing and dancing, and snappy chorus girls like Ginger Rogers, and fresh chorus boys like Dick Powell, and wide-eyed ingenues like Ruby Keeler. We don't see them trying to scrape together enough pennies to get a hot dog at the corner stand or sneaking into the boarding house because they're behind on their rent. Audiences of the '30s didn't need to see stuff like that, or want to see stuff like that; they lived it.
The revisionist approach to
Pennies From Heaven
works on some levels, showing the kind of desperation that was really going on behind all the box office fluff of Astaire & Rogers and Busby Berkeley. The costume design, art direction, cinematography and choreography is all beyond reproach; it captures the look and feel of the '30s pretty well. But I hoped it would have a bit more enchantment to it, a bit more movie magic. Musicals need joy. They don't have to be about happy subjects, but there needs to be joy. Excepting from a few scenes (Walken's number is one; the Astaire/Rogers number is another),
Pennies from Heaven
is missing that key ingredient.
Pennies from Heaven
is an interesting experiment, and while I appreciate the valiant effort of all parties to do something different, in the final analysis its ambition is too big and too unrealistic, not unlike Arthur's ambitions.