Garden State
I just realized something the other day, usually I dislike movies that were directed by people whose primary profession is acting. I'm not sure where this dislike stems from, and there are many notable exceptions, such as my love for the films of Clint Eastwood. That said, the newest exception is
Scrubs
(a personal favorite, by the way) star Zach Braff's feature writing-directing debut
Garden State
.
Now, movies that get heaps of Sundance buzz and which are regularly described as "quirky" usually fill me with a sort of dread that keeps me away from the theater, so I was pleasantly surprised that the film actually lived up to the buzz and that it was "quirky" in an amusing sort of way (most of the time). Sure, sure there are things I did not like about the film, but those are the sort of things I usually expect from a first time writer-director. Braff proves to have a keen visual sense and expert, deadpan comic timing (accentuated by both the acting and editing), so its hard to quibble with what I perceived to be his overuse of slo-mo and indie rock tunes (though I did like the usage of The Shins song during the first encounter between Adam and Sam).
Braff's writing is acute, capturing the driftless sensibility of those who are just floating through life (I read
this article
about Braff in the newspaper today, and it talks a lot about his inspiration for much of the content in the film). Basically an episodic narrative set over the course of four days, Braff's script is content to follow the characters around and observe how they relate to each other, slowly parsing out the character's often tragic backstory, while weaving both a subtle character arc (Adam's emergence from a lithium induced haze, leading him to actually begin to feel and make decisions for himself) and a splendid movie romance. The story is simple. Zach Braff plays Adam Largeman, a not too successful television actor, who returns to his hometown in suburban New Jersey after an absence of nine years to attend the funeral of his crippled mother. The emotionally numb Adam finds his hometown and former high school friends in a sort of stasis, mostly going nowhere since they are still mired in a sex-crazed, pill-popping, dope-smoking adolescence, especially the guy who made millions by lucking into a patent for "silent velcro" (this kind of stasis extends beyond Adam's friends, with the exception of the hallway bathroom, Adam's parents house is preserved exactly the same as before he left, kind of like a museum)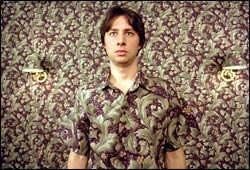 . Having left his medication back in his sterile, LA apartment, Adam decides to experiment with his life, hanging out with former friends and meeting a young woman named Samantha, who he first befriends and then falls in love with. The final day of Adam's visit is filled with a sort of meandering quest through the eccentric hinterlands of New Jersey, a quest prompted by his former best friend, Mark, played by the always measured and excellent Peter Skarsgaard, and the film concludes with an appropriately heady, romantic denouement.
Befitting a working actor, Braff writes several scenes and monologues which showcase the acting talent of his cast, especially Natalie Portman who really shines in her role as Adam's love interest Samantha, an extremely adorable, vivacious free-spirit who happens to be an epileptic ex-figure skater and pathological liar, and is probably more responsible for Adam's new attitude towards life than any sort of drug withdrawal. Her performance in
Garden State
pretty much erased my
Star Wars
prequel-induced perception of her as a wooden actress.
The relationship between Adam and Sam is my absolute favorite aspect of the film, and the primary reason why I rate is so highly. Braff and Portman have a lot of chemistry together, and their developing romance is a bit sad (actually heartbreaking when tearful Sam bids Adam goodbye, but then I'm always a sucker for girls crying), often a bit silly, and very romantic. In other words, it is very believable, and Braff services the romantic aspects of his story with many, many well-drawn, intimate scenes between the two of them, such as their scenes together in the pool or in the bathtub. I loved it when Adam actually got angry with Mark during their quest, accusing him of trying to corrupt the "innocent" Sam, which prompts her realization that he is trying to protect her and that "he really likes me!"
My one complaint, in terms of the screenplay, involves Adam's relationship with his psychiatrist father, played with a funereal pall by Ian Holm (which in my mind, predates his wife's possible suicidal death). Adam spends most of the film trying to avoid his father, and even though he is a lurking presence in the film, we learn little about him (we learn much more about Adam's deceased mother), other than he was desperately trying to fix his family by forcing them into some sort of state of mythical happiness. However, we only learn this from what Adam states, and is never really depicted in the film (though prior events allude to this point). Consequentially, when Adam finally confronts his father, his assertion of control over his life and emotional catharsis seems too easy and strikes a false note, as do several other statements of purpose throughout the film (it is sometimes akin to being hit on the head with a hammer, since the points are often very obviously stated).
Still,
Garden State
is a very auspicious debut for Braff, and while I look forward to Braff's return to
Scrubs
, I'm also looking forward to his next film. Not only that, I'm actually looking forward to Natalie Portman's next, non-
Star Wars
film; I saw the trailer for
Closer
yesterday before
Garden State
; this has to be the first time in a long time I'm excited for a movie by Mike Nichols.
Just a lark, My Top 10 Most Romantic Couples of 2004
1. Jesse and Celine,
Before Sunset
2. Adam and Sam,
Garden State
3. Jong-du and Gong-ju,
Oasis
4. Joel and Clementine,
Eternal Sunshine of the Spotless Mind
5. Seibei and Tomoe,
Twilight Samurai
6. Kumar and his big bag of pot,
Harold and Kumar Go to White Castle
7. Lucius and Ivy,
The Village
8. Peter and Mary Jane,
Spider Man 2
9. Tsai Ming-liang and old movie houses,
Goodbye, Dragon Inn
10. Henry and Lucy,
50 First Dates