Code 46

Code 46
is nothing more than a slice of life plucked from the future. The film is directed by Michael Winterbottom, a talented artist in his own right, but whose habit of turning in a film a year has resulted in a light, sparsely plotted sci-fi piece that immediately feels off-hand and casual, not necessarily for the better. Its motives are simple, tracking an off chance one nightstand between William (Robbins), an intuitive corporate detective, and Maria (Morton), a worker suspected of smuggling stolen travel papers. The rendezvous is brief, nimbly shot, and thinly layered in plot and content. Both Winterbottom and writer Frank Cottrel Boyce have little interest in exploring psychology and offer only the briefest motivations, passions, and rationale for the attraction and affair between the young, short-haired, and voluptuous Morton and Robbins' lanky, friendly, featureless white-collar worker.
Strangely enough, though
Code 46
is the tale of their brief romance, what it really feels like is an impromptu, impressionistic, realistic film. The paradox is that the work is in the genre of sci-fi; and, though not pinned down, the film clearly takes place a future not too far distant. Instead of fleshing out William's strange career of investigation through telepathic empathy, exploring Maria's blue-collar emphatic desire to help the trod-upon get through bureaucratic red tape by smuggling them proper papers, or for that matter questioning why these two people would be drawn together, Boyce and Winterbottom focus on grounding their improvised story in a highly convincing and inventively designed near future.
The title of the film refers to a clause in global law forbidding incestuous sexual relations. Code 46, and others like it, rules a global environment that is structured by detailed personal characteristics imprinted on papers. In other words, a person who suffers a particular disease when exposed to a certain environment will have such information imprinted on their personal papers. These papers will then prevent them from traveling to suscep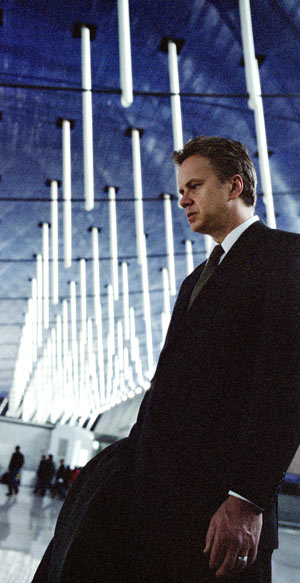 tible environments. There is no mention of states or nations in
Code 46
, and the only formal quasi-political demarcation are obscure references to living "inside" cities and being exiled "outside." Maria herself used to be an exile, and thusly comes her motivation to helping needy people who are stranded in a particular city-state be unrestricted by the system and travel freely. William is sent by an overseeing corporate entity titled The Sphinx to find out who is smuggling the papers but when he intuitively detects that it is Maria, he falls in love with her and ignores the investigation. Invariably the two mysteriously break the Code 46 clause and are brought under suspicion by various overseers, threatening their temporary affair.
Winterbottom uses "found" locations much like Yu Lik-Wai''s dystopic
All Tomorrow's Parties
and its famous predecessors like Godard's
Alphaville
, hunting down the most foreign, impersonal, and atypically hyper-modern looking locations to set the tone through a non-computer generated, non-big budget technique. In a way such a technique is far more successful and effective than bloated, large-scale Hollywood science fiction pieces like
I, Robot
or
Minority Report
. The tactile reality of these buildings and locations, which actually exist in the world, make the atmosphere not just immediately believable but also palpably concrete. This is in part why
Code 46
feels more like a romantically stylized slice of life, a short story told in a setting context everyone already understands, for it seems like Winterbottom simply went outside and shot the picture on an unadorned location; the future is now.
These locations flirt with Orientalism, as Winterbottom has shot his film in a myriad of "foreign" Asian locations unseen by Western eyes in cinema but probably common for the inhabitants of those areas. The majority of the film takes place and was shot in Shanghai, which lends to the out-of-place, exaggerated reality strangeness of Sophia Coppola's
Lost in Translation
or the work of Wong Kar-Wai. Winterbottom conquers accusations of Orientalism through Boyce's clever script, which envisions a dense multiethnic world, not just in scattered and congregated ethnic populations in city-states but in language itself. Much of the off hand dialog of the film-greetings, thank yous, and the like-are not in English but in Spanish, or Mandarin, or Arabic. Though Boyce seems to think that English will be the predominate language in the near future, a not unlikely but still presumptive guess, the effect of his speech peppered with various foreign languages reinforces how a little can go a long way in fleshing out the idea of non-national and highly culture-dense city-communities.
The production team works in tandem to Boyce's unambitious future-world, with coolly colorful hand-held lensing by Alwin H. Kuchler and Marcel Zyskind, art design by Mark Tildsey and Mark Digby that hovers the line between modish contemporary styles and proposed futurism, and the icy post-rock hipness of David Holmes groovy, narrative-less score. To keep his picture unbalanced and inventive Winterbottom cleverly offsets the pervading atmosphere of hip near future-which includes a myriad of tech ideas introduced but barely explored like memory erasure, viruses which enhance human abilities, and first person perception recording-by contrasting Shanghai's "inside" city status with the "outside" freeport Abu Dabi. Once again Winterbottom uses the power of simplicity by going on location, this time to India and the United Arab Emirates, to film
current
places and conditions transposed to, and standing in for, a theoretical future.
The results of such a talented crew and unexpected direction are spectacular in their immediacy, texture, and effect. That
Code 46
fails to garner much interest in its central drama seems beyond the point. Simply, it will do. If fact, its general non-description helps further the film's agenda of tracking an ordinary one-night romance through the norms of hip contemporary cinematic technique and expectation, but placing the entire plot within a questioning socio-political-technological context. Perhaps this is unjust to Boyce's story, but the very title of the film insures that some sort of issue of incest will haunt William and Maria's romance, and when it comes it just feels like a typical narrative
deus ex machine
in a sci-fi context. Perhaps Boyce is going for something more, something allegorical in the way the ethnically varied but individually-restrictive society halts the random spontaneity of romance; or perhaps there is a social message that erupts as William's bourgeois background takes him on a different path from Maria's lower-class roots and sympathies. Future viewings may reveal a different depth to
Code 46
's narrative, but for now one can only bask in the almost stunning verisimilitude of Winterbottom and Boyce's scenario to a possible future, one whose manifold advances engender questionable uses of technology and political liberation.