Spider Man 2
I actually had not planned on seeing this movie until today, but a misprinted movie schedule led me astray with tales of Sunday afternoon French movies. Left with no other alternative, I trekked to the other downtown theater and settled down to watch
Spider Man 2
. I had high hopes for the film entering the theater. The
original film
easily made my
Top 10 List of 2002
, and the preview trailers had left me drooling like Pavlov's dog. With such high expectations, I couldn't help but feel a bit left down (mostly due to parts of the screenplay, i.e. some obvious, ham-fisted monologues and clunky scenes, and some inconsistent performances on the part of Tobey Maguire and James Franco), but I thought, for the most part, that the film delivered, and then some.
Part I - Interpretation/Analysis
The first film left me breathless, but I had a much more measured response to the sequel. My favorite parts of the film detailed Peter Parker's continuing everyday struggles. Despite the fact that his alter-ego has become a NYC folk hero (replete with his own sidewalk balladeer, who sings an off-tune rendition of the old "Spider Man" song while plucking a violin), Parker can't hold down a menial job, can't pay his rent, and is just barely making it in college (not to mention the fact that he mixes his Spider Man suit in with his whites). He's described as lazy, undependable, and cowardly, and he is seen as a disappointment by almost everyone around him (except for the daughter of his landlord, Ursula, who despite his limited circumstances, clearly has a crush on him; a side note, I recognized the actress who played Ursula immediately, but I couldn't place her, which bugged me for the entire length of the movie; turned out she played a key guest role in an episode of
The Shield
this season, which is where I recognized her from), including Aunt May, the two potential "father-figures" presented in the film who think that Peter is frittering away his potential (Dylan Baker's Dr. Curt Connors and Alfred Molina's Dr. Octavius; though the first film's emphasis on the father-figure/son dynamic, despite the cameos of Willem Dafoe and Cliff Robertson, has been shifted away from the character of Peter, and is now almost squarely the province of James Franco's character, Harry Osbourne, who still strives for his father's approval, either by being a more successful businessman, or avenging his death) and his beloved Mary Jane, whom he continues to keep at arms length lest she be endangered by his role as Spider Man, though her newfound success as an actress and model surrounds Peter with eroticized images of her which both beguile and taunt him.
In short, he's a success as Spider Man, and a failure as Peter Parker. Why? Because he insists on keeping the sharp dichotomy between the two halves of his personality intact out of the belief that he is protecting his loved ones (though, is he really protecting anyone? Uncle Ben dies from a petty thief's bullet, while Aunt May and Mary Jane are continually put in danger by supervillains who do not even know that Peter Parker and Spider Man are one in the same), allowing the stress and frustration of leading an exhausting double life to take its toll, causing a psychosomatic reduction and eventual loss of his powers. What I found to be patrticularly interesting were two scenes in the central part of the movie, which delve into the psychological impetus behind Parker's actions, those scenes being a rather clumsily handled fantasy conversation between Peter and Uncle Ben, and Peter's tearful confession to Aunt May of his own prominent role in Uncle Ben's death. By this point in the film, it is clear that Peter does not feel that he has a choice in being "Spider Man." He's not motivated by altruism, but by guilt, so he lives out Uncle Ben's moral philosophy ("with great power, comes great responsibility") even though he thinks that it is not his own choice. From this perspective, Peter's decision to repress his love for Mary Jane (which selfishly ignores her feelings), and the state of his life in general, amounts to a form of self-imposed punishment.
Nobody can truly live with that kind of psychic baggage, so its no wonder why Peter (temporarily) chooses to reject his powers and turn his back on his duties. Whereas "responsibility" was a central concept of the first film, "choice" is takes a similar position in the sequel, and it is again reflected in the film's villain. The Green Goblin was something of a mirror to Spider-Man, a split personality at war with oneself, while also representing the evil father figure appealing to Peter/Spider Man, the id run amok to Uncle Ben's superego. This time we have Dr. Octopus, who literally does not control his powers, they control him, which is similar to the situation Peter Parker believes himself to be in. But the opposite is true, and this is something that Peter learns over the course of the narrative (sometimes didactically, i.e. Aunt May's speech on the nature of heroism, to the detriment of the film), especially after he chooses to ignore his calling and lead a "normal" life (though by this time, there is a such a gaping,unexplained hole in his prior actions, that Parker has a hard time repairing the damage, especially with Mary Jane). Peter is ultimately a good person, which is why I think that Ursula reacts the way she does towards him (even though everything she would have experienced about him would scream "loser"), and why Peter instinctually attempts to come to people's aid even when he is "powerless" (he has to actively resist helping the mugging victim, and feels terrible when he learns that someone died in the fire, someone he could have saved if he would have tried to be Spider Man).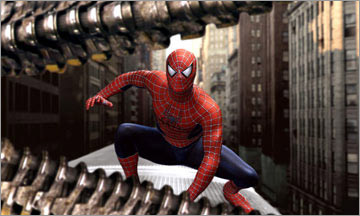 Dr. Octopus may force Peter's hand (Peter again sees clearly, has a clarity of purpose which is symbolized by the fact that his powers have returned, allowing him to discard his glasses, which actually break when they hit the ground in a close-up shot), but he would not have saved New York (or if he did, by some chance save NYC, he would have definitely returned to his old ways) if one key event did not happen in the process: he rips off his mask while attempting to the stop the runaway subway train. Though the actual event is treated somewhat casually, being placed in the middle of an exciting action sequence, for the first time, Peter and Spider Man exist simultaneously, the first of the many time he reveals his identity in the last third of the movie. First he reveals himself to the "people," who reverentially pass his limp, exhausted body to the back of the train (the way Raimi frames the overhead shot, with Maguire's arms extended, it reminded me of a Christ pose), marvel at the fact that this folk hero is really just like them (as one man says, "he just a kid, no older than my son,"), and then embodying Aunt May's definition of heroism, rally around Spider Man to protect him from Dr. Octopus, even though they have no chance of really stopping him. The second revelation is to Harry, who is so shocked by what he learns, he can barely process what is going on, and slides into madness (I actually thought these scenes were rushed, but they clearly are setting up the next sequel in these sequences).
The third and fourth revelation come in quick succession. After defeating Dr. Octopus, the unmasked Peter is able to appeal to the good person still inside him, acting as a catalyst that allows Dr. Octavius to reassert mental control over the A.I. tentacles. Now, like Peter, in control of his powers, Dr. Octavius makes a bid for redemption, choosing "not to die like a monster," and instead saves NYC from the runaway fusion reaction that he initiated. The fourth revelation is inadvertent, as well as most important, and involves, of course, Mary Jane, who after a sudden cut, stands beaming (quite literally, the way they light up Kirsten Dunst's face) at the realization that not only is Peter not a unreliable disappointment, but that he really does love her. Suddenly, everything makes sense (her suspicions from the first film are ultimately confirmed as she states "...I think I've always known").
Even so, the integration of Peter and Spider Man is not complete, and despite her protests, he returns her to her fiancee so she can safely lead a normal life (though at this point, I was thinking, "geesh, Peter, she's not too safe anyways"). However, this final revelation gives rise to the final, most important choice of the many made by the characters over the course of the film (Aunt May chooses to move on with her life; Harry chooses to give in to vengeance; Peter chooses to become Spider Man again; while Dr. Octavius chooses to save New York City), Mary Jane rejects Peter's one-sided decision, and chooses to be with him, running out of her own wedding, and meeting Peter, who was sitting alone, in his dark, hovel-like apartment. Mary Jane's love and willingness to sacrifice a "normal" life to be with him, removes the one last psychic barrier that stands between the full integration of Peter and Spider Man (guilt and self-sacrifice have their limits). With a hoop and a holler, he leaps from his apartment window to save the day.
Part II - Odds & Ends
So I decided to divide this post into two parts, because some of things I wanted to bring up couldn't be shoehorned into my interpretation of the film as I wrote it. So I just wanted to touch on a few subjects:
Comedy
- The first film had some comedic parts, especially the scene-stealing antics of JK Simmons as the brash JJ Jameson, chief editor of
The Daily Bugle
. He returns, and yes, again Simmons steals every scene he is in, though in the sequel, his part has been expanded to include scenes set outside the office, though he thankfully never loses that gruff
Front Page
-esque edge (he also has to compete with another scene-stealer, Bruce Campbell, who plays the anal usher at Mary Jane's play). However,
Spider Man 2
is a lot funnier than its predecessor, relying on more absurd sight gags and goofy slapstick humor (my favorites being Peter's battle against the broom closet; Spider Man's ride down the elevator and revelations about his costume; and the car alarm), which serves to lighten what is in reality a fairly dark story. Not that I think I could ever stomach a completely serious comic book film, such as, say
The Hulk
.
Horror
- I personally thought that the film struck fertile new ground by allowing Raimi to return to his roots and emphasize some of the horror aspects inherent in the film. The entire scene where Dr. Octopus awakens in the OR is stylistically taken from the anarchic
Evil Dead
mold, while the A.I. tentacles themselves are so threateningly bio-mechanical that Cronenberg would be proud. Then there was the foreboding vibrations and rumbling that preceded Dr. Octopus's arrival, which was something straight out of a monster movie. Good stuff.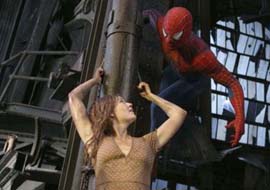 Action/SFX
- One of the things I enjoyed the most from the first film was the sheer exhilaration of watching movement on the screen (its an underappreciated value). This time, while there were was more of the same, my visceral reaction was not as great. However, I thought that the special effects were a vast improvement over the original film, which I referred to as an "animated film" (and I did not really mean that as a slam against the film) because I was always cognizant of the digital avatar moving across the screen. Though I still was always aware of the fact that the Spider Man figure was always a digital creation, I thought the filmmakers did a much better job of making Spider Man appear more natural in terms of matting, modeling the light around the body, color contrast (Spider Man was not as bright red and blue as he was in the first film), and more naturalistic-seeming movement. They may have wanted to put more work into the visual quality of Dr. Octopus since it varied from scene to scene.
Now onto the action. While on the whole, I think that
Spider Man 2
actually had less action than the first film (its a very talky film), I can't think of anything in the first film which would match the train-fight sequence of the sequel (the scene where Spider Man has to choose between saving Mary Jane or the tram full of people comes really close), which I thought was brilliant, fast-paced, and exiting from start to finish. I personally loved the fact that the engineers were needling Parker as he was trying to save them. I thought it added a little human touch to the entire superhuman proceedings.
One last note, can someone please, pretty please, hire someone else than Danny Elfman to score a superhero film. I'm really getting sick of the same musical motifs in film after film.