Shadows, Lies & Private Eyes – Film Noir DVD Box Set from Warner Home Video
Dude, this box set rocks. Five essential film noirs, all beautifully restored, all featuring full-length commentary tracks.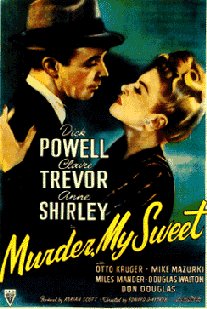 Murder, My Sweet, 1944 (directed by Edward Dmytryk; starring Dick Powell, Claire Trevor, Anne Shirley). Dick Powell, previously best-known to movie audiences as the weedy tenor in Busby Berkeley musicals of the '30s, pulled off one of the greatest career redefinitions ever with his tough, smart, cynical portrayal of Philip Marlowe. To put it in modern terms – imagine Clay Aiken being cast as the next James Bond. And pulling it off. Yeah, it was that astonishing. Murder, My Sweet was based on Raymond Chandler's novel Farewell, My Lovely, which finds Philip Marlowe investigating a stolen jade necklace, which leads to the murder of a society leech.
Like a lot of Chandler mysteries, it takes the audience a lot longer to piece together what the hell's going on than it takes Marlowe, but it doesn't matter because the dialogue is so great, and the characters who keep coming and going are so well realized. Claire Trevor kicks ten kinds of ass as the femme fatale Helen Grayle. I personally prefer Powell's breezy, relaxed Marlowe to Bogart's uptight take on the role. But then, Bogart's never been a favorite of mine anyway. Anne Shirley as the love interest, the "good girl," is sharp and keeps Marlowe on his toes – a good match for him.

The commentary by Alain Silver is a good listen. I'm pretty critical of commentaries anyway, most of the time I want the person to shut up so I can hear the movie, but Silver was full of good insights, particularly regarding the camera work and the lighting.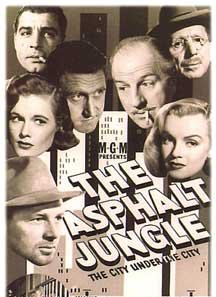 The Asphalt Jungle, 1950 (directed by John Huston; starring Sterling Hayden, Sam Jaffe, Louis Calhern, Jean Hagen). ASPHALT JUNGLE stars Sterling Hayden as a big lumbering threatening thuggish mug of a guy involved in a diamond heist, masterminded by the flawless Sam Jaffe. Everyone in this movie is great -- Louis Calhern as the weak-willed upper-class guy who's out of his league; Jean Hagen as Hayden's moll, Whitmore, Jaffe, and of course Marilyn Monroe as Calhern's mistress. The weakest link is really Hayden, who's great in the role of a big lumbering threatening thuggish mug, but towards the end when Dix is running for home and starting to fall apart, Hayden's monotone dead-eyed delivery doesn't really do it for me.
The story is tightly plotted and a prototype for so many heist caper films, well-directed by John Huston and touching on many themes that are . Great movie, but I recommend skipping the commentary by Drew Casper, which is deadly dull. However, parts of the commentary are excerpted from an interview with James Whitmore talking about his experiences making the film – those are worth hearing.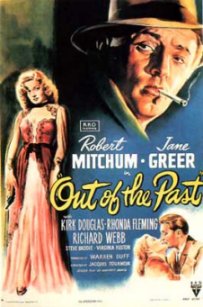 Out of the Past, 1947 (directed by Jacques Tourneur; starring Robert Mitchum, Jane Greer, Kirk Douglas). Robert Mitchum is Jeff Bailey, formerly Jeff Markham, an ex-private eye who's run afoul of a former client and has gone into hiding in a small California town and trying to make a new life for himself. As the title might suggest, a visit from an old acquaintance leads him back to his old life to take care of some unfinished business, involving that ruthless former client (Kirk Douglas), an old flame (Jane Greer), and an unsolved murder.
The photography (by Nicholas Musuraca) is breath-taking. I rarely care about or even notice cinematography (unless it's a movie like Dances With Wolves where the pretty pictures are a nice distraction from a dull film), but I definitely noticed in this case. It helped that the print was so flawless, I suppose. Robert Mitchum is an actor I can usually take or leave, but I was very impressed by him in this, a very easy-going demeanor covering a tormented past. Kirk Douglas does his menacing tough guy thing as the mobster who won't let Bailey go, and Jane Greer is great as the poisonous and two-faced dame.
However, despite the high praise, I must admit that I fell asleep in front of this movie about three times. I really think that was more to do with me than the movie, given that I can't think of much to criticize.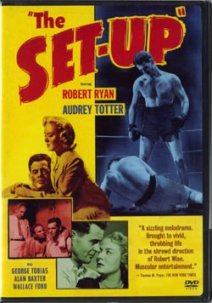 The Set-Up, 1949 (directed by Robert Wise; starring Robert Ryan, Audrey Totter, Alan Baxter). Robert Ryan is Bill "Stoker" Thompson, a boxer near the end of his career, and Audrey Totter is Julie, his long-suffering wife who wants nothing more than for her husband to hang up his gloves for good before he takes one punch too many. Unbeknownst to Stoker, his manager has made a deal with a gambler to throw the big fight tonight (Tiny, the manager, doesn't see any point in telling Stoker about it, figuring he'll lose anyway, so why not just keep Stoker's share of the dough?). Stoker surprises everyone, including himself a little bit, when he wins the bout, then has to take the consequences from the gambler.
Slight story, but a good hook – the movie plays out in real time, so essentially the audience sees everything that happens to Stoker during this fateful 90 minutes of his life. As a result, the pace drags a little at the beginning, but before you know it, you're pulled into the boxing ring with the guy and hanging on every second. The boxing scene is intense – certainly not as brutal as Raging Bull, but Ryan's training as a former boxer shows. Ryan is good as the likeable palooka Stoker Thompson, and Audrey Totter makes a very sympathetic Julie.
The commentary on The Set-Up is by director Robert Wise and Martin Scorsese – haven't had a chance to listen to it yet but I'm very much looking forward to it.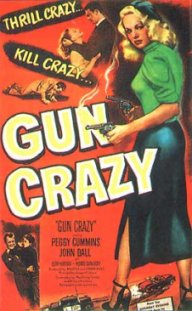 Gun Crazy, 1949 (directed by Joseph H. Lewis; starring John Dall and Peggy Cummins). Low budget B-grade noir from King Brothers Productions, released through United Artists, starring John Dall and Peggy Cummins as precursors to Beatty and Dunaway's Bonnie & Clyde. Dall plays Bart, who is, like the title says, "gun crazy" – from a very young age, he's always been obsessed with guns. As a youngster he believes that shooting a gun is the only thing he does well, so he does it a lot. However, when he kills a baby chick, he is inconsolable and vows never to kill another living thing. Fast-forward a number of years, after a stint in juvy and the Army, Bart takes up with Annie, a sharp-shooter from a traveling carnival show. She's addicted to easy money and the thrills, he's addicted to her. The result is a spree of robberies, culminating in "one last big job."
Light on plot, but some great camera stuff going on -- there's one scene of a bank robbery shot in one continuous take (starting from as they're driving through town to the bank, and up through the getaway) from the backseat of the getaway car. Reportedly, it was done in one take and all the dialogue was improvised. The effect is thrilling, it really throws the viewer into the action.
Overall, Warner Home Video's done a great job with this box set. The prints are all crisp and clear – Out of the Past looks like it could have been shot yesterday. If you have even a passing interest in film noir, this collection is essential.