A Matter of Life and Death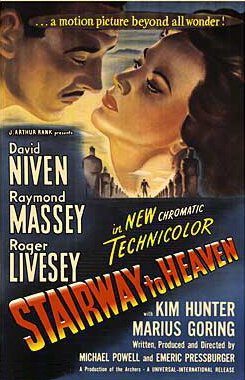 A Matter of Life and Death
, aka
Stairway to Heaven
, 1946 (directed by Michael Powell and Emeric Pressburger; starring David Niven, Kim Hunter and Roger Livesley).
I'm fascinated by movies that offer interpretations of heaven and life after death. I'm not sure why the subject matter interests me so much; I guess because no one really knows what happens after we die, so there's no right or wrong answer, just endless speculation and lots of room for imagination.
Powell & Pressburger's
A Matter of Life and Death
is similar in theme to
Here Comes Mr. Jordan
(later remade as
Heaven Can Wait
and
Down to Earth
) -– due to a Heavenly administrative error, a mortal finds himself in limbo and bargaining with the Powers That Be to reclaim his life on earth.
The opening scenes of
A Matter of Life and Death
find squadron leader Peter Carter (David Niven) about to bail out of his burning aircraft. He radios back to base and reaches an American WAC, June (Kim Hunter), to report his location. He tells her he's bailing out, but he has no parachute. In what he believes to be his last few moments on earth, he makes a last desperate and rather poignant connection with June, who represents the life that he's leaving behind. June is devastated when he signs off and jumps, knowing his chances for survival are zero.
So it's a surprise to everyone when he washes up on shore in a heavy fog, quite alive and unharmed, save for a little scratch on his head. When he finds June through the Movie Magic of Unbelieveable Coincidence (or perhaps it's just destiny), it's inevitable that they fall in love.
Meanwhile, up in heaven, Carter's flying buddy Bob Trapshaw has been waiting for him, but he hasn't shown up yet. It turns out that Peter's Conductor, a foppish, erstwhile French aristocrat who was executed during the French Revolution (Marius Goring), simply missed Carter in the fog and failed to collect his soul. By the time his error is discovered, Peter has met June already and fallen in love. The Conductor returns to earth to bring Peter to heaven, but Peter refuses, asking for an appeal to the higher court.
His appeal is granted, but the prosecutor assigned to his case is Abraham Farlan (Raymond Massey), a Bostonian who was killed by a British bullet in the American Revolution, who still holds a grudge against the English and is none too pleased about Carter's dalliance with a nice American girl. Carter will have his work cut out for him to convince Farlan that he deserves another chance at life.
It's about at this point that the movie gets bogged down briefly in criticism of Great Britain's imperialist history and an antiquated rivalry between the US and England that seems a little forced. I've read that
A Matter of Life and Death
was meant to foster post-war relations between England and the United States, casting Peter and June as the star-crossed lovers designed to bring the Hatfield-and-McCoy-like feud to an end. Unfortunately, it slows down the narrative, and because it's introduced so late in the film it feels out of place and disorienting.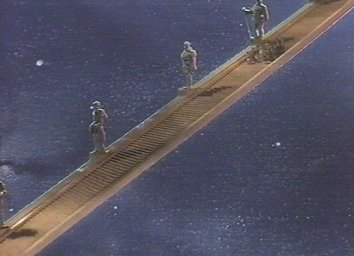 A Matter of Life and Death
is a lush romantic fantasy written and directed by the famed team of Michael Powell and Emeric Pressburger (
The Red Shoes, The Life and Death of Colonel Blimp, Black Narcissus
). The sequences that take place on earth are shot in glorious Technicolor, while the heaven scenes take place in black & white –- the opposite of what I was expecting. The black & white photography turns heaven into a cold and clinical place, which is run by clerks and paper pushers. The camera work (by Jack Cardiff) and special effects are great, making heaven seem impossibly huge and densely populated.
Kim Hunter does a good job in an underdeveloped role as June. She has little to do but gaze lovingly and sob silently and sacrifice heroically, but her headlong and constantly-in-jeopardy romance with Niven is completely believeable. She takes a small role and makes it memorable.
David Niven, a highly underrated actor with all the comic timing of Cary Grant, lends a humanism to Peter Carter, a role that easily could have been bogged down in overwrought selfless nobility in the hands of a lesser performer. In fact, the whole movie could easily have collapsed under the weight of the saccharine theme of love-conquers-death, as many others have (
Ghost
comes to mind). And somehow, even though the afterlife is portrayed as a stark bureaucratic place, it doesn't seem like a bad place to go when it's all over. Clearly, though, the emphasis in this post-war world is a celebration of life, in living color.
Not available on DVD in the U.S. yet, but a region 2 disc is available if you have an all-region player. The VHS is out of print, but well worth seeking out.