Harold and Kumar Go to White Castle, or: How I Learned To Stop Worrying and Love Neil Patrick Harris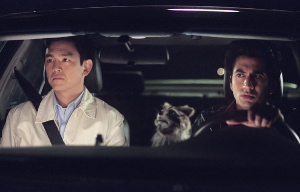 There is a question I've been asking myself a lot over the past couple of months, mostly after leaving some ostensibly lowbrow Hollywood comedy. When does stupidity become so ridiculous that it actually becomes sublime? Personally, it is a question which I do not have an answer for, being, in my mind, akin to everyone's favorite definition of pornography. However, I found myself asking the question again after exiting the newest buddy-slacker-sex-gross out comedy,
Harold and Kumar Go to White Castle
, perhaps the most brazen example of product placement since that episode of
Alias
that seemed to be centered around a shiny new Ford F-150 (product placement to which I'm cheerfully immune, since we do not have any White Castles where I live, nor a desire to own a red pickup truck). Though I've so far avoided taking Yun-Fat's advice to see director Danny Leiner's earlier film,
Dude, Where's My Car?
, I was intrigued by what I perceived (though I may have been suffering a hangover at the time) as a witty trailer for the film which I felt knowingly played on the near invisibility of Asian-American actors on the movie screen, by identifying stars John Cho and Kal Penn as "the Asian guy from the
American Pie
movies" and "the Indian guy from
Van Wilder
" respectively.
Some of that awareness of racial prejudice and stereotypes translates to the film itself, which needles the casual and not-so-casual racism of the white characters that Harold and Kumar encounter, as well as the stereotype of "the model minority", but mostly
Harold and Kumar Go to White Castle
is bawdy, profane, gross-out, stoner road trip comedy, which, like other quality examples of its genre, is amiable and sweet-natured towards its mishap prone characters. Basically, a loosely connected series of sketches,
Harold and Kumar
follows its titular characters on a seemingly endless quest whether by car, truck, hang glider or cheetah (uh, don't ask) through the hinterlands of New Jersey to satisfy some serious marijuana induced munchies, with some additional diversions along the way for attempts at sex and acquiring more pot. To be honest, the joke are fairly hit and miss (but when they hit, they hit hard), with some falling flat (the entire recurring bit about racist, Extreme Sports-lovin' redneck poseurs is just dire, but the discovery of their actual taste in music by Harold and Kumar has a very funny payoff), and what accounts for character development is pretty hokey (the fussily meek Harold loosens up and learns to stand up for himself, while Kumar realizes he really does want to join the family business and become a doctor), but the film gets by on the affable comedic performances of the leads and a willingness to do pretty much anything for a laugh, not to mention some minor, albeit interesting, commentary on race, immigrants, and the American Dream (though there are clear limits to the film's progressiveness, given some of the humor is derived from sexist attitudes and gay panic). There's that, and then there's also Neil Patrick Harris.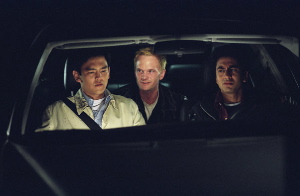 Neil Patrick Harris's extended cameo steals the movie in my opinion. Who knew that one could create quite an interesting career out of a starring role in an early 90s television show and acting that emphasizes bland, inoffensiveness? I mean, who can forget the comedic/horrific sight of Standartenfuehrer Doogie in
Starship Troopers
, replete in a black leather trenchcoat and Nazi-like uniform, or Lance the White Intern in
Undercover Brother
? And now we have Neil Patrick Harris playing, um, Neil Patrick Harris, in a hilarious inversion of his normal star persona, with balls to the walls nutiness. Harold and Kumar pick Harris up in the wilds of New Jersey, and find the former television star "trippin' balls" on Ecstasy, confessing to have banged every woman on the set of
Doogie Howser M.D.
except for the "hot nurse," and so horny that he licks and dry humps the driver's seat before stealing Harold's car in his own quest to get himself "some trim," popping up every so often throughout the movie to torment our intrepid, put-upon heroes. It is a fine addition to an increasingly odd filmography.