Harry Potter and the Prisoner of Azkaban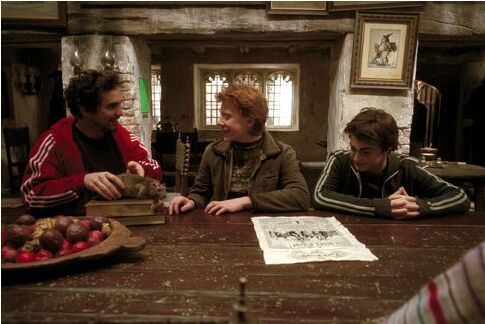 I had high hopes for the next film of the Harry Potter series as Alfonso Cuarón, the director of the fabulous
Y Tu Mama Tambien
and visually stunning
Great Expectations
, was set to take over from Chris Columbus whom I can pretty much take or leave. Even with Columbus, I enjoyed the first two films as clever and thoughtfully written children's stories. Rowling fills her books with cunning jokes, authentic childhood emotions, and surprising villains and they translated quite well to the screen. So I was stunned today when the third film surpassed my highest expectations as the best movie of 2004 that I've seen outside of
Eternal Sunshine of the Spotless Mind
.
For starters, the whole film is more tight, more cohesive than either of the others. This was mostly because there was little need for all the exposition of the first and, to a lesser extent, second film. It assumes that you understand what quidditch, muggles, and "you know who" are. This really lets the movie exist within its own fantasy without constantly pointing out how novel everything is. I had a real feeling of escaping into the realm of Hogwart's and having an adventure.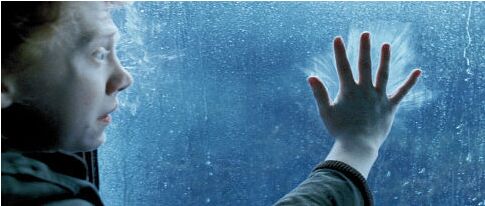 The cast they found for the series has always been good, and they don't fail the film here. The kids are solid actors, and fast becoming young adults before our very eyes. Harry, Ron, and Hermione are now all old friends and close to family. The seeds are planted in this film for an obviously intimate relationship between two of them. These moments are skillfully handled, funny, and cute without being obnoxious. There are nice moments when we see the trio goofing off together, and we see their loyalty to each other. This isn't new to the third film, only more artfully done. Alfonso Cuarón isn't holding up big signs to point out each relationship. The storytelling is just more organic than that. And Alan Rickman returns again as Snape. Rickman is fun to watch anytime he's on film.
Each film has had sort of "guest stars", actors who appear as professors or other characters important to that installment. John Hurt appeared in the first as the wand maker. Kenneth Branagh appears in the second as the faker Gilderoy Lockhart. While Gary Oldman is on hand to play the titular prisoner of Azkaban, it turns out to be a minor role. The surprise of the film is David Thewlis in the all important role of Professor Lupin.
(SPOILERS FROM HERE ON)
Thewlis turns out a great performance as Harry's mentor throughout the adventure. He has a secret, it turns out he's a werewolf and it is played in the end as if he is an AIDS patient outed at a prestigious private school in another time. Thewlis breathes life into his old school master, compared to Branagh's silliness in admittedly a very different role.
Emma Thompson also makes an appearance, and has a few good gags but offers nothing special. The big casting disappointment has to unfortunately be Sir Richard Harris' replacement as Dumbledore, Michael Gambon. While he is the spitting image of King Arthur, he is terribly missing the late Harris' most wonderful asset: his voice.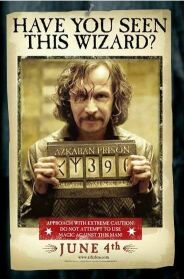 On to the action, where the film wastes little time. After the obligatory embarrassment of Harry's muggle relatives, he's quickly off to Hogwart's. There are lots of fun special effects, of course. But then finally they exist to move the story along. There are scary looking Dementors, grim reaper wannabe's looking for the dangerous Sirius Black (Oldman), the escaped prisoner. They float around, freezing everything around them while hunting their prey and anything that gets in their way. The quidditch match leads to a moment of mystery rather than existing as an insular chariot race. Then there is the most ingenious wizard device in the film, an old dull parchment that with the right spell acts as a sort of GPS radar for everyone in Hogwart's. Very useful for sneaking around and great for showing end credits on.
There are really too many fun sequences for me to go into. And I don't want to give away all the plot, but every plot element is weaved into the final, most exciting sequence of the film, where a little time travel is involved and lots of "Aha!" is exclaimed by the audience. It was a joy to watch and I'm sad that Cuarón will not be directing the next installment, as I will remember this one as not just a great kid's movie, but a great film. (And it made that
Shrek 2
movie look like the callow, facile, baloney that it is.)