Four Previews and an Oldie
I'll take this opportunity to preview four movies coming out this summer (don't worry, no spoilers here, since nobody has really seen these yet; just my initial opinions to get your appetites whetted), and put in a good word for the best DVD I've seen recently, and in fact one of the best films I've ever seen in my life.
Before Sunset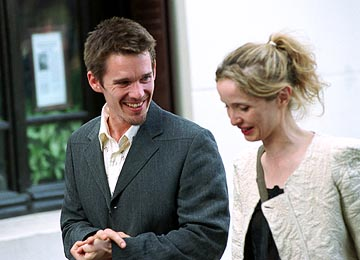 Nine years ago – you saw it, you identified with it, you loved it. Perfect ending. Keep it that way. Let it be. What? They're making a sequel to
Before Sunrise
? Oh my god, what a horrible idea. It's like in
The Player
when Buck Henry makes that hilarious joke about doing a sequel to
The Graduate
where Mrs. Robinson is so old she has a stroke, and you laugh because it's such a bad idea. [Note: they actually are doing a sequel to
The Graduate
. It's being written and directed by Ted Griffin, who wrote Soderbergh's stupid
Ocean's 11
and Ridley Scott's stupid
Matchstick Men
, and stars Kevin Costner and Jennifer Aniston. No, seriously. Anything is possible in Hollywood]. So how are they going to fuck up
Before Sunset
? It's nine years later, and Ethan Hawke meets another girl on a different train, and has a different type of one-night stand? Like maybe she's Japanese and they have karaoke night? Well, I won't tell you. The best thing about viewing it is seeing how these characters behave in the future, not knowing any of the circumstances and piecing it together as it moves along. Linklater has served his audience and his characters very well – this is a respectful sequel, not trying to capture the same type of feeling, but rather adapting and maturing and acknowledging the different speed and perspective that life takes on when you're in your mid-30s instead of your mid-20s. It's not quite the brilliant work that the original was, failing to capture Paris the way the first film captured Vienna, but there is a subtle power to the visuals nevertheless, and Hawke & Delpy settle into these roles perfectly. Highly recommended; 8/10.
Open Water
Something happens at Sundance. If a picture is even remotely competent, audiences cheer and scream as if they've just seen their first non-student film and it blew them away. Don't be fooled by hype on
Open Water
, which purports to be an extremely scary shark-attack movie that uses no special effects. The latter is true, the former is not. It's not scary because the characters are totally unlikable and boring as hell. This is mostly due to the Amateur Hour performances from the D-grade leads (veteran character actor Saul Stein steals the film early on in a near-cameo), but also because director Chris Kentis does everything wrong that Gus Van Sant did right with his
Gerry
, a film that's also about two characters lost in the middle of nowhere, struggling to survive. Thanks to bad digital videography and poor framing, Kentis blows his opportunity to use the ocean location to his advantage, and the dialogue is often laughable. Only the very ending, which I won't reveal, injects some true spark of courage into the proceedings, but it's too late to rescue this failure. 4/10.
We Don't Live Here Anymore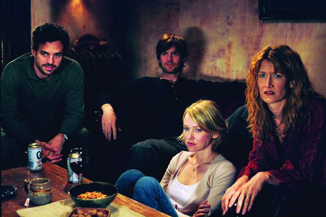 One of the best films of the year so far. An absolute powerhouse of acting, with Mark Ruffalo, Naomi Watts, Peter Krause, and Laura Dern simply taking us to school by burrowing deep inside the four characters at the center of this adultery drama. They tear through the raw energy of the script reveal complex, shifting, confused, dynamic adults struggling with the impossibilities of love, monogamy, and parenthood. On top of that, director John Curran adds bursts of lyricism to the soundtrack and editing that layer the film with a beautiful artistic atmosphere. Stumbles a bit at the end, which is the worst place a film can screw up, but it's not enough to ruin what will be remembered come the end of the year when acting awards are doled out. 8/10.
Red Lights
This Cedric Kahn piece is basically his introduction to American audiences, most of whom never got to see
L'Ennui
or
Roberto Succo
, two of his previously acclaimed films. The French stylist is often compared to Hitchcock, since he's a plot-heavy director keen on drawn-out suspense.
Red Lights
concerns an arguing couple who split up during a road trip, which leads to a horrific 24 hours wherein the alcoholic protagonist suffers all kinds of torture trying to get back to his wife. While Kahn definitely knows what he's doing with the camera, the film has a few major plot problems (which I would overlook in a movie where less emphasis was placed on story, but here, story is everything) and at times the dialogue can be truly naïve. On one hand, it's hopelessly expository ("Sorry, I can't hang out with you tonight; what I'm going to do is, I'm going to meet my wife for a drink, and then we're going to drive out of town so we can pick up our kids, who are at summer camp"), and on the other it gets supremely preachy and trailer-ready ("In these last few hours, our life has been turned upside down!" "Sometimes you don't see what you have when it's right in front of you!"). But I still recommend the film for those interested in seeing the emergence of an exciting director who probably has a masterpiece ahead of him. 7/10.
The Bitter Tears of Petra Von Kant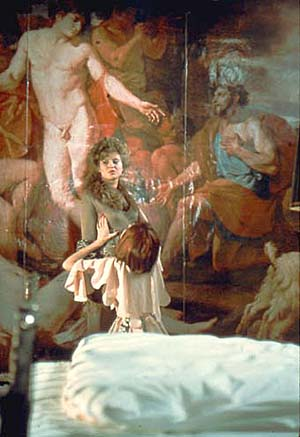 As time goes on, I have less and less to say about this mind-blowing work of staggering genius, because as time goes on, I love it more and more. Fassbinder never really got my blood flowing in the past, but I guess I just hadn't seen the right films – with this one, he proves to be a relentlessly exacting formalist, spraying the canvas of this film with the most rigorous compositions this side of Kubrick and Haneke. For a film with nothing but six female faces on screen in one small apartment, it is amazingly entertaining, mostly because the eye never has a moment to rest between enthralling images; Fassbinder's camera moves gracefully across the room, cutting beautifully from face to face to mannequin to face, his pictures telling a thousand times more than every word of dialogue. It's about sex, love, pain, desire, imbalance of power, dominating relationships, family, death, gender, class, wealth, time, and distance – both in emotion and physical space. It is a work of unforgettable passion and art. I've seen a lot of movies, but this is truly one of the very best I could ever hope to see. I can't think of a way in which it is not a perfect execution of its conception. And I was wrecked – both times I saw it – by the final scene, melding story, music, and image into a transcendent whole. 10/10.