Fahrenheit 9/11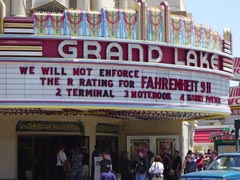 If I was Michael Moore, I'd be doing two things right about now: First, I'd be patting myself on the back for the wondrous way in which the media, the political climate and my own savvy marketing has made
Fahrenheit 9/11
a monster hit before it even opened; and second, I'd be doing my back-patting from a safe distance, maybe in a cave far, far away, right next to Osama Bin Laden's.
Look up in the sky. It's even money the clouds you see have formed from steam whistling out of George W. Bush's ears.
Fahrenheit 9/11
is that scathing, and this is undoubtedly one pissed-off prez. Moore's latest film is more than a simple indictment. It is probably the most damning and disturbing film ever produced about a U.S. President, ripping apart the entire Bush presidency, savaging his family's credibility and coming within a hair of accusing Bush of outright treason.
Fahrenheit 9/11
begins with a fireworks display celebrating the hopeful presidential victory of Al Gore, followed by shock, dismay and apparent treachery as Florida -- along with the entire country -- seemingly slips into Bush's hands via the supposed machinations of family moles planted in Florida, the Supreme Court and Fox News.
But that's just the beginning. Moore's election conspiracy grenade is just the opening pitch. The fireworks really start as Moore delivers the entire Bush family, the U.S. administration, Saudi Arabia, September 11 and, of course, the war in Iraq on a conspiracy platter so thick and tangled it's hard to know when to laugh and when to be truly scared. His evidence is a scattershot of pieces and clues that Moore fuses together by the heat of his beliefs.
But to buy into his sinister conclusions means buying into his level of contempt for the present authority. If you don't, then all his facts appear strung together by spiderwebs.
There is the deep financial alliance between the Bush and the Bin Laden families and Bush and the Saudis. Moore assembles all his clues and suggests the men at the top of the U.S. presidency have been putting Saudi interests and their financial pockets ahead of their responsibility to America. His facts appear solid even if the conclusions are flimsy, but Moore doesn't let that slow him down -- he literally comes within a legal word or two of calling George W. Bush a traitor to his country. Them's alot more than fighting words.
But it's on the subject of the Iraq war that Moore shines best, both as a filmmaker and as a messenger of truth. He puts down his amateur sleuth hat and does what he does best -- interview people. We're taken inside Iraq to see footage of 20-year-old kids fighting a war they don't quite understand, we see horrific, painful clips that would never show up on American television, and we follow a Mother's helpless grief. The latter is an emotionally devestating segment, and it's the most manipulative part of the film. Moore latches onto this woman's gripping story like a lifeboat for his credibility, knowing it offers both emotional punch and undisputed reality. The cost of war is rammed home all the more powerfully because Moore, for once, shuts up and simply allows this story to be shown.
Whether or not you buy the hyperbole, Moore -- the "gadfly" documentarian, the goofy "showman" -- proves he has graduated into an impressive investigative journalist. We see information and video clips that beg the question, "How the hell did he get that!?" It's newshound reporting in the finest tradition. As Moore himself has said, his reputation has grown to the point where inaccessible files and pictures are now offered to him through clandestine contacts. That position can only help his films and it's even more important for his audience, because it grants us access denied to us by networks and the press.
Whether you agree with him or not, it's hard to argue that someone should be doing Michael Moore's job. At worst, he can be accused of being a talented pain in the ass who can't resist running with scissors. At best, Michael Moore may be the gutsiest filmmaker North America has ever seen.