Troy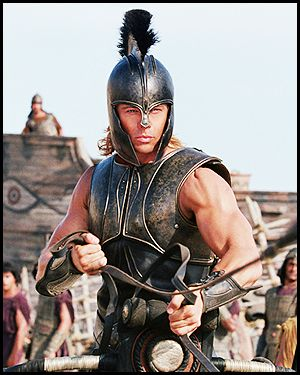 Women love a bad boy. David Benioff, fresh off his brilliant script for Spike Lee's terrific
25th Hour
, has written (probably with the help of several highly paid uncredited studio script doctors, whom I hope are responsible for most of the bad dialogue) a sword-and-sandal period adventure that couldn't be further from the present-day New York elegy of his debut – but both films have as their sexy heroes a brutal, authority-defying bad guy. Brad Pitt hasn't kicked this much ass in anything but
Fight Club
and
Snatch
, and even then his fists of fury were no match for the blade-slicing, spear-chucking,
Matrix
-diving warrior Achilles that he plays in
Troy
. And just after he murders enough people and rolls around sweaty, naked, and caked in dirt and blood, that's when the enemy slave girls go nuts and yank him into their beds.
Plenty more material in Petersen's summer blockbuster appeals to a modern-day crowd, and it's material that's timeless enough to feel appropriate for the days of Greek mythology that Homer made so famous. Nations still went to war over land, greed, and power, and one of the best lines spoken to Achilles is: "War is young men dying and old men talking; you know this. Ignore their politics." And when it comes time to debate the existence of God and the relevance of devotion, Achilles says to his new girlfriend Briseis, "Why do you choose to love the Gods? I think you'll find the romance one-sided." With good, old-fashioned themes that can the press buttons of any generation,
Troy
is ripe for good, old-fashioned Hollywood movie-making.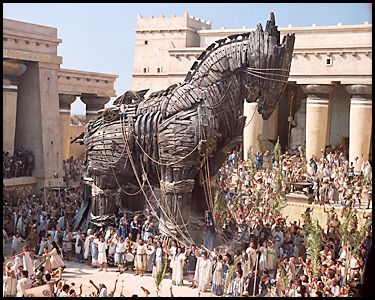 While the extreme amount of special effects makes this film quite different from the 1950s blockbusters of yore, the fast-paced, pulpy storytelling, opulent costumes and set design, skillfully choreographed action, and bold, earnest performances allow it to fit the mold in the same way films like
Titanic
and
Gladiator
did. Both of those Oscar-winners suffered from equally cornball dialogue, and
Troy
has some laughable lines. But only flicks like this, where massive sets swallow hundreds upon hundreds of (computer-generated) extras and props, can make us forgive shots like Pitt staring off screen in slo-mo into the wind and sun, and Orlando Bloom's Paris uttering "We will be together again, in this world or the next."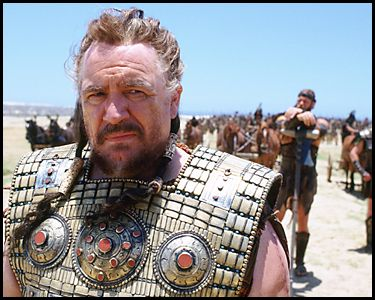 What makes
Troy
a likable work of grand entertainment is Benioff's characterization. There are very few obviously "good" or "bad" characters here, since the morality is relative and everyone has a solid motivation for what they do. Soldiers aren't automatically loyal to their leaders, one country doesn't have the righteous mandate to victory over the other, and when two proud men of warring sides are fighting each other, each has a good reason for it and neither deserves to die. Thanks to Eric Bana's fiery performance, having been awoken from the trance Ang Lee put him in, the character of Hector is as sympathetic as Achilles or Helen (played by a brain-dead, talentless Diane Kruger), the latter of whom couldn't help but leave her abusive Greek husband Menelaus (an always appealing Brendan Gleeson) And when Brian Cox, having loads of fun as the power-hungry Agamemnon, spits out the word "peace" three times, mocking its stupidity while he's trying to go to war, one gets the feeling this guy has the same thirst for control mixed with contempt for his people as George W. Bush.
Troy
won't go down as one of the great Hollywood period epics, but it's a rare summer thrill ride that is pleasing enough in spirit and theme to push us through its moments of cringe-worthy dialogue and hokey, outdated sincerity. Compared to something as simplistic and lugubrious as
The Alamo
, with cardboard villains and a worthless subtext, this war picture has a few more brains to go along with its brawn and is a far more enjoyable voyage to the past.