Raising Helen and The Gerund-Name Title Device
I haven't seen
Raising Helen
. Nor do I intend to, since it just looks like another trite, pandering middlebrow crowd-pleaser, not to mention its release during the often brain-dead summer months and designed as counter-programming to
The Day After Tomorrow
, leading to a Memorial Day weekend full of artistically bankrupt studio claptrap tailor-made to the exhausted attitudes of a bewildered movie-going public, their attention spans withered to dust by reality TV, cable news, and mindless clip shows. Like cattle they will trudge dutifully to the malls and multiplexes to slide their credit cards through machines in order to sit in air-conditioned boxes, forget their unremarkable, meaningless lives, dead-end careers, and loveless marriages so they can sit on their increasingly fatter asses, shovel popcorn into their drooling gobs with robotic arms, and hopelessly escape the outside world for two hours plus trailers.
So why this review? The title of
Raising Helen
gives me an opportunity to voice my dissent for an ever-growing trend in entertainment titling. It seems that everyone from cluelessly pretentious student filmmakers to major A-list artistes has deemed it necessary to use what I call the Gerund-Name Title Device. You'll see the GNTD everywhere and I really must be the only person upset with the numbing repetitiveness of it -- probably because I'm a picky language-nerd with few other better things to do. What it is is a title that begins with a gerund (that's a present participle ending in -ing for you non-nerds among my readership) and continues to the name of a person, most likely a character in said project. What makes the GNTD even worse is when the two words together combine to make a pun out of the character's name. Such is the case with
Raising Helen
, obviously. "Oooh, I get it! Kate Hudson is going to raise hell! Isn't that funny that she has to "raise" some kids? And her name is Helen? I bet, in her own way, she will grow up too!"
"Meaningful" names are staples of the unimaginative film – anytime someone is named Hope or Faith (can you imagine a television show with both of those names? And if they called it "Hope & Faith" or something? What's that, you say? Oh no…) you can count on manure in your lap. The bronze medal goes to the name Grace, which is a favorite Gerund-Name [plus pun] title candidate – cf.
Saving Grace
, etc. [Note: according to the IMDb, there are no fewer than 7 (seven) films entitled Saving Grace]
To be a pure entry onto the growing list of hideous Gerund-Name titles, it should be only two words long. But first and last names together still count (e.g.
Being John Malkovich
), as do names with prefixes or titles, such as
Saving Private Ryan
. (As you'll see, "saving" is one of the most popular gerunds employed in the GNTD). Now, just because I am picking on this horrendous title fever, this growing disease of uncreative madness, doesn't mean I dislike the films and/or shows. They can range from the terrific (
Deconstructing Harry
,
Raising Victor Vargas
,
Owning Mahowny
) to the truly awful (
Chasing Amy
,
Watching Ellie
). There is no discrimination, only that every one of them could have had a better title if they tried. Come on, writers. This is getting old. Grow some imagination. Stop with the gerund-name device. It's no longer hip. It's no longer tempting. It's no longer interesting. It's done. Hell, try command-adverbs – that worked for
Kiss Me Deadly
.
Anyway, here's a partial list of the GNTD offenders I've come up with so far. This list grows weekly, so I'm always taking submissions. Post to the comments section and let's see just how many cattle there are in the titling world – it might equal the number sitting in front of screens watching
Raising Helen
this weekend…
Chasing Amy
Loving Jezebel
Being John Malkovich
Finding Forrester
Saving Private Ryan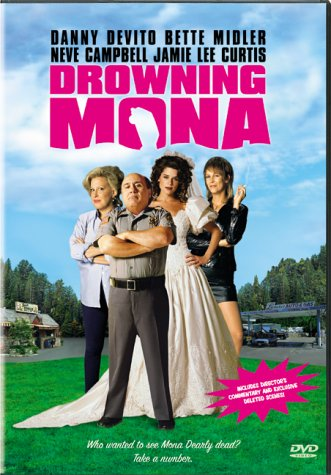 Kissing Jessica Stein
Educating Rita
Deconstructing Harry
Losing Isaiah
Saving Silverman
Drowning Mona
Killing Zoe
Regarding Henry
Teaching Mrs. Tingle
Inventing the Abbotts
Playing Patti
Saving Grace
Judging Amy
Silencing Mary
Introducing Dorothy Dandridge
Serving Sara
Wrestling Ernest Hemingway
Guarding Tess
Driving Miss Daisy
Eating Raoul
Boxing Helena
Killing Priscilla
Finding Buck McHenry
Raising Helen
Owning Mahowny
Finding Nemo
Chasing Papi
Raising Victor Vargas
Watching Ellie
Playing Mona Lisa
Avenging Angelo
Stealing Sinatra
Trading Mom
Raising Cain