Mean Girls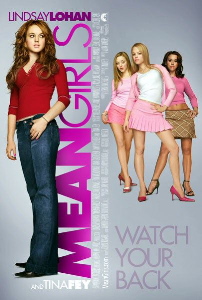 Despite the film's rather generic title and marketing campaign, I was attracted to this film based on the various good reviews (including the short blurb in
Joker's Screening Log
) it had recently received, with much of the praise being directed towards Tina Fey's script, an adaptation of the nonfiction parenting guide
Queen Bees and Wannabes
by Rosalind Wiseman. Also, to be fair to my own motivations, it certainly did not hurt that Tina Fey, riding a wave of geek chic popularity among my friends, got herself cast in a plumb supporting role as a seen-it-all math teacher. So that is how I found myself and a friend at a screening of the film last night (a screening seemingly attended by half the middle-school/high school aged population of Madison; it was quite funny to see the apparent beef between Alison Lohman and Hillary Duff translate into some members of the audience, who, I shit you not, actually cat-called and made derisive hooting noises during a trailer for a new Hillary Duff movie).
Despite its pat conclusion and shopworn, sometimes clumsily deployed message,
Mean Girls
, is an example of an increasingly rare breed, a good Hollywood movie; even rarer still, it's an example of a teenpic with brains, falling somewhere in the spectrum between the caustic, almost apocalyptic, black comedy of
Heathers
and the smarter films of the 80s John Hughes oeuvre (if you want to get even rarer still, it's an example of a movie produced by Lorne Michaels that is actually good). I have to give much of the credit to Tina Fey's script, which is actually dependent on smart, funny dialogue (it's refreshing that the film is largely free of gross-out gags) and actual characterization, as opposed to stock types and shallow caricature (not that caricature and exaggeration are absent from the script, but pretty much everyone is given their due, so you get the sense that the characters actually exist beyond caricature, from the dreamy hunk with hints of hidden depths, to the South Asian mathgeek who's also a self-described "Bad-Ass MC"). Exhibit A would be the treatment of the adult characters, usually a glaring weakness in any teenpic; with the exception of Amy Poehler's character (a pathetic embodiment of how not to be a parent), all of the adults are treated, well as adults (in particular I liked Fey and Tim Meadows, who plays the laconic principal afflicted with carpal tunnel syndrome; loved it when he deadpans "I didn't leave the Southside for this," as he surveys the chaos overtaking the halls of his Evanston high school). They may have their flaws, but they are not your typical clueless idiots; surprise, surprise, they actually have valid, intelligent opinions which they actually express. And the kids, they actually listen, and, gasp, are often better off for it. Also, you got to give the screenplay points for not using the ever stupid cliché of making Lohan's character an ugly duckling, you know, by wearing glasses and stuff.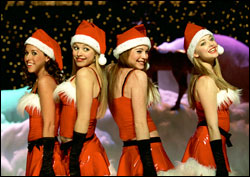 But what I found most interesting about the film was the plotline, which I'm assuming Fey created herself, since I can't figure out how a parenting guide would have such a throughline. Scott Tobias,
in his Mean Girls review in The Onion
, makes reference to Martin Sheen's pursuit of Marlon Brando in
Apocalypse Now
, but I think a more apt cinematic comparison would be movies such as
Donnie Brasco
or the television show
Wiseguy
, where a character goes undercover with the intentions to bring down some group (in those movies, the Mafia, in
Mean Girls
it is the uberclique that rules the high school known as "The Plastics"), only to find that the deeper they go undercover the more they actually become their target. In a relatively short order, Lohan's character masters the baroque rules and backbiting tactics of "The Girl World" with Machiavellian aplomb, and wakes up one day to find herself having displaced her hated rival Regina to become the "Queen Bee of the Plastics." And at that point, she isn't playing the role anymore, she has become the role (quite literally, as she begins to actually echo statements that her predecessor Regina uttered).
What is ironic is that the tactics that the conspiring outsiders (personified by the artsy goth chick Janis) use to exact their supposedly "noble" revenge on Regina and The Plastics are the exact same that would be used to claw their way to the top of the high school female social hierarchy. This irony points to the film's central message (which is unfortunately hammered home in the film again and again in the last 20 minutes), and that of Wiseman's book (from what I have read about it online), the way that the high school social order sets girl against girl. As much as people would hate to admit it, the rules of "The Girl World" are all too pervasive and their negative consequences epidemic, from the bottom to the very top of the pecking order (it's akin to one of the central themes of the earlier seasons of
Buffy the Vampire Slayer
, see the S3 episode "Earshot," for example). To borrow another theme from the "undercover cop" genre, the undercover agent usually finds that the supposedly glamorous targets are actually quite sad and pathetic creatures;
Mean Girls
is no different, as the quest for power and position is almost ulcer-inducing. There is nothing sadder in the film than Lacy Chabert's character, Gretchen, and while you laugh at her stupidity, you can't help but sympathize with her awful position.
Given the recent pervasiveness of the teenpic genre, it's refreshing when an exemplary film comes around which doesn't treat its audience like a bunch of horny idiots with no attention span (not that I could tell whether the film's message had any discernible impact on the target audience).
Mean Girls
is a flawed gem, but a gem nonetheless. More Hollywood films could benefit from this film's combination of a smart script with actual ideas, good characterization, appealing cast, and competent direction (since I haven't mentioned him yet, the film was helmed by
The House of Yes
and
Freaky Friday
director Mark Waters). It would be a start.