La Dolce Vita
LA DOLCE VITA
, 1960 (Director Federico Fellini, starring Marcello Mastroianni, Yvonne Furneaux, Anouk Aimee).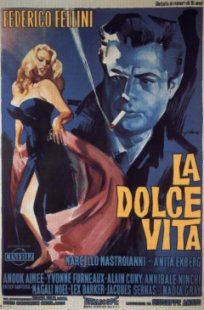 I watched this movie once before several years ago, maybe around 1990, and as it turns out I retained very little of it, except an undying love for Marcello Mastroianni. Watching it again Friday night at the Nuart Theater in West L.A. was like seeing it for the first time. I came home and I couldn't stop thinking about it. I went to bed and dreamed about it -- in Italian, no less. I got up Saturday morning and watched it again, this time the version I'd taped off TCM last weekend -- incidentally, the subtitles in TCM's print were a lot better – I can't say if they were more accurate, but they were a lot more thorough.
La Dolce Vita
tells the disjointed story of the disjointed life of Marcello Rubini (Mastroianni), a tabloid journalist who once harbored dreams of being a novelist. As the movie begins, Marcello is discontented with his life, with his fiancee (Yvonne Furneaux), with his work. He takes advantage of his proximity to the rich and famous to have dalliances with beautiful women, including the breathtaking Maddalena (Anouk Aimee) and American film star Sylvia (Anita Ekberg).
The film is told in a series of episodes – not following any real plot but rather following Marcello through his life and his work as he goes along. At all turns he is surrounded by his friends, the ruthless tabloid photographers he works with – one in particular, his friend Paparazzo (from whose name the term "paparazzi" was coined). The photographers are always on hand to capture the joys, the sorrows (okay, more often the sorrows) and the revelry of The Sweet Life that Marcello reports.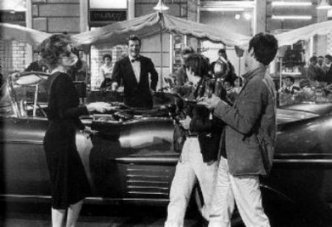 The only time Marcello seems to come out of his shell and really come alive is in the presence of his friend Steiner (Alain Cuny) -- who, not coincidentally I'm sure, we first meet in a church. Steiner seems to have everything that Marcello longs for -- he's surrounded by his books and intellectual friends in a nice big house, he's got a wife and two beautiful children. At a party, Steiner confesses that his life isn't all that it's cracked up to be. "Don't believe that salvation is closed up in a room," he tells Marcello. Steiner is so stifled by his closed-in life that he has to record the sounds of windstorms in order to feel a connection to nature again.
After this interlude, Marcello tries to get back to writing his novel, at a deserted café outside of Rome, where he meets a young girl who works there as a waitress. We don't get to know her very well, but she's about the only woman in the movie that Marcello doesn't try to make love to. He tells her she looks like an angel; she is amused by him, this older man flirting with her, and doesn't take him seriously.
Marcello works a balancing act for a short while, between novelist and journalist, between the party crowd and the intellectual crowd, but it's obvious that one or the other will win out eventually. A chance meeting with his father offers him an opportunity to reconnect with his family and get to know his old man. He seems disappointed, though, to learn that his dad is just like he is – a drunk, hedonistic old sex fiend.
After a crisis involving his friend Steiner, the bottom falls out for Marcello. He gives himself over entirely to a life of debauchery -- wild parties, loose women, drinking, orgies. In the end, he can't even recognize the man he used to be (or once had a chance to be), anymore than he can hear his "angel," the same one from that deserted café, over the sounds of the sea -- she beckons to him, but she is drowned out by nature, the same sounds that Steiner had to record and play back to comfort himself with.
I think it's a profoundly sad story. Marcello starts out confused and discontented; by the end he's bitter, twisted and filled with self-loathing. Along the way we see some occasional impulse in him to live a good life, a fulfilling life. But after he sees what happens to his friend Steiner, the man who had it all, he just gives up, and gives in to his baser side. Which would probably be fine if he enjoyed it, I'd cheer for him -- but he just looks so damn sad.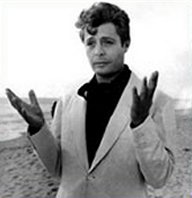 It's not an easy movie to get through. There are some slow moments and at three hours it's a little taxing. But one thing is for sure -- it's been popping up in my mind all weekend. Very few films have stuck with me like this one. Favorite images and/or scenes: the trumpet player with the balloons at the Cha Cha club; the "echo chamber" room scene where Maddalena proposes to Marcello; the "Miracle Tree" and the children who claim to have seen the Madonna; Sylvia and Marcello in Trevi Fountain -- actually, his whole pursuit of Sylvia is funny and awkward and clumsy and a little sweet.
La Dolce Vita
is playing at the Nuart through Thursday and will be at the Egyptian as part of a Fellini retrospective in June. If you're in L.A. you've got a couple chances to see it on the big screen, take advantage of it.