Kill Bill
This review of Quentin Tarantino's
Kill Bill
will cover both movies as a whole experience – and a complete entry into the filmmaker's oeuvre – but just to be cheeky, I'll split it up into two parts. The good (or bad, depending on your opinion of my writing ability) thing about this is that I won't make you wait six months to read the second half.
Part I
–
in which I'll discuss Tarantino's form.
I have a problem with the phrase "style over substance," not because it implies that the two things are mutually exclusive (it doesn't and they aren't), but because it creates an unnecessary binary relationship between style and substance: it says that they're two distinctly different things that can be measured against each other. Why?
Kill Bill
argues that style can be the substance. And it is, for almost two hours.
What Tarantino does in
Vol. 1
is not only create the single most entertaining film released since
Boogie Nights
, but he does so by exhibiting a love for film that goes beyond romantic and borders on stalking. A style exercise it may be, but because the style is so peerless and flawless, an analysis of the film almost has to begin with the
how
instead of the
what
. The oft-cited 'mix tape' analogy works because QT samples everything he can get his hands on and whips it up into a glorious whole that becomes unique to itself. Colorful subtitles, black-and-white 35mm, Japanese animation, grainy 8mm, together with Bob Richardson's expert photography, make sure the look is outstanding and vibrant; you want to watch this movie – in fact you can't take your eyes off it.
Vol. 2
may not be as flashy, but the formal brilliance is still there in the subtle camera moves, clever use of sound effects, the suspense of long takes, and the rhythmic timing of Sally Menke's editing that helps the musical theater of the film take over. And all throughout
Kill Bill
, Tarantino is telling quite a story but he's doing it to show off the power of cinema first and foremost – it's an attitude common to most of the filmmakers he's influenced by, most notably Brian De Palma (to whom Elle Driver's introduction in
Vol. 1
is clearly indebted). Tarantino's unabashed love for movies and for the craft of creating a visual experience is so moving that it's impossible to swallow the criticism that
Kill Bill
is heartless. Its images are violent, its themes are dark, and the plot itself amounts to little more than a bloody revenge tale, but this is a movie's movie and should be read as such.
Part II
–
in which I'll discuss Tarantino's content.
Vol. 1
opens up with a quote reading "Revenge is a dish best served cold" – and then it's attributed to
Star Trek
, of all places. This tongue-in-cheek joke fits in well with QT's career to date, where he has made a name for himself by making art out of thievery. Authorship (a Western concept that isn't valued nearly as highly in the Asian cultures Tarantino reflects in the majority of
Kill Bill
) is irrelevant, because to Tarantino the cover is the beautiful thing. He's the world's strongest lobby for the cover version, the most artistic karaoke singer alive. The songs he uses on soundtracks (dating back to "Hooked On a Feeling" and "Magic Carpet Ride" in
Reservoir Dogs
, through "Girl, You'll Be a Woman Soon" from
Pulp Fiction
, to "Bang Bang [My Baby Shot Me Down]" and "Don't Let Me Be Misunderstood" in
Kill Bill
) are covers, and his "stolen" images should be read that way too: he's not a rip-off artist if he's basically stating out loud whom he's covering.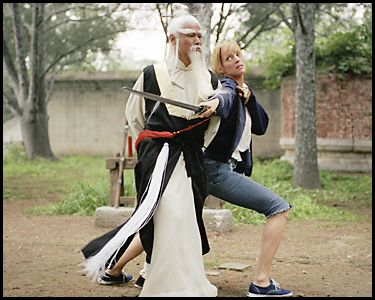 The theme of homage and mixing of influences bleeds into the characters and motivations of his story: O-Ren's unspeakable mixed heritage, the Bride's blonde-American WASP becoming an expert Asian martial arts assassin, and Vernita Green's assimilation into soccer mom suburbia. And despite the simplicity of the premise (woman left for dead by the father of her unborn child comes back four years later for revenge), the details become far more complex: the child was born and is alive; the father is not the groom; Bill and Budd are brothers but live in two different worlds; the Bride lets down her guard and has to confront her nature as a killer against her newfound urge to be normal as a mother. Bill's hilarious monologue about Superman's unique condition of having Clark Kent as his alter ego instead of the other way around is an amusing way Tarantino expresses both his love for pop culture as well as his keen understanding of its value in terms of exploring incredibly deep ideas about identity, fatalism, and even theology.
Tarantino's casts are always so brilliant that his skill for directing actors often gets lost. But it should be noted how fantastic the performances are in
Kill Bill
. Uma Thurman delivers the best female performance recorded on film since Ellen Burstyn in
Requiem For a Dream
. She covers every base and tags them twice: she's funny and shy with Sonny Chiba, stoic and mean against O-Ren and Elle, assaulted with sadness, guilt, and torture in the hospital upon discovering her fate, and loaded with mixed emotions of happiness, betrayal, hatred, and love upon encountering Bill and her daughter after four years. And then there's those action scenes – where she displays total physical virtuosity: she's in perfect shape, her body is graceful and strong, and there's no move she makes that doesn't convey the Bride's character as being the most empowered female in a sea of empowered females throughout this wink at exploitation films that often trafficked in misogyny and pseudo-feminism. David Carradine is so good as the antagonist that you wish the title was just
Incapacitate Bill
. Daryl Hannah, Vivica A. Fox, Lucy Liu, and Michael Madsen all give their best, and Michael Parks almost steals the whole movie in one scene (of his two-part role) as a Mexican pimp.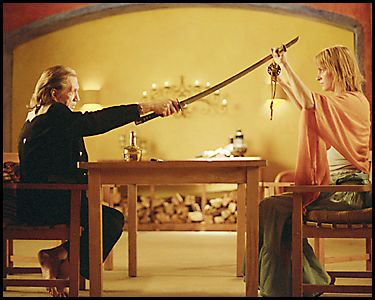 It's also been said of Tarantino that he's self-indulgent. I can't think of a less self-indulgent artist – no director gives as much of himself away to his actors and the filmmakers he reveres;
Kill Bill
is a lengthy ode to cinematic history, most of which Tarantino worships above his own films, and when he does indulge, he's indulging in the past and in a culture of which he's merely an audience, not the creator. To watch the four hours he spends drenched in blood and loss while simultaneously raising the exhilaration and cleansing positivity of cinema to new heights of entertainment is to be in the hands of a director who doesn't just know what he's doing, but knows what everyone else is doing and above all wants his audience to love movies through his eyes – and that sharing spirit is perfectly noble, generous, and worthy of the kind of redemption he grants his own characters.