Bruno Dumont's
Twentynine Palms
marks a sad departure for a director whose previous two films devoted so much fascination to the human face. Maybe this move away from the often-spiritual resonance of the striking non-actors Dumont directed in
The Life of Jesus
and
L'Humanité
-faces that in far too many scenes proved more interesting than the films themselves-is reflected in the immense spatial jump Dumont takes with his latest film. He abandons the ghostly country town that he had previously shot his films in and, in a rather radical move, sets
Twentynine Palms
in the deserts of Southern California, of all places. Ostensibly in the middle of nowhere to "scout" locations, David (David Wissack) has taken his French girlfriend Katia (Katia Golubeva) along with him on a voyage that at first seems like a road trip with an end destination-the town of the film's title-but eventually the repetition of a motel room clarifies that the couple is instead staying in Twentynine Palms and exploring the surrounding wilderness and their relationship to one another at their leisure.
Dumont drops David and Katia in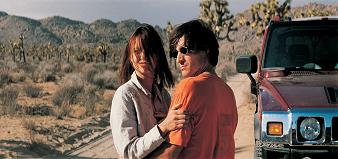 a ridiculous red Hummer and isolates them from the world outside, and despite frequent pit stops to view the scenery they couple only really fight and screw in civilization. They engage few of the humans around them-talking only to order food and even then having trouble communicating-and they form a pattern of awkward and usually pointless dialog sometimes spoken in French, which David only partially understands. Dumont's use of dominant landscape, reticent dialog, and polar character reactions is typically glacial in its pacing and slowly accumulative in its meaning; it is not until well into the film that it becomes clear how different David and Katia are. Katia, who often professes her strong feelings for David and calls him "my love," is gradually coded as the romantic of the couple with near-manic depressive outbursts of sudden weeping, laughing, and anger. David, like the audience, is simply mystified by Katia's contradictory behavior and conversations, but he is no peach either, and his distant behavior is not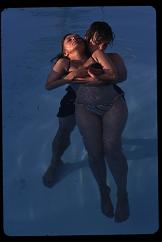 sympathetic.
Dumont's expansive widescreen compositions not only physically separate the couple from the rest of humanity, but also separate the way the characters react to the landscape. Katia remarks on its beauty, while David gazes on with little understanding. With such a plotless narrative all of
Twentynine Palms
small events assume tremendous importance-that Katia does not know how to drive and cannot seem to navigate the Hummer through the wildness is in paramount contrast to David who almost goes ballistic when Katia's driving scratches the side of the Hummer on shrubbery. David is more utilitarian, a characteristic apparent in his lack of response to Katia's professions of love for him and questions of love for her. Dumont is always very, very ambiguous about his relationships, for while David and Katia seems honestly in love with each other, he is always approaching her for sex-which is rough and physically one sided-while she is always giving emotionally one-sided proclamations of love. In a bleak landscape where little happens the trivial fights the couple has gets blown out of proportion, and the only other thing to do is partake in awkward, primal sex, which usually concludes with David releasing a horrendous banshee scream that seems to hold little pleasure.
It is these moments of intercourse that are the most telling of
Twentynine Palms
' obtuse philosophy. David and Katia only engage in the activity in spaces of false nature-in the motel pool and in their hotel room beneath a picturesque image of snowy mountains-and the one time they attempt to have sex in the desert they come up dry (pun intended) and impotent. The disconnection with the natural world around them is key to the film's gradual exposition that between these two people there is something deeply wrong with their understanding of each other and the world around them.
Unlike his last two films,
Twentynine Palms
is free of any kind of spiritual transcendence; if anything, his last two films, which both ended "badly," nevertheless revealed spiritualism in their protagonists, one that was integral to their supposed transcendence of their flaws-Dumont never made a particularly convincing argument on this point. That neither Wissack nor Golubeva distinctly share the ambiguous humanism evident in the faces of Dumont's other films-with Wissack looking like a recovering burnt out 80s rock star only Golubeva's sharp blues eyes and attractively wide smile push her visually closer to Dumont's previous protagonists-may or may not a decision intended by Dumont. Certainly the film's hyper-pessimistic ending points at either the decisive lack of spiritualism in the characters, or perhaps their loss of it throughout the film.
Even though this is the first Dumont film that takes on two protagonists (ostensibly Adam and Eve) instead of having a lead male and his marginalized love interest ,
Twentynine Palms
is no more dynamic or alive than his usual near-inexplicable art house tedium. Dumont's use of composition may be sharp but like his narrative his mise-en-scene is limp and ineffectual aside for a handful of key moments, and again his film features characters who are impossible to begin to understand. Katia's inability to communicate seems well balanced by her compassion and appreciation of nature but her reasons for staying with or even loving David is a mystery. Like the rest of Dumont's films, a relatively lovely young girl is paired up with a man of questionable qualities.
Dumont's narrative punishes both characters by this point, slapping them down for some obscure reason. The deep irony that Katia fawns over nature, but David, who has a profession involving finding and appreciating locations, fails to engage the world around him is key to the reason why he ends up being the one who cannot reconcile what he learns by the film's end. At first it appears that both achieve a realization of the reality of their relationship, but, like the ideas that drive the film as a whole, this realization is neither completely understood nor results in growth for the couple-or the audience for that matter.
Twentynine Palms
places a responsibility for comprehension on its characters that, as a united couple, they simply cannot handle, and likewise Dumont's glacial pacing and arch-arthouse cinematic style tests the audience by making many moments of viewing a film a true chore. Just like
The Life of Jesus
and
L'Humanité
, gradually piecing Dumont's latest film together can be fruitful and quite often the film is marvelous to watch, but the unending duration of the time one has to put into it and the "experimental" obtuseness of Dumont's philosophy-inspired method makes it very difficult to recommend.