Spartan
The whole of Spartan can be seen and understood by its title. The film, its plot, and all characters within its world, function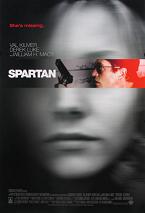 with the ruthless cold efficiency of a machine. These people are from a different world, one of severe utilitarianism. Robert Scott (Val Kilmer) is far down on the food chain, a respected but lower echelon military worker bee. The film opens with him on autopilot, training new recruits on the violent principals of determination but Scott's skilled gears whirl into life when the daughter of a VIP gets kidnapped. Initially plot strands explode all over the place-the college student had just fought with her boyfriend, the secret service provided to protect her was mysteriously called off, she has a professor who likes to date his students-but Scott and his superiors eliminate extraneous possibilities with a fearsome level of skill and resolve. The movie itself is the same way; instead of engaging in the smug and comical one-liners of the conning thieves in
Heist
, David Mamet's script is a model of concision. Words are only said to get something done, and only repeated when something must get done. Actions are the same way;
Spartan
seems to introduce and rapidly jettison more plot strands than a dozen ordinary thrillers as Scott simply uses each conspiratorial development as a means to the end-to find the girl. Case in point is a terrific centerpiece of misdirection, which occurs when Scott poses as a convenience-store robber in order to hijack a police transport that is carrying a criminal who is known for being involved in the sex slave trade. Mamet stages the sting brilliantly but when something goes wrong Scott and his team abandon the effort and rapidly switch gears to pursue the objective in a different manner, discarding an intricately setup plotline and a new character at the drop of a hat. The ever-evolving dynamics of the business is startlingly to behold.
In adherence with the film's title Mamet has filled his thriller not with characters but with faces. Val Kilmer, William H. Macy, Ed O'Neil,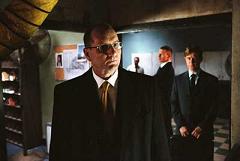 Derek Luke, Clark Gregg, Saïd Taghmaoui, and Kristen Bell round out a cast of characters who are slotted into a utilitarian professional roles where all that can be seen of them are their emblematic faces and their relentless ability to get their jobs done. Mamet seems to have gone out of his way to cast people who have a unique presence without ever really having a character; these people, and thus the film itself, do not have time to indulge in psychology. Even the Spartan of the title, Scott, stubbornly refuses humanism. When he goes off the meter to find the girl himself it initially appears to be inspired by some form of compassion or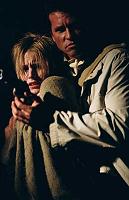 sympathy, but a previous conversation between him and a superior recalls that he was instructed to do anything in his power to return to the girl. In a cold-blooded irony his persistence to find the girl may in fact simply be an extension of his ascetic professionalism than any kind of human feeling.
Complimenting Mamet's lean thriller-world is a markedly improved visual style.
Heist
was a step forward for the director, utilizing P.T. Anderson's stellar cinematographer, but Spartan's visual look, using Juan Ruiz Anchía is far more stylized than anything Mamet has done in the past. Slick dramatic lighting and a varied, enjoyable color design smooth out the film's disjointing plot jump-cuts and occasional coincidences. The look, bathed in shadowy conspiracy, helps alleviate and makeup for the fact that
Spartan
's characters are nonexistent in a sympathetic sense, and its depth, including hints of pseudo-mythological allegory, do not seem well developed. But such narrative leanness is only part and parcel for a film with such a title and such a focus, and with Mamet's ever increasing talent as a director and very welcome and much needed strong role for Val Kilmer,
Spartan
is difficult to fault.