The Saddest Music in the World
The Winnipeg 1933, deep in the Great Depression, is maddeningly cold and dark; melancholy hangs over the great city like permanent night and it feels lonesome
and lost in the midst of the sorrow of its inhabitants. To counteract this, or, more precisely, to make a ridiculous profit from the atmosphere, beer baron Lady Helen Port-Huntley (Isabella Rossellini) has decided to promote a contest for the Saddest Music in the World. Hoping to capitalize on the imminent repeal of American prohibition, she deviously plans to use the winning song to sadden the American masses, for sorrow breeds the kind of thirst only a beautiful, legless and stately matron of alcohol can provide. Among other international musicians drawn to the cash prize of the contest is swanky n' hollow American producer Chester Kant (Kids in the Hall alum Mark McKinney), a gee-that's-swell man full of noir one-liners and Hollywood pizzazz; his wide-eyed mysterious girlfriend cum singer of the sad, Narcissa (Maria de Medeiros); and rounding off the group are Kant's Canadian father Fyodor (David Fox) and his estranged brother Roderick (Ross McMillan), traveling under the guise of a world famous Serbian cellist.
Less ambitiously baroque or disorientingly formalized than his previous films, Guy Maddin's
The Saddest Music in the World
is his most accessible work yet; it seems less like an intense and overwhelming creative remix of nearly forgotten cinematic antiquity like his best work,
Archangel
and
Careful
, and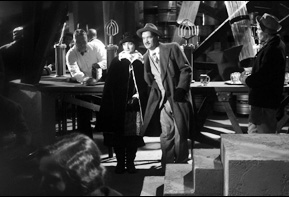 a more punchy and smoothly enjoyable pseudo-musical. Typical of the Maddin oeuvre, the film is a barrage of subplots half abandoned, themed only partially articulated, and rich visuals incompletely employed. Co-written by long time collaborator George Toles the entire film is told in Maddin-speak, a surreal and dreamily clipped dialog of imaginably fashionable faux-period slang and bizarre outcries of passion. Initially love triangles appear in spades, one simmering between ex-Canadian Chester, his guilt-ridden father and Lady of the Beer (who owes her missing legs to a drunken, love-infused amputation provided by Fyodor) and another between Chester, his dreamy songstress Narcissa and long lost brother Roderick. Soon these triangles deteriorate into deeper sorrow; most Maddin characters bear a unique brand of deeply etched melodramatic trauma and these are no different. Among Chester smiling like an idiot, Lady Helen mourning the loss of her two legs due to a prior spat between father and son, and said father misreading his leg-driven guilt as love for Helen, it seems only the nearly psychotic hypochondriac Roderick is really "out there." But in Depression Winnipeg melancholic dementia seems the purest of emotional mind states and despite the humorous bouts for song title (Siam vs. Mexico! Poland vs. Germany!) a gloomy cloud of doom watches over the more superficial, excitable characters.
The result as usual is delirious and highly enjoyable. Despite working with a larger budget and two familiar stars Maddin dials down his stylistics (to a degree), except for the casual intoxicating montage or two, and limits his Winnipeg to a snowy soundstage, a dilapidated Canadian home and a population crowed in a single local tavern, straining to hear the Saddest Music and get drunk. That the populous cheers and hoots and claps enthusiastically at what Chester calls songs of deliberate "false pity" points at a quirky paradox of entertaining suffering. Chester capitalizes off the notion, staging grandiose musical numbers based off such American tragedies as the San Francisco quake of 1906 and the sinking of the Lusitanian. Among such a Vaseline-smeared dream world of sorrow and whimsy the main characters often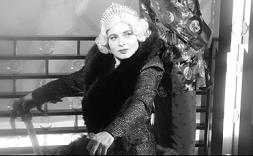 seem directionless; all that is, except the mad Roderick who carries around with him the heart of his dead son, preserved in his tears, in the hope of reuniting with his grieving wife and paying for Serbia's war-guilt through a painful cello solo.
One of Maddin's best qualities is the maddening amount of extra-narrative details, asides, montages, and dreamy cinematic fetishes that seem to take a ghostly and evocative priority over his stories, and
The Saddest Music in the World
, being his most leisurely constructed film, has them in spades. From Lady Helen's beer-filled glass prosthetic limbs, funerals told in hyper-surreal two-strip color, peculiarly dingy art deco set design, sub-subplots contesting Canadian and American sorrow, and the shocking persistence of tongue in cheek Serbian guilt over World War I, the whole film is replete with enough bang-up dialog spurts, fevered imagery and madcap cinematic moments to pleasure any viewer who hasn't a clue either what kind of movie Maddin is trying to make nor the kind he is likening his to. It is distracted and not nearly as productively focused as past works, but it is a whirling dervish of random and accumulated delight and the magnificent additions of Medeiros' sexiness in fur (an actress disappeared and not seen since
Pulp Fiction
) Rossellini's kinky combo of wig and glass legs (as well as a killer thumbs up endorsement) and McKinney's pure '30s arrogant perseverance plums
The Saddest Music in the World
as full of "fizz" as a movie about deep rooted melancholy can be.