Dogville
(Warning: This review contains some spoilers)
Lars von Trier hasn't exactly been consistently great with cinema, so for the first entry in his new planned trilogy, he's decided to meld the medium with theater and literature (not to mention a bit of pop music at the end) for an all-out artistic assault in the service of a lacerating expose on human nature. Politically charged, theologically provocative, and viscerally entertaining,
Dogville
is an unabashed success that manages to take a ludicrous display of artifice and turn it into a trenchant and coherent -- if intentionally ambiguous -- work of visionary splendor that finds a way to punish the audience while it is satisfying their desires for all the pleasures of the medium.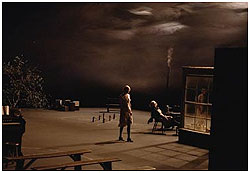 Separated into novelistic, philosophical chapters (the titles of which begin with prepositional phrases befitting an Immanuel Kant tome) and narrated with dry genius by John Hurt, the movie takes the tone of The Great American Novel, not the least through its iconic period (The Great Depression), its representational characters, and the scope of its story arc. But the action takes place on an interior soundstage, with chalk outlines of buildings, a dearth of props, and expressionistic lighting and effects that resemble a small town high school play production. But of course Trier is a filmmaker, and he blocks his wonderfully-cast film actors without regard to a fourth wall, and forces his camera deep into their faces for severe close-ups and remarkable edits.
One of my problems with the approach is the motion sickness caused by Trier's clumsy operating, which creates a dizzying nausea that somehow other hand-held films avoid; since
Dogville
is already a clear confection of theater and film, the underscoring of its "movie-ness" with the shaky-cam on set seems like an unnecessary decision that distracts from the power of the idiosyncratic approach.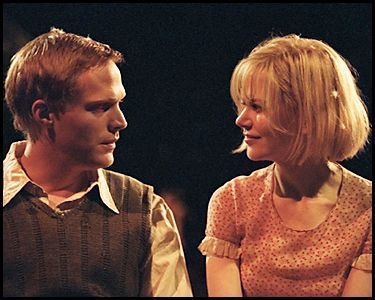 But who cares, right?
Dogville
is about its content, which is quite amazing considering the aggressive nature of its form. And the content speaks to a number of potential readings: the two I prefer are 1) the Grace-as-immigrant allegory, where she has to work twice as hard for half the pay because people don't like her kind and are judging her as criminal despite proof to the contrary; and 2) the Grace-as-Christ interpretation, where a saintly stranger returns to humanity only to be abused, condemned and cast aside by immoral hypocrites, and thus responds with brutal, exacting vengeance thanks to the Omnipotence of Her Father (that Trier says more about his own Catholicism with this allegory than Mel Gibson does with his didactic porno is revealing). But think what you want about what the story means -- there's enough in the specificity of it to engage the mind apart from extrapolated theories: there's the touching arc of male protagonist Tom (played masterfully by Paul Bettany), who falls in love with Grace and must face his growing anger at her romantic rebuffs; the painful scene where Patricia Clarkson's character, full of denial and lies, treats Grace with impossible cruelty; the comic ironies of the town's lack of necessity and abundance of work, the phone ringing for Grace's fate following her final acceptance into Dogville, and the disconnect between the educated austerity of Hurt's voiceover and the primal misery of its implications.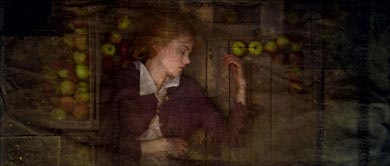 The actors are so good at embodying the inhuman weirdness of the film's conceptual abstraction with personal emotion that you almost mourn the fact that it's only three hours long. I wanted more from the likes of Jeremy Davies, Philip Baker Hall, and Zeljko Ivanek (even more slimy and detestable here than he is on the Levinson/Fontana shows for which he's known), who are relegated to relatively minor roles along with Chloe Sevigny and Lauren Bacall (neither of whom slack even in support), leaving way for Kidman's total immersion into Grace to blow us away. This is among her best acting, as her gaze is both undeniably powerful and vulnerable. Trier doesn't care if his audience is cajoled or seduced or patted on the back with moral satisfaction; he wants to accuse them of being complicit in the rotten nature of the town (especially American audiences, as the story takes place in the U.S.A. but has universal resonance regardless, something Bettany's character explicitly states) and force them to consider how they treat the underclass, how they are treated by others, and whether or not it's possible to reconcile the vengeful urge towards rebellious violence with the ethical empathy on which sophisticated members of society pride themselves. You live in Dogville, Trier is telling you, and you are one of James Caan's dogs: you did this, and you'll continue to do this. Some might consider this irrepressibly misanthropic, but I tend to believe that Trier wouldn't be so angry about the state of the world if he didn't care for it just as much. It's hard to ask any more of an artist.