Dawn of the Dead
Usually you hear about studio interference when reading an article about a film, but it's rare to actually experience it while in the theater.
Dawn of the Dead
suffers from a war of sensibilities that I have to assume is between the director, first-timer Zack Snyder, and Universal Pictures, the Hollywood machine that wanted to keep Synder's misanthropic, mean-spirited talent at bay while it tried to increase box office potential.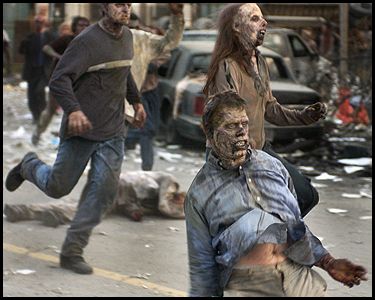 The film is basically a non-stop bloodthirsty assault on humanity, and as such it's consistently unsettling. The first ten minutes or so is a truly horrific pre-credit sequence that should go down in some warped history book of grueling disaster-horror masterstrokes. When it starts to go downhill afterwards, you can see where Snyder and Universal part ways. Nothing is sacred to Snyder's camera, as he destroys the pillars of complacency that allow us to rest between shocks and bask in the other-worldliness of the atmosphere. Instead, the movie is gory without being phantasmagoric, and horrifying without being grand guignol. Little girls and babies die, good deeds go punished, and so do bad ones. There is no rest for the wicked or the saintly in
Dawn of the Dead
, and that's how a horror movie should be.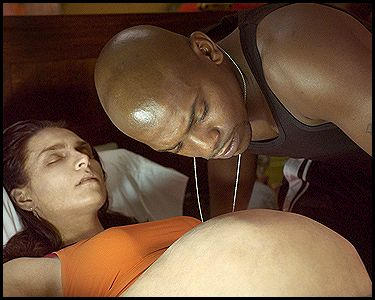 Unfortunately, studios also think horror movies need to make a lot of money, so they make sure to add in concessions. There's a ridiculous love interest subplot between Sarah Polley and Jake Weber, which is absurd not only because Polley's live-in boyfriend was just murdered, but because the two characters have no reason to be linked like this and also because Weber turns in such a crappy performance. (Obviously I should admit there's no way for an audience member to know if any of these flaws are due to the studio, to
Scooby-Doo
writer James Gunn, or to Snyder himself, but a little conjecture goes a long way). While many of the set pieces are slick and creative, there are also inexcusable ones like the pregnant couple's zombie baby (right out of
The Passion of the Christ
), which is more silly than it is tasteless (much like Gunn's inane dialogue, whose idea of wit is when someone says "drink a nice tall glass of shut the fuck up"). And within the parameters of everyone losing, they still find a way to make the "bad" guys of the flick (the Sarcastic Rich guy, the Redneck Security Guard, and the Slutty Blonde) die particularly gruesome deaths while the "good" guys get to last longer. Almost like in a
Friday the 13th
movie, some sense of morality starts to appear when those who have sex or are mean to each other die, while the selfless and compassionate humans get to live; then add the preachy Christian allegory about hell filling up and the End of the World (something I never understood about even the original film's tagline: if hell is full, why are heaven-bound characters turning into zombies too?), and you get a bizarrely moralistic-cum-pessimistic exercise in religious misanthropy.
What Gunn and Snyder should have been doing is paying more attention to Romero's terrific original, which did a far better job of exploring the materialist social commentary involved with a shopping mall and class warfare. While Romero went for quiet creeps and mounting dread, Snyder goes for quick shocks, loud roars, and visceral punishment. Both approaches "work," even if one is a bit more sophisticated. But give Snyder credit for pulling it off by at least coming through with the unsettling viciousness. His film lacks the cool confidence of Danny Boyle's superior
28 Days Later
while appropriating Boyle's conception of sprinting zombies, but it starts off by forcing you to confront a fairly realistic apocalypse, then makes sure you never relax "knowing" that a few sacred conventions still hold true. They don't. And when a horror movie has the balls to remove your comfort foundation and scare the hell out of you, then even if it lacks the brains to be clever about it, it's hard not to admire and recommend the experience.