"Wild Bill" Wellman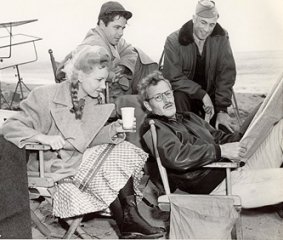 Turner Classic Movies ran a day-long marathon to director William A. Wellman a week or so ago. Wellman is known for some A-list prestige pictures, most notably
Wings
, which won the first Academy Award for Best Picture (Wellman wasn't nominated for his work),
The Public Enemy
(for my money, the best gangster picture Hollywood ever made),
Battleground, The Story of G.I. Joe
and
The Ox-Bow Incident
. But most of his career was spent at Warner Bros. working on apparently whatever little B projects the studio handed him. He doesn't have an easily discernible political viewpoint, like Capra. He doesn't have a recognizable visual style like Hitchcock or Welles, or a specific genre where he excelled like Ford, or a special "touch" like Lubitsch.
Instead, Wellman was among the ranks of the workhorse directors, cranking out picture after picture in the thirties and forties – different genres, different types of stories, different actors. He started directing during the silent era and worked steadily through 1956, making over eighty movies in a little over thirty years. The four movies I watched this weekend are a smattering of B-pictures from the early thirties, the pre-Code years. Three were released in 1931 (the same year as the aforementioned
Public Enemy
).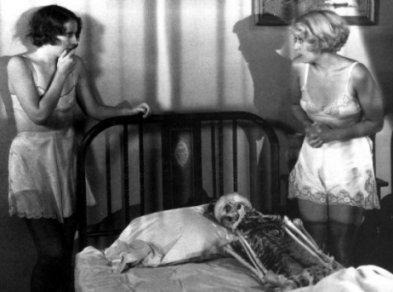 Night Nurse, 1931.
At times this movie seems to be going way out of its way to get Barbara Stanwyck and Joan Blondell in their underwear. The plot is flimsy (Stanwyck plays a nurse in charge of two young girls under questionable care, in a household that's run by the racketeer chauffeur who keeps the girls' mother in booze so he can leech onto their trust fund), but the performances are pretty good, especially Stanwyck. Clark Gable has a nice turn as the tough guy chauffeur who isn't above smacking dames around. There's an interesting pre-Code twist: Stanwyck's love interest is a bootlegger who makes no bones about his profession and comes to her (and the children's) rescue in the end.
The story meanders a little bit, and the first time around I didn't think much of the movie. But on second viewing, Stanwyck's performance as the impassioned Nurse Hart makes it worth the viewing, "in a big way, sister."
Other Men's Women, 1931.
Familiar storyline—single guy falls for best friend's wife. Sometimes the setting or the acting or the dialogue can be enough to elevate a well-worn plot to a good movie. Sadly, such is not the case here. Grant Withers is an annoying lead, particularly in the scenes where he's supposed to be fun-loving and charming. He does all right in his serious scenes though. Mary Astor as the wife is luminous but her screen time is too short. Regis Toomey as the cuckolded husband is kind of a stiff, although less so here than in most of his tiny supporting roles throughout the thirties.
The only thing that sets
Other Men's Women
apart from your basic run-of-the-mill doomed romance melodramas is the appearance of James Cagney, just a few months before he busted the movies wide open in
The Public Enemy
. The movie comes alive during the handful of scenes that he's in. The screen can barely contain him, and it's obvious he's meant for much bigger stuff.
Lilly Turner, 1933.
Average woman-makes-sacrifices plot is turned on its ear with a surprising plot twist at the end. Ruth Chatterton is Lilly Turner, a nice girl from a good home who gets mixed up with the wrong guy and ends up in a loveless marriage to an amiable but hopeless drunk (Frank McHugh). She meets George Brent, who I guess is supposed to be charming and good-looking, and they fall in love. It's all very ho-hum until the final reel, with good performances by Chatterton and McHugh (solid Warner Bros. character man who never disappoints), and some fun along the way with a traveling medicine show, and a crazy German strongman.
Safe in Hell, 1931.
What a nice surprise this movie was! I went into it with zero expectations and having never heard of Dorothy Mackaill, the lead actress. Since then I've been scouring TCM's line-up for more of her movies. Mackaill plays a woman on the run from the law, believing that she's murdered a man. Her sailor boyfriend whisks her away to a tiny remote island with no extradition laws. It sounds romantic, until he leaves her in a hotel where she is the only white woman in a house full of horny disgusting men, then goes back out to sea.
The atmosphere in the hotel is downright creepy, full of sleazy men, all of whom are escaped criminals themselves. Most frightening of all is the lawman of the little island (Morgan Wallace), the only thing the citizens fear more than his gallows is his hellish prison. He oozes slime and filth. When the movie was over I had to windex my TV screen.
Mackaill, who had a long career in the silents, shows evidence of making a fine transition to talkies (her career only ended when she retired early to care for a sick family member, according to IMDB), and is at her best in a scene where she finally lets her guard down and allows herself a "night out" with the men in the hotel, drinking and dancing. The highlight of the movie was Nina Mae McKinney ripping up a bluesy version of "Sleepy Time Down South."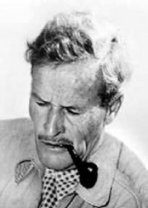 Wellman also made a seamless transition from silents to talkies. He was one of the first directors who realized that, with the advent of sound pictures, it was okay for an audience to hear one thing while looking at another. He constantly plays with point-of-view, often obscuring the actors' faces with tree branches, walls, shadows, or other obstacles. Rather than boring the audience, it draws the viewer in and makes them more anxious to see the characters' faces.
He also hit upon the elementary editing method of showing one character's reaction while another character is talking – many early talkies are slowed down by the static method of letting an on-screen character finish a speech, then cutting to the other character's silent reaction. There is a fine example of this in Wellman's
A Star is Born
, as Fredric March's faded film star lies in bed and eavesdrops on his wife's plans to give up her own stardom to take care of him. The scene is entirely in shadow, except for a thin shaft of light from the doorway which plays upon March's eyes as he listens.
As is often the case when TCM does these marathons, I'm sorry I missed the rest of them. Of the above, I think only Night Nurse is available for rental, and only on VHS.