Lucas Belvaux's Trilogy: On The Run, An Amazing Couple, After Life
The first entry in Lucas Belvaux's clever multi-genre trilogy is a thriller, but with the exception of some self-aware genre styling Belvaux smartly directs
On The Run
in a minimalist vein. Suggestive of Melville's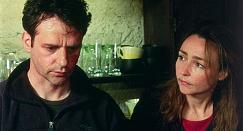 more threadbare narratives,
On The Run
follows an escaped radical terrorist, Bruno (played by writer/director Belvaux), while he travels to home to his old haunts, slyly switches disguises, hits various safe houses (including one in a long-term storage locker), gathers and assembles weaponry, and begins to plan new left-wing terror actions. Old "friends" continually offer Bruno safe passage to Italy but he denies an easy escape and attempts to find gather long time allies for the old cause. But Bruno has been in prison too long and his old friends have either forgotten him or are ready to betray the escapee. The most prominent among them is Jeanne (Catherine Frot), who speaks to Bruno with the intense intimacy of either an ex-lover or as someone who used to believe in his cause with all her soul. Unfortunately for Bruno the years have altered Jeanne's outlook and she is married and has a son; as time goes on Bruno's meticulous evasion of the law and preparation for action seems more the actions of a desperate man finding himself alone in a new landscape than those of a fire-filled radical.
Belvaux, who bears a striking resembles to Clive Owen in his knowing, stern-faced professionalism, keeps
On The Run
as thin as possible both in terms of plot and general dynamics and only two moral quandaries pop up throughout the film. The first is Jeanne's conflict with Bruno where Frot's face reflects the taut, painful situation she is
in when her past begins to seep in on her ordinary marriage. One of the film's most dramatic moments is its least violent, when Bruno comes to pickup Jeanne against her will for a dangerous mission and Belvaux patiently builds a horrendous suspense as we wonder how Jeanne will deal resolve Bruno's power over her new life. The second dilemma is a bit of a surprise. This being the "thriller" entry in Belvaux's trilogy the themes and narrative are nearly devoid of melodramatics, and the curious introduction of a policeman's drug-addicted wife at first appears contrived and overblown in a film so low-key and meticulously simple, and it seems that elements from one of the other films in the trilogy is unnaturally leaking into this film. But when Bruno stands by watching as she gets beaten and then later freely gives her drugs to keep her quiet Belvaux at least provides brief, interesting moral characterization for his stoic protagonist. As Bruno's situation becomes more desperate we learn a little bit more about his left-wing aims and even the audience begins to drift away from his camp; by the film's end Bruno is left utterly alone, forced to abandon his politics for survival and Belvaux tops his enjoyable thriller off with a deliciously appropriate anti-climax.
An Amazing Couple
, surprisingly,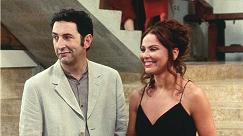 does not alter the visual look of the trilogy thus far. This is a shame, as, even more surprisingly,
An Amazing Couple
's comedy of error's plot-heavy whirlwind of misunderstanding often feels like a funnier, more complicated thriller than
On the Run
's archetypal minimalism. Still, the second film of the trilogy is nearly as effective as the first, and other than the unambitious look of the trilogy is just as enjoyable, though obviously for different reasons. This one's a comedy, and tells of a wealthy lawyer, Alain (Francois Morel) who decides to hide from his wife the fact he needs an operation. Cecile (Ornella Muti) misconstrues her husband's secrecy for infidelity and hires Pascal (Gilbert Melki), the cop nemesis of
On the Run
, to tail him.
Pascall's melodrama from
After Life
, the third film, leaks into this comedy just as his drug addicted wife did in the first, and he quickly falls for the gorgeous Cecile and begins to elaborate and falsify his reports, encouraging Cecile's suspicions. When Alain finds out his wife is keeping an eye on him he in turn becomes wary of her, fakes a trip to Paris and attempts to expose her infidelity, thinking perhaps Pascal is her lover.
As comedies of misunderstandings often become weary under their thick deception and the characters' complacent density Belvaux keeps
An Amazing Couple
moving at a rapid pace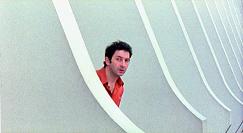 and cleverly interlocks scenes from
On The Run
into the narrative to keep narrative-fatigue down and interests high. For example, when the chalet in which the cop's wife hides Bruno in the first film turns out to belong to Cecile and Alain, both eventually think that all the commotion at the "safe-house" it the other one shacking up there with his or her lover. The police blockades incited by Bruno's escapades encourages Alain's light-hearted paranoia and mental breakdown. With an amusing script and pleasurable performers (aside from the dark and creepy Melki)
An Amazing Couple
is fun as long as the deception continues to run. The ending, which is resolved with unsatisfying abruption, not only fails to live up to the carefully plotted twists of the comedy misadventure but also suggests that Cecile and Alain learned nothing. Belvaux crucially miscalculates his themes and implies that the whole affair was simply a misunderstanding and the problems that sparked the initial misunderstading remain between them. As cute as the film it, it lacks the growth required for such a strain on a couple's fidelity.
Sadly the last entry in the trilogy,
After Life
, is mainly of interest in the way the other two films intrude into its story and manipulate its characters. Because of this it is the only film that could not stand alone without the others; multiple scenes from
An Amazing Couple
and
On The Run
replay themselves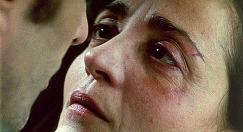 in
After Life
, which would give the film a fragmented and confusing quality if played alone. In a way this could work with the film's subject-the disjointed relationship between the cop Pascal (Gilbert Melki) and his morphine addicted wife Agnès (Dominique Blanc)-making it feel confused and schizophrenic. Still,
After Life
's strength is less invested in its genre "melodrama" than in the way the terrorist's actions of
On The Run
and the infidelity hunt of An Amazing Couple manipulate the easy-strained relationship between Agnès and Pascal. As is revealed in
On The Run
, Pascal uses his position in the police to procure morphine for Agnès, keeping her away from dangerous street drugs. But when Bruno kills Pascal's supplier in
On The Run
the cop is forced to make a deal with the local mobster-no morphine until Bruno is killed. Thus Agnès thinks her husband is making her cut the habit cold turkey, which drives her into the streets and into Bruno's arms. After Bruno takes care of her following an overdoes she becomes protective of him and her allegiance to the terrorist problemizes the couple's relationship even more- Agnès won't give up Bruno, but Pascal can't relieve her pain until Bruno ends up dead. And, as is illustrated in
An Amazing Couple
, Pascal develops an infatuation with Cecile while his wife is home sweating and suffering through withdrawal.
The constant intrusion of the other films into
After Life
is tiresome, and unlike the comedy and the thriller a generic drama can be dangerously more tedious than
more "entertaining" genres. Belvaux does not treat drug trouble and maritial stress like anything new, though he does use more psycho-dramatic compositions and subjective camera movement-and so as
After Life
settles into its mundane drama it becomes fairly fascinating in a formal way, showcasing Belvaux's cleverness through the way background characters of the two previous films unknowingly twist and turn, manipulate, try and strain this already troubled couple. While the thriller's intrusion in the comedy was cute and amusing, the previous films' intrusion in
After Life
are tense and potent; Belvaux's integration is often ingenius.
This last entry in the trilogy finally does what the other two films should have done-look at the different characters from different angles. For instance, the friendly thoughtful doctor of
An Amazing Couple
turns out to be a womanizer and a bit of a snitch; Pascal's asshole behavior is finally explained and so on. If only Belvaux had cleverly done this in the other films, creating a multi-textured Rashomon, looking at each character in a different context in each film. Missed opportunities aside, Belvaux's cinematic experiment is largely successful as it is both entertaining and formally interesting. That each film (or the trilogy as a whole) never achieves greatness is unfortunate, but Belvaux's achievement opens the way for more contrived, more artistically complicated work that probably won't be as fun.