Blind Shaft
Two brothers and a friend get up from their stucco shacks to briefly face a cold dawn before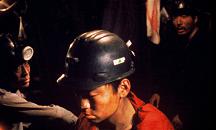 descending into a coalmine. Three men enter, only two return. Faced with the requirement of compensation, less a bureaucrat comes to shutdown the illegal mine, the boss pays off the surviving brother and the two survivors totter off to the city in shock. Before the two men leave the mining camp the boss briefly considers killing them both instead of paying them off, but realizes that the bribes required of the local police would outweigh the payoff for the single death. And so the morality of
Blind Shaft
is set. Song (Qiang Li) and Tang (Shuangbao Wang) run a deviously simple con game. They travel from city to city until they find a naïve and clueless straggler desperately looking for some work. The duo convinces the victim that rustic mining is where the money is, pose the victim as a relative when they sign the work contracts with management and proceed to murder the man, staging the killing as a cave-in and collect compensation using faux-naïve suggestions of getting the authorities involved.
Writer/director/producer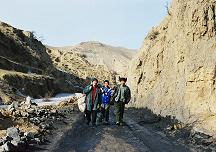 Li Yang complicates his smart thriller premise with some interesting, but slight social realism. Song and Tang are not simply murderous thieves, they, like the most of
Blind Shaft
's working class, including prostitutes, wire nearly all money earned to their family's back home. In a vicious circle of which the duo is undoubtedly cynically aware, they are forced to search for dangerous work far away from home and end up picking off only sad-sacks like themselves, encouraging desperate families to send younger and younger family members. Things are complicated considerably when Song and Tang's latest victim is a youth of only 16. Both men being fathers it is evident that the boy, Yuan (Baoqiang Wang) will ruin the prosperous partnership in one way or another. Whereas Song is a father of a smart student, whose college education is being bankrolled by his father's crimes, Tang says his son is a lazy screw-up just like his old man; perhaps it is Song's pride in his son that prompts him to treat Yuan like an offspring, despite his constant yelling and frustration at the naïve youth.
Shot in the drab quasi-verite style of many frequent films out of China-where the palette seems drained of any life or vibrancy whatsoever and any formal stylization of the thriller plot is abandoned for handheld camerawork often shot in the midst of real crowds-
Blind Shaft
probably purports to have more social value than it really does. There is no doubt that Yang takes an already good idea and smoothly integrates some pretty damning statements of the state of an element of China's working class, but the film's narrative is so finely tuned that it runs with an almost too-slick progress, like numbers plugged into a well known and well used formula. Curiously, Yang avoids the claustrophobic tension of the mineshaft. The tension and surprise that is wasted for not using the setting speaks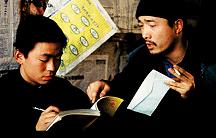 quite a bit for the film as a whole which takes little risks for making a strong statement or unique characterization. That said, Yang's cast is perfect, and the semi-friendly rapport between Song and Tang is a welcome release from films of this type where the relationship between criminal teams is always precarious and threatens to overturn the instant a foreign element is introduced between them. Despite the realist aesthetic of
Blind Shaft
Yang includes several elements that suggest we are seeing this world through the jaded eyes of the workers. The above mentioned lack of use of the mine shaft repeatedly suggests the numbed, fearlessness of the duo, where the harsh conditions of working life causing no problem, but a silly urban threat of a wealthy man driving a car forces them to run away in fear. And in an unusual development all the women in the film appear attractive, as all Song and Tang do with their extra money is spend it on prostitutes. This suggests that we are seeing their China, and when Tang asserts that Song is feeling sorry for Yuan Song twice counters, "than who's feeling sorry for me?" Evidently it is the film's job to provoke that empathy and it is not successful; Yang hardly makes the case that these murderers are not properly understood. It is their situation as the working class that requires sympathy, but
Blind Shaft
is usually too distracted with its efficient thriller premise to fully explore a deep, incisive social statement.