Secret Things
Before succumbing to a slippery third act caused by overreaching and lofty ambitions, Jean-Claude Brisseau's tragi-comedy boasts an embarrassment of riches – crisp and timely editing that earns most of the solid laughs, fine performances from a brave and nimble cast, and most of all a screenplay that does for French art-porn what
Fight Club
did for young American men.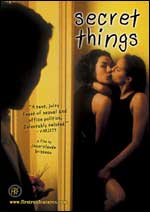 In Fincher's film, young middle class white men were freed from a materialistic society by pain and violence before falling prey to a fascistic mindset that derailed their quest for individualism. In
Secret Things
(the film Catherine Breillat has always been too self-absorbed and pretentious to make), Tyler Durden comes to heroine Sandrine in the form of Nathalie, a hedonistic stripper who preaches that sexual power can liberate women from the underclass. Together Nathalie and Sandrine climb the social ladder by bursting through labels (their denial of being lesbians is as much a function of shucking off the term's constrictions as it is an assertion of their fluid bisexuality), gaining freedom through self-reliance, and eventually overtaking white male dominance using sex as a currency. Like the gay subculture of 1970s underground New York nightclubs, these empowered females turn sex into a performance art loaded with revolutionary overtones.
The film is Kubrickian long before the
Eyes Wide Shut
-inspired climax: humorous wide shots, calculating characters, satirical dialogue, and a subtle streak of misanthropy and atheism. But when the film overtly declares its theme of upper class decadence crumbling all taboos, it stumbles in an attempt to equal the grace and control of Kubrick's swan song. To his credit, Brisseau never rejects the ultimate power of love and jealousy as emotions which battle sex and money to the death. And the sympathy he grants to the middle-class wimp character Delacroix (himself a figure oppressed by the trappings of fear and safety inherent in his social position) is touching. If only Brisseau was able to translate his Roman theatrical goals into an ending less clumsy and hurried, the melding of
Caligula
with
Macbeth
with
Fight Club
might have come across as a stroke of genius rather than one of desperation.
Nevertheless, Sabrina Seyvecou and Coralie Revel are terrific actors charged with communicating enormous levels of both physical sensuality and emotional complexity, and as the incestuous siblings Christophe and Charlotte, Fabrice Deville and Blandine Bury may be the two most beautiful faces ever captured on camera together. Highly erotic as much for its attitude as its imagery,
Secret Things
is an impressive if flawed work by a strangely quiet 60 year-old director who proves that mainstream American attitudes about both sex and cinema can be depressingly cowardly – in a cheaply cute maneuver, the movie posters littering the backdrop of two pivotal scenes are
The Skulls
and
See Spot Run
. Pass the freedom fries.