Paycheck
One would think that Ben Affleck's thickly set face, dead eyes, uncharismatic acting and dispassionate characterization would lend his role in
Paycheck
a distinct flavor of an anonymous, anti-heroic fall-guy. Based on a Philip K. Dick short story,
Paycheck
wants to be quiet little anonymous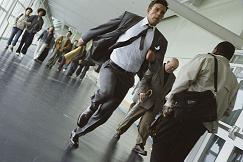 corporate thriller, the kind that usually takes place in an unnamed city, with unnamed companies, a bland looking bureaucratic villain and an even blander hero. Unfortunately the film also happens to be directed by John Woo, whose preference for the romantic, the melodramatic, and the broad strokes of intimate relationships amongst grand set pieces does not bode well for what should be an innocuous corporate thriller.
Sounding like a reject version of Dick's
Minority Report
story, Paycheck essentially tells the same tale, this time supplanting future-seeing drug addicts with a future-seeing machine. Michael Jennings (Affleck) is the man who designed the machine and his unique job as a reverse-engineer of high profile technology lends his career an interesting twist. His work is so illegal that after he helps companies steal a rival's tech, Jennings voluntarily allows his memory to be erased to eliminate evidence of the crime. This procedure would seem to require a lot of trust in his employer, so when old friend Jeffrey Rethrick (Aaron Eckhart) approaches Jennings for a long term and very secret engineering job Jennings is not nearly as suspicious as we all know he should be. Michael wakes up three years later, finds his $100 million dollar payment for the
job replaced with 20 knicknacks he sent himself secretly from inside his lab, and discovers both the U.S. government and Rethrick's company trying to kill him for the work he cannot remember doing.
More irritatingly affirmative than Spielberg's
Minority Report
, Paycheck makes it quiet clear that though the future can be seen, fate can be changed-thus the 20 items that miraculously get Jennings out of jam after jam that he foresaw, but cannot remember, years ago. Even with Eckhart's disturbingly matted CEO haircut and Uma Thurman as the girl Jennings fell in love with but no longer can recall, Paycheck suffers from a terrible overflow of the mundane. What the film really needs is a distanced and dispassionate look at its own story, somewhere along the lines of Assayas corporate noir
demonlover
, because Woo's inherent romanticism simply cannot find its place alongside the banality of Dick's setting and story. Its banality is not necessarily a bad thing; with frequent compositional vigor and energetic camerawork Woo adds some spice to the purposely monochrome and streamlined production design, even evoking Hitchcock in several moments. But the nail in the coffin for the film is Woo's abandonment of his primarily aesthetic-cleverly choreographed gunplay.
The action of
Paycheck
is a lot like its whole mise-en-scene-underplayed, which unfortunately renders much of it lifeless. Not wanting to enrage the F.B.I. further Jennings never uses guns which results in the first John Woo movie since his old martial-arts movies from the 70s where the hero never shoots anyone dead. A dull motorcycle chase-blasphemy after the glorious comicbook chase of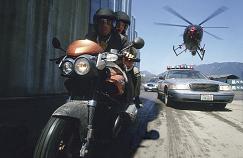 Mission: Impossible 2
-is followed by several fistfights which add little passion to the screen. Woo's action has always been among the best, if not the best, and here he abandons his talent for orchestrating clever bits of action which act as emotional punctuation to character conflict, as well as being an embodiment of the peak of Woo's thematic romanticism. It could be argued that the blandness of
Paycheck
's action is in keeping with its underplayed aesthetic-it is, of course, a thriller and not an action movie. (In Kurt Wimmer's interesting low-budget sci-fi film
Equilibrium
this problem was alleviated by having the gunplay in the film literally elevated to the level of art in a world without art, and it was the only true expression that anonymous bureaucratic rebels could use). But without the Woo staples of violent romantic expressionism or even piecemeal themes of brotherhood and honor, there is little in
Paycheck
that resembles the work of an artist. The constant conflict between Woo trying to bring his characters to life while trying to make the world around them lifeless never resolves itself. What is generally left is a lifeless B-movie adaptation, generously plot-holed and lacking any sort human element or any degree of excitement.