Crimson Gold
Crimson Gold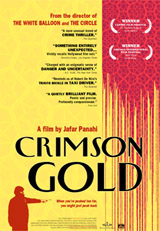 starts off like any normal thriller, beginning at the end. A man robbing a jewelry store gets stuck in the shop after he kills the owner for hitting the alarm, sealing in the store with iron bars. The robber's accomplice inexplicably sticks around the crime scene outside yelling at the man and while a crowd gathers and heckles the criminals the imprisoned robber resignedly sinks to the floor and shoots himself in the head. Cut; time rewinds and we watch what occurred in the previous days that drove this man to this crime and his own death. Scripted by Abbas Kiarostami and directed by Jafar Panahi
Crimson Gold
's answers are far from simple and far from clear.
Despite the prestige behind the camera it is really actor Hossain Emadeddin's portrayal of the lead robber Hussein that is the force of social confusion at the heart of the film. Ex-military, uncomfortably fat and now a pizza deliveryman in Tehran, Hussein looks like the kind of man who would be cast as a slow-witted strong man in a heist picture. Indeed, this seems initially the case when the first scene after the failed robbery takes place between Hussein and soon to be brother-in-law and accomplice-in-crime Ali (Kamyar Sheisi), the kind of fast talking, slightly dense young man who always seems to push slow lunks like Hessein into lousy situations. The surprise is that Hussein is not only incredibly perceptive-he easily spots the phony act of a philosopher con man who tries to back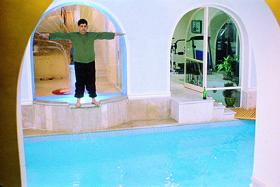 the duo's crimes- but incredibly full of heart. His deadpan demeanor and slow moving physique hides an exceedingly generous man, and one who has very heartfelt beliefs in mutual respect.
And thus comes the rub. A receipt in a stolen purse draws Hussein and Ali to an upscale jewelry store whose owner contemptuously snubs the duo, not even letting them in the store and advising they try the bazaar in the lower part of town as it is more likely to meet their financial needs. Panahi's low-key direction leaves the audience guessing for the film's first twenty minutes why these anonymous men would try such a desperate crime as the opening robbery and this scene provides the first hint at the motivation. Hussein is heavily affronted by his mistreatment and a later visit with his fiancé and Ali-this time dressed up as rich Iranians but still told that instead of jewelry they should purchase the gold of the bazaar, as it is more liquefiable in cases of financial emergencies-appears to offend the quiet man to such an extent that he cannot breath. Financial motivation seems moot; neither Hussein nor his fiancé appear all that interested in their monetary future, it is more the unequal social mistreatment that comes and goes with money that motivates Hussein's behavior.
The second half of the film rotates around two important scenes. In the first Hussein is stopped outside an apartment building he is delivering to by the police who are picking up young women and men who are illicitly partying there. Hussein waits patiently outside the rich kid's party and eventually uses his tip money to buy the failed delivery-food and distribute it to the hungry policemen and the various men and women being help by them. The second sequence is when a wealthy young man, his night ruined when his girl walks out on him, invites Hussein into his parent's palatial apartment. Though polite, generous, and friendly the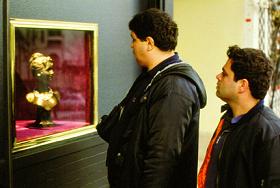 young man correctly reads Hussein as the kind of lower-class person who would keep quiet in such decadent surroundings and listen to his problems without comment. The young man, just back from American, mildly rants how "insane" Tehranians are while Hussein blankly listens and eats his own pizza. After Hussein takes a solo tour through the lavish apartment and the film finally cuts to the beginning of the jewelry heist.
Crimson Gold
's beauty is its unanswerable questions in the face of heartbreaking simplicity. Though it has been compared to
Taxi Driver
I would think the more appropriate superficial connection would be a re-imagining of parts of Scorsese's film and Kurosawa's
High & Low
, where a criminal's only view from his one room stink-hole in the murky, hot poverty of lower Tokyo is the mansion of a millionaire, prompting him to try to kidnap the man's son. Hussein's decision to put not only his future but his fiancé and Ali's (who have no other family) in jeopardy either for jealously or envy-fueled revenge simply does not compute with Hussein's good nature and warm generosity. His physical size combined with his quiet, always-listening manner points to Hussein literally but unnoticeably absorbing the misconduct around him and which, in this type of movie, eventually erupts into violence. His motivation never the less remains a mystery, a conclusion drawn from the abstract catalysts of his surroundings and the way people in those surroundings treat him.