Big Fish
Tim Burton's
Big Fish
is an under-imagined and over-clichéd ode to both the power of storytelling and the legitimacy of building a world of fantasy. Theoretically no theme could be more perfectly interwoven with the medium of cinema-telling
truth through lies at 24 frames a second-and no more perfect a filmmaker than Burton, who has made a career of spinning wild fantasies around simple dramatic truth. But the truth of
Big Fish
is far too simple, and its premise far too contrived. Albert Finney plays Ed Bloom, an old man full of outlandish stories, and that particular quality has continually brought him into conflict with his son Will (Billy Crudup). After Ed steals attention at Will's wedding by telling yet another fantastical yarn Will finally breaks off contact completely. Typically, it is not until Will hears his father is dying that he returns home and attempts to reconcile the fact that he hardly knows his dad; he only knows his dad's stories. Ed Bloom's stories make up the bulk of
Big Fish
's narrative, which not only tracks the relationship between father and son but goes into detail many of events of Ed's younger life (played by Ewan McGregor). Growing up in a town he finds too small for his ambitions (one of many metaphoric references to the film's title-a big fish in a small pond) Ed sets off to find a mission worthy of his immense charm and talent. That mission is quickly found when he spies Sandra Bloom (Alison Lohman young, Jessica Lange old) and Ed's quest becomes one for love. It is far from this simple however, for Ed's preference for tall tales infuses his charming story of how he moved out of his hometown and met and seduced his wife with the fantastical. The stories continually grow grander and more detailed-though his first story simply involves catching an uncatchable fish, Ed eventually meets and befriends an angry giant, joins the carnival, battles a werewolf, stumbles across an isolated town of 1950s perfection, buys up the daffodil stock of four states to court his girl, robs a bank with a poet and other such crazy adventures.
Big Fish
's biggest surprise is that, despite coming from the mind of Tim Burton (by way of Daniel Wallace's book and John August's screenplay), it seriously lacks a flair of the imagination. Sure, Ed Bloom's stories are fantastical, but not that fantastical.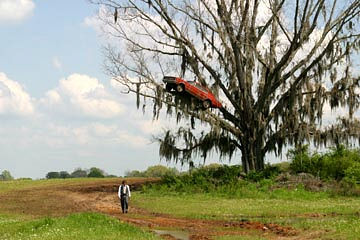 It is clear to everyone but his son Will that Ed's stories are only slight exaggerations of what really happened. It is difficult to empathize with Will, for, with a few exceptions including Danny DeVito's circus master suddenly turning into a werewolf and Ed ambushing some kind of North Vietnamese army talent show replete with a ventriloquist and a pair of female cabaret singing twins that share only two legs, Ed's stories are rather unimagined. On paper they may sound neat-giants, witches, creepy forests, fantasy towns-as they probably do in Wallace's book, but Burton does little to inject Ed's supposedly unbelievable tall tales with the whimsy and over exaggeration that could understandably confound a son wishing to really know his father. A snatch or two of visual inspiration or conceptual wittiness fails to light the bulk of Bloom's story with magic. How can a film be an ode to storytelling when its own story fails to ignite the full possibilities of cinematic imagination? If it were not for the warm, simple performances of Burton's large cast, all would be for naught. Their performances, especially that of Jessica Lange who has only a handful of lines but carries with her an amazing love for Finney's Bloom, help the film stay away from cheap sentimentality-which the oversimplified plot always seems in danger of tipping into. They help make the end of
Big Fish
a surprisingly heartfelt and affecting conclusion, but the bulk of the film's investment is not in emotional catharsis but in exploring and understanding fantasy. Light on whismy, and lacking the fantasy
Big Fish
mostly comes up dry.
Monster
Monster
lives and breaths off the remarkable disappearing act of star Charlize Theron, a previously untested model-cum-actress best known for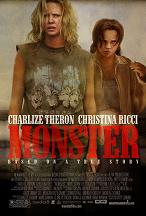 her good looks, here completely unrecognizable as a freckled, bulky, 30-something homeless prostitute. So often the kind of dedication it takes to make such a visual physical transformation takes precedence over the film itself, but Theron's performance is especially noteworthy because of how completely believable and assimilated she makes her characterization; it is only after the film is done that the feat is recognized. Ironically this is the also
Monster
's weak spot, as Theron's portrayal of Aileen, a straight prostitute who falls in love with middle-class lesbian Selby (Christina Ricci), is run of the mill enough for
Monster
's "based on a true story" story to easy tip over into boredom. A lonely sole longing for anyone to pay attention to her, Aileen quickly decides to stop hooking when she meets Selby. But when Aileen kills a man who rapes her she decides to become a kind of vigilante, killing potential tricks. While the film successfully makes what amounts to a prostitute-turned-serial-killer sympathetic,
Monster
's ideology that its two lead characters are thrust out into the world on a linear narrative without intercessions of choice is beyond far fetched. Thus the fate of both Selby and Aileen follows a typical, and typically dramatized, downward spiral as neither are able to change their path. This eye-rolling ideology could perhaps be a bit more palatable if writer/director Patty Jenkins was telling a story other than the most undistinguished of criminal humanity, everyone's longing for love, and unchangeably unhappy lives. The successful job of both actors, and especially Theron, in making their characters understandable and sympathetic does little to alleviate the tedium that not only revolves around them, but within them as complete cinematic clichés.