The Last Samurai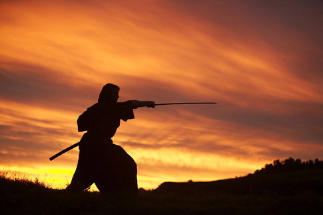 I'm of two minds when it comes to Tom Cruise's newest film. One one hand
The Last Samurai
is a handsomely mounted, moderately engaging action film (I mean, it does have ninjas). Of course, despite the prestige film trappings,
The Last Samurai
really doesn't have a brain in its handsome head; despite the relatively good acting on display here (and, for the record, I kind of liked Tom Cruise in the role) the characters are fairly one-dimensional and the stabs, pardon the pun, at psychological complexity are fairly laughable (which it too bad, since Edward Zwick and Marshall Herskovitz are fairly adept at doing so when it comes to the American bourgeois characters who populate their TV melodramas), while the story is fairly basic, if not common place (disillusioned soldier finds something to fight for once he is taken captive by the "enemy"). Which is OK, as I said before, the film was moderately engaging: the action scenes were fairly good, even if they suffer in comparison to the sword-fighting films of Japan and Hong Kong (the fight scenes in
The Last Samurai
lack the fluidity and coherence of their Asian counterparts, mostly because the latter relies on uninterrupted sequence shots, while the former uses a lot more quick edits), it's often kind of funny ("Can I call you Bob?" "Bob, are you a ladies man?") and somewhat touching, and as I said before, it is handsomely mounted. Everything is quite pretty, courtesy of John Toll's photography, as well as the production design and art direction. Now, back to my two minds. On the other hands,
The Last Samurai
is one of the most ideological suspect films that I have seen in quite a while.
Critical comparisons to
Dances With Wolves
are apt (I kind of liked the critical pun
Dances With Samurais
, too bad I didn't think of it myself); as
The Last Samurai
is basically the same film with a Zen and Bushido whitewash.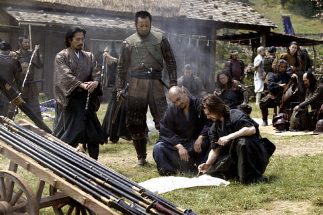 Again, we have a White character becoming a key figure, if not outright savior, of a non-White Other (the Great White Hope), but
The Last Samurai
doesn't just stop with the rebellious samurai; no, Cruise's character, Capt. Nathan Algren, plays a key role in the Meiji Restoration, thus becoming something of a savior to the Japanese people (in the film, it plays out in a rather predictable, schematic fashion resolving all the conflicts presented in the film; however laughable the film's conclusion, it is interesting to note that Algren's message to the Emperor, in effect, lays the groundwork for the mixture of tradition and modernization which would transform Japan into an aggressive imperial power in Asia...) Well, let's put it this way, if it wasn't for Algren, all the Japanese samurai would have either just committed seppuku or rushed head long into battle, without any strategy, against the American provided guns of the Imperial Army (they end up doing this any ways, but Algren's efforts make the final "sacrifice" that much more meaningful to the other Japanese characters). The only reason why this doesn't become glaringly offensive during the course of the film itself, is the ballast provided by the central non-White character. These performances, in effect, serve to temporarily obscure the imbalance; just as
Dances With Wolves
had the strength, humor and intelligence of Graham Greene, these same qualities are embodied in
The Last Samurai
by Lord Katsumoto, the samurai leader, as portrayed Ken Watanabe, in an excellent performance.
But lets not stop there, as there are more than one way to compare
The Last Samurai
to the bankrupt
Dances With Wolves
. For one thing, there's a cross-cultural romance between Algren and Taka, the widowed sister of Lord Katsumoto; even though it's largely a chaste relationship, I still found it hard to believe that the sister of a Imperial official and samurai leader would ever be permitted to have a relationship with a gaijin, but things have to be squeezed into the Hollywood template, especially when Tom Cruise is concerned (the fact that Algren is also responsible for Taka's husbands death is pretty much glossed-over; sure, Taka protests a couple of times, but a lecture about karma and duty by her brother, as well as an apology by Algren, smooth things out ASAP; strangely, the kids warm up to him right away). Getting away from that relatively minor point, let�s turn to perhaps the most troubling aspect of
The Last Samurai
.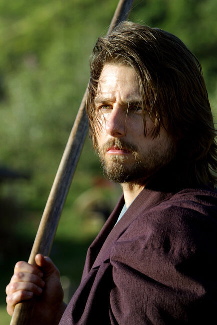 In
Dances With Wolves
we are presented with a romanticized portrait of Lakota Sioux culture, an update of the Rousseauian Noble Savage with a contemporary New Age-spin, which is counterpointed with the evil, modern White Culture. More damningly
The Last Samurai
, which pretty much drains away any historical context, in effect romanticizes a culture and way of life which ruled Japan as a rigid, feudal, often corrupt, military dictatorship for hundreds of years. Despite the liberal credentials of Zwick and Herskovitz (who, by the way, helpfully provide a White bad guy, played by Tony Goldwyn, who forced Cruise's sensitive Capt. Algren to slaughter helpless and innocent Indians; rest assured, he gets his on the battlefield), this just seems, well, kind of reactionary, especially when it is welded to a simplistic tradition vs. modernity narrative, and guess which side wins out? (It's not like the film exactly plumbs the depths of the Bushido, or examines any contradictions between philosophy and practice). In fact, the historical personage whom Lord Katsumoto is based upon, Saigo Takamuri, became something of a hero to Japanese ultra-nationalists and right-wing traditionalists. Sure, sure, Zwick and Herskovitz wanted to make a movie about "Duty," "Honor," "Compassion," "Destiny" and "Sacrifice" (notice how I capitalize those words, yep it's a pretty declarative statement, and fits in nicely with much better films by the duo, like
Glory
and
Courage Under Fire
), but did they really have to pick a militaristic cult with a penchant for suicide (the final charge into the howitzers and blazing Gatling guns was like the Charge of the Light Brigade, but more positive)? Hey, I'm not saying that modernization or Westernization is perfect; far, far, far from it, but in
The Last Samurai
it's represented by a uncaring, genocidal American officer and a simpering, sniveling Japanese official, a character about as subtle as Snidley Whiplash. How can that possibly compare with noble warriors who spend most of their time praying to Buddha or composing poems about cherry blossoms, while the peasants tend to the fields without complaint, totally compliant under the enlightened, benign leadership of the samurai? (I'm having a
Gone With the Wind
flashback.) My god, this movie is so thick with Orientalism, that Edward Said and my college Asian-American literature professor are probably spinning in their respective graves.
You know who else is probably spinning in their grave? Akira Kurosawa.
The Last Samurai
would never have been made if it wasn't for his films, but they languish in relative (I'm stressing relative) obscurity. Everyone should do themselves a favor and rent one of his jidai-geki, which touch on many of the topics brought up in
The Last Samurai
, but give them a much more complex treatment. Hell, at least in his films, the peasants are completely terrified of the samurai, even when they are on the same side. Yep,
Throne of Blood
,
Seven Samurai
,
The Hidden Fortress
,
Yojimbo
,
Kagemusha
, and
Ran
, that's a good starting place.
Question of the Week
Does anyone remember back in the mid-1990s, when a bunch of critics and other various pundits were proclaiming "The Death of Cinema" and "The Death of Cinephilia"? Well, a lot of those articles, by such critics as David Denby, Susan Sontag, David Thomson, and James Wolcott came out before the real heyday of the Internet, with's it's proliferation of personal websites, blogs, and message boards dedicated to that little thing we like to call the movies. Milk Plus is but one of many such websites filled with passionate, knowledgeable cinephiles, many of whom also maintain their own personal sites (a bit of history, many of the Milk Plus members were also former particpants in the NYT Film Forum, which dates back to 1997; at least I was there, along with Rodney). Cinephilia and the Internet also go hand and hand in many other ways, for example: the rise of DVDs has created a thriving collection of web-based, mail order rental outlets such as GreenCine, Netflix, and Facets; many traditional media outlets have placed their film-related content online; and of course, there is the holy grail, real successful streaming Internet film distribution (and it's slightly more surreptious cousin, P2P systems for downloading). With all of this in mind, the question of the week is:
How has the Internet affected your own personal sense and practice of Cinephilia? Has the experience been all positive, or have you experienced some negative aspects of Internet-driven Cinephilia (beyond conversing with people that you have personally disliked)? And what are these postive and negative aspects? Lastly, is this surge in the late 1990s, early 2000s Cinephilia been driven solely by emergent technologies, or is it the quality of films released since the mid-1990s, or, perhaps even both factors?
This is not part of the actual question, but if you were old enough to experience earlier surges in Cinephilia (i.e. the 1960s and 1970s) feel free to compare and contrast these two eras (most of the articles that I referenced above nostalgically reference the 60s and 70s, an argument that writers like Kent Jones, in his brilliant destruction of Peter Biskind's
Easy Riders, Raging Bulls
, and Jonathan Rosenbaum have deconstructed).
Due to the scope of this question you may answer this question in as many responses as you find necessary. As always, the question of the week is open to all blog member and readers who wish to participate.
The Unofficial Milk Plus Canon: 1990-1994
Well, our third little poll is officially finished, and the votes have been tabulated. Thanks to everyone who has participated; this version of the poll had the most respondents, and I hope that you all come back for the next installment. Without further ado, here are the results of the Unofficial Milk Plus Canon 1990-1994:
10.
Hoop Dreams
(d. Steve James, 1994) - 21 points
9.
It's a Three-Way Tie:
Blue
(d. Krzysztof Kieslowski, 1993) - 22 points (for the records,
White
received 2 points and
Red
received 11 points)
Malcolm X
(d. Spike Lee, 1992) - 22 points
Raise the Red Lantern
(d. Zhang Yimou, 1991) - 22 points
8.
It's a Two-Way Tie:
Close-Up
(d. Abbas Kiarostami, 1990) - 27 points
The Crying Game
(d. Neil Jordan, 1992) - 27 points
7.
Schindler's List
(d. Steven Spielberg, 1993) - 30 points
6.
Naked
(d. Mike Leigh, 1993) - 34 points
5.
Unforgiven
(d. Clint Eastwood, 1992) - 35 points
4.
Barton Fink
(d. Joel Coen, 1991) - 36 points
3.
Miller's Crossing
(d. Joel Coen, 1990) - 45 points
2.
Pulp Fiction
(d. Quentin Tarantino, 1994) - 92 points
And the #1 film of 1990-1994:
1.
Goodfellas
(d. Martin Scorsese, 1990) -
102 points
What you find this list funny? But, funny how? Funny like a clown? Does the list amuse you? Does the list make you laugh? Is the list here to fuckin' amuse you? Oh wait, yeah, it is here to amuse you. Well, it judging from the list, crime does pay, at least when making "Best of..." lists (especially when you factor in the next couple of films,
Reservoir Dogs
at 19 points,
Sonatine
, tied with
Ed Wood
, at 17 points, and
The Silence of the Lambs
at 15 points). The Coen brothers continue their dominance, this time placing two films in the Top 5 (they've placed a total of five films in the various polls).
So what does everyone think about the canon? What does it say about the Milk Plus members and readers who voted, you know, besides having a kick ass taste in film and a probable obsession with the Coen brothers? Plus, if anyone wants to share their honorable mentions go right ahead, and if you by chance missed out on the voting, feel free to share your own top ten list in this comments thread.
Remember, it's been almost 20 years, so start preparing for the 1985-1989 poll now. It's coming in a few weeks....
The Triplets of Belleville
With Disney shirking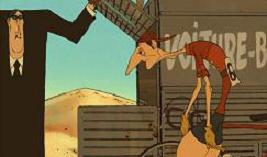 2-d animated pictures forever next year, it is in the hands of filmmakers like Hayao Miyazaki and films like
The Triplets of Belleville
to remind new audiences the unsurpassable beauty and artistic possibility of traditional animation. Sylvain Chomet's first full length film-more appropriately titled Belleville Rendezvous in French-is so testament to the power and visual wonder of animation that it is told completely sans dialog, accompanied only with gay music, ambient sound, and the muffled grunts and clipped words of humans and the amusingly more decipherable grunts, whines, and barking from one half of the film's two stars, Bruno the dog. The other half is a windowed mother who, after numerous attempts to discover a hobby her young boy enjoys, discovers under his bed a journal filled with newspaper clippings about bicycling. He is overjoyed when she buys him his first tricycle and the film skips decade or two as the family is forgotten by the world and the mother tirelessly helps her son train for the Tour de France.
Taking place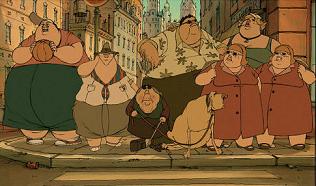 somewhere around the 1950s or 1960s,
The Triplets of Belleville
is particularly nostalgic-it opens with cartoon footage of the premier of the a cabaret number sung by the Triplets, accompanied by what looks like a retro-cartoon rendition of Josephine Baker-and Chomet's characters exude a playful feeling of the past. They seem designed around a good-natured grotesquery, the fun of gross caricature in motion. During the first half of the film, taking place in France, the people populating Chomet's world seem like the best of caricatures, appearing both uniquely stylized and a perfect visual concision of each character. The look is charming and constantly amusing; the son is lankier than a piece of string but his thigh and calf muscles are blown gloriously out of proportion from his training, and his nose juts out several inches past the end of his face; the mother, seeming to have shrunk down from a leggy photograph of herself in the 40s, is only three feet high and required to wear one high heel to balance out disproportioned legs; and Bruno, by far the film's best creation, is far too fat for his spindly legs and ends up slipping or collapsing at any attempt of motion.
When a pair of shadowy agents
kidnaps the son during the Tour de France, Bruno leads mother on the scent, which takes them to the metropolis of Belleville, an island seemingly modeled on a romantically fantastic condensation of Manhattan. The population there is much different, filled with gloriously rotund men and women, fat beyond belief. Miraculously, the mother runs into the original Triplets of Belleville, now quite aged, and living alone together in the slums, eating a steady diet of frogs blown out of the river and performing retro song number for the city's older generation. Here the charmingly semi-aimless narrative propels itself forward, but Chomet�s plotting is nowhere near as compelling as the inhabitants of his world, and the thin theme of devotion to what you love and the emphasis on parental devotion cannot help sustain the characters of the film. To employ a terrible pun, they are far two dimensional and are nearly dehumanized in the film's blind quest. Except for endlessly comical humanization of Bruno
The Triplets of Belleville
would survive best as a simple tableau of loose images, traveling around the country and the city and finding interesting people. For it is the people of Chomet's world that have the unique look, and without the depth the film badly lacks a creative sense of place-only in the revelation of the reason behind the son's kidnapping, the mother's homespun training, the opening cabaret strip, and in a beautiful montage during the Tour does the film world light up with the visual imagination that its characters are so full of. Chomet's film sadly emphasizes that no matter the power of the images there needs to be a strong guiding force behind the film, narrative or not, and
Triplets
for all its imaginative power cannot push itself into anything beyond creatively inspired.