Joker Recommends
-Top 20 List
-House of Flying Daggers
-The Aviator
-Bad Education
Yun-Fat Recommends
-Eight Diagram Pole Fighter
-Los Muertos
-Tropical Malady

Allyn Recommends
-Eternal Sunshine of the Spotless Mind
-Songs from the Second Floor

Phyrephox Recommends
-Top 20 List
-Design for Living (Lubitsch, 1933)
-War of the Worlds
-Howl's Moving Castle
Melisb Recommends
-Top 20 List
-The Return
-Spirited Away
-Spring, Summer, Fall, Winter...And Spring
Wardpet Recommends
-Finding Nemo
-Man on the Train
-28 Days Later

Lorne Recommends
-21 Grams
-Cold Mountain
-Lost in Translation

Merlot Recommends
-Top 20 List
-The Man on the Train
-Safe Conduct
-The Statement
Whitney Recommends
-Femme Fatale
-Gangs of New York
-Grand Illusion

Sydhe Recommends
-In America
-Looney Tunes: Back In Action
-Whale Rider

Copywright Recommends
Top 20 List
-Flowers of Shanghai
-Road to Perdition
-Topsy-Turvy
Stennie Recommends
Top 20 List
-A Matter of Life and Death
-Ossessione
-Sideways
Rodney Recommends
Jeff Recommends
-Dial M for Murder
-The Game
-Star Wars Saga

Lady Wakasa Recommends
-Dracula: Page from a Virgin's Diary
-Dr. Mabuse, Der Spieler
-The Last Laugh

Steve Recommends
-Top 20 List
-Princess Raccoon
-Princess Raccoon
-Princess Raccoon
Jenny Recommends
-Mean Girls
-Super Size Me
-The Warriors

Jason Recommends
Lons Recommends
-Before Sunset
-The Incredibles
-Sideways


(c)2002 Design by Blogscapes.com

The Blog:
Short Takes
demonlover
(d. Olivier Assayas)
A strange, schizophrenic film, quite different, in both tone and focus, from Assayas's last film,
Les Destinees sentimentales
, though the constantly roving, hand-held camerawork betrays its creator's stylistic handiwork.
demonlover
, ostensibly a sleek tale of corporate espionage in the cyberage, quickly devolves into a world where nothing is "real," not sex, not emotion, not identity. These characters "exist", encased in a glass shell of ultra-posh buildings and anonymous hotel rooms, literally swimming in a fishbowl of mediated images; it's a post-national world, where characters freely mix French, English, and Japanese (matched by it's international cast of French, American, Japanese, and Danish actors). This is not the postmodern playground of
Lost in Translation
, but an oppressive environment, where the ultimate hands of control emerge from behind the scenes only fitfully, often, quite literally, manipulating the characters like puppets, yet ultimately remaining hidden. In short, paranoia rules the day, accompanied by a dissonant score by Sonic Youth. Dissonance, breakdown, by the last third of the film, narrative itself has begun to completely unravel: characters begin acting arbitrarily, relationships become upended, transitions are confused, locations are mutable, and the action becomes obtuse. Of course the ending is the requisite, incestuous twist which calls into question all that preceded it (I'd love to discuss the implications of the ending in the comments, for anyone who has seen the film and is interested), but before that, Assayas has crafted a deeply disquieting film which almost demands repeat viewings (if for nothing else, just to really figure out what the hell was going on).
Bubba Ho-Tep
(d. Don Coscarelli)
It sure sounded like a surefire premise when I first heard it: Cult film star Bruce Campbell plays an aging, impotent Elvis, who switched places with an Elvis impersonator before his official death, and now finds himself in an East Texas nursing home with a bum hip and no family, friends, money, or dignity. His only friend is another resident, and elderly African-American man, played by Ossie Davis, who is convinced that he is JFK (his explanation is that the CIA dyed his skin black in an effort to hide him). To top that off, Elvis and JFK face-off against an ancient Egyptian mummy, who sports a cowboy hat, and spends the film using the nursing home as an all you can eat buffet. Sounds great, right? Well, it�s mostly disappointing, neither as funny (there are a couple of funny sight gags and Davis has some funny lines about LBJ) or as horrific as the filmmakers intended. What is does have in spades are some unwieldily exposition scenes and an annoying, affected visual style. My final judgment, the filmmakers made a fatal mistake. They set out to make a calculated cult classic and failed, instead of just making a good film which becomes a cult classic on its own.
The one thing that made this film a salvageable experience was Campbell's performance as Elvis. He infused his performance with enough regret and poignancy, that the slower, more dramatic parts, when Elvis was looking back on the ultimate failure of his life, were by far the best. It's something I don't usually expect to see from Campbell, and I'd be interested in seeing him try out a few "straight" roles.
21 Grams
Alejandro Gonzalez Inarritu's new American triptych
21 Grams
folds into itself far more then the distinctly disparate parts of his terrific 2000 debut film Amores Perros. The film's narrative exists somewhere between fractured and interwoven, following three characters-Paul (Sean Penn), Jack (Benicio Del Toro), and Christina (Naomi Watts)-as they confront tragedy through a slippery timeline. Specifically, Paul is dying and requires a heart transplant that is supplied when Christina's husband is accidentally run over by Jack. These three lives intersect at this coincidence and Paul comes away from the experience deeply needing to get in contact with his anonymous donor's family. The film downplays its main contrivance by throwing at the viewer scenes that rotate and revolve around each other with no central axis. Before the transplant Paul is deathly ill and being cared for by his girlfriend Mary (Charlotte Gainsbourg), Jack is living with his family and finding solace in fervent Christianity, and Christina with her husband and children. After the transplant Paul tries to find the donor's family, Christina's mourning fluxuates between sorrow and vengeful hysterics, and Jack questions his faith and his role with his children.
Though Inarritu keeps the same handheld grainy aesthetic of his previous feature, he and writer Guillermo Arriage reject Amores Perros aggressively tactile feel for the importance of the world its characters inhabit and here focus on their spiritual questioning. The characters all have darker pasts hinted at-Paul's womanizing, Christina's drug abuse, and Jack's alcoholism and criminality-and
21 Grams
' circular narrative provides a seemingly unending tragedy that regresses each of them into their past. In this way they each become obsessed with a solution to the mystery of the accidental deaths. Paul becomes self-deterministic, trying to find a way to thank Christina and eventually falling for her. Jack rejects his adamant Christianity that led him to believe his act of killing was fated, and turns away from his family. Christina regressed into passivity, escaping into alcohol, drugs, and thoughts of revenge.
The film's title comes from the idea that a body loses 21 grams of weight when it dies, and at its core the film explores the cyclic nature of death and life. Paul is a walking example, as he is reborn when Christina's husband's death gave Paul a way to live.
21 Grams
is fatalistic in its philosophy, for even as Christina seeks out to kill Jack and Paul's body begins to reject his heart there are life-affirming equivalencies that match up. It seems no matter what one does, whether they are passive or active, believing or not, each person is a gear in a machine that takes its 21 grams as often as it gives it.
If this philosophy seems dehumanizing, the film's characters and narrative structures attempt to fight this fact.
21 Grams
' unique structure throws into narrative-less space scenes of conflict that often feel obliquely tied to a distinct story. This eliminates any arc or growth for
21 Grams
' characters, and one merely has to recognize which of three time periods the film is operating in to know whether, for example, Jack is faithful, questioning his faith, or faithless. But what this narrative strategy attempts to do, however, is give the audience isolated moments of intense humanity and shared tragedy. And aside from an overwrought moment or two on the part of Naoimi Watts, all four actors turn in gracefully subtle and passively implosive performances. Del Toro has grayed his hair, gained weight, gone scruffy, withdrawn inward and completely loses himself in his character. Though not one of the film's three principles, Mary is the most interesting character and casting the unusual, pretty, British-accented Gainsbourg is one of the film's humanizing coups. These all attempts to balance out the film's mechanical fatalism , but Inarritu and Arriage's technique overpowers everything in the film like gangbusters, and
21 Grams
ends up feeling like a rigged game setup to play out and affirm the same idea through different characters. The cycle is brutal and inescapable, and
21 Grams
struggles and fails to show that anything in between life and death is really worth anything at all.
Gothika
...If the train should jump the track / Do you want your money back? / Yes, no or maybe so?
-- Old children's rhyme
"Gothika" is, somehow, both exactly what I'd expected and a good deal better than that. For a while, it looks like a genuine creepshow sleeper -- a rare horror film that worked its way through the intestines of Hollywood and was crapped out with all its spooky glory still intact. I suppose it gives nothing away to say that the film does, after a prolonged struggle against capitulation, eventually head south; still, the fact that some worth didn't get processed or homogenized out of the final product is slightly encouraging. (We horror nuts have to take what we can get when Hollywood is involved.)
The film opens on some of the worst dialogue you've ever heard being delivered by one of the worst actresses you've ever seen (Penelope Cruz). The subsequent hour of celluloid then came as a fair surprise; as Dr. Miranda Grey (Halle Berry) tries to piece together what exactly happened to land her in the asylum and why, the film turns into a sly and atmospheric thriller -- "Shock Corridor" re-envisioned as a haunted-house carnival ride. Apparently, Dark Castle believed in this film enough to spare no expense, which is why the talent involved is of a significantly higher caliber on both sides of the camera. And boy, did it help. The acting is not too bad for a glorified B-movie, which always helps -- Halle Berry in particular does nice work here. In fact, I'd go as far as to say this is the best thing she's done since winning that Oscar. Halle's forte, apparently, is playing women in agitated emotional states. This explains why she's shockingly good here after serving as essentially wallpaper in "Die Another Day" and "X2": she's just not interesting when she plays it straight. She's matched blow for blow by Robert Downey Jr., who even in a "disreputable" film like this pours his all into another one of his fascinatingly quirky performances. (His dialogue pauses are pretty much a character in themselves.) Charles S. Dutton does what he can with his limited screen time, even if his entire performance is meant to function as a red herring of characterization, and Penelope Cruz... um.... okay she sucks. But at least she tries.
The film also looks better than any Dark Castle production to date (small praise, true, but it's praise all the same). Truth be told, the design of this film is fantastic. Importing noted French stylist Mathieu Kassovitz was a plus, as was employing ace DP Matthew Libatique. These guys are pros, and they make sure everything looks properly dark and nightmarish (check that group shower scene). Occasionally, a striking and memorable image will surface (example: the brief scene where we catch a shock-cut glimpse of Cruz being raped by... something). The vibe is so thick with tension, you could punch through it like Jell-O. And just when it looks like this will be a B-level triumph, the third act arrives and lets the air out of everything.
Oh Christ, the direction this film ends up taking... it's so goddamn mundane. Of all the places the movie could have gone, it had to choose this lame dark-heart-of-man crap? I mean, what if the Devil truly had been haunting the asylum? What if Halle really had gone 'round the bend? What if the ghost was simply evil instead of looking for help? And why is it that ghosts can't just come out and say stuff? I mean, this film's not as bad as "Dragonfly" in that respect, but jesus. Just because you're dead doesn't mean everything has to be a cryptogram. Honestly, I had expected this to collapse but I figured it would at least be a spectacular wreck, much like Kassovitz's last film "The Crimson Rivers". That film suffered from being overly ludicrous to the point where you couldn't care how it ended because anything was likely to happen; this one, on the other hand, eventually succumbs to temptation and falls lock-step into cliche. So chalk this one up as a near-miss. It was fun while it lasted, though.
Looney Tunes: Back in Action
Don't laugh, but
Looney Tunes: Back in Action
is assured a place on my list of the ten best films of 2003. OK, go ahead and laugh if you want, but I'm telling you that
Looney Tunes: Back in Action
is brimming with such good natured fun and a sheer love of movie-making, that more than makes up for the nonsensical plot (basically a set-up for non-stop gags and riffs on pop culture,
Looney Tunes
shorts, 50s and 60s Science-Fiction, horror, and spy movies) and somewhat bland lead human characters. Which isn't to say that the human characters aren't very good, Brendan Fraser is game for playing another living cartoon (he even provides the voice for The Tasmanian Devil and the Tasmanian She-Devil; plus he's more than willing to send himself up in a hilarious bit of self-mockery which pays off at the end), but of course, when matched up with such cartoon luminaries as Bugs Bunny and Daffy Duck, one is bound to suffer in comparison; Jenna Elfman tries, but is given precious little to do, except stand around and look cute. But the real diamonds in the rough are Steve Martin, mugging exceptionally well in the role of the nefarious Chairman of the Acme Corporation; Timothy Dalton as a ridiculously assured super spy who also happens to be both the biggest action star at Warner Brothers and Brendan Fraser's father, though it's never explained exactly how a suave British man has an American lughead for a son (it's also a nice send up of Dalton's underrated turn as James Bond); and Joan Cusack exercising her matter of fact comedy timing and goofy, yet strangely normal, delivery in the role of the spy-master/scientist "Mother," head of Area 52 ("Keeping Secrets from the American People Since 1947").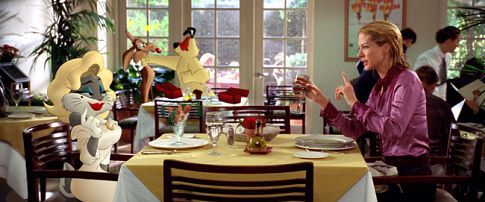 Looney Tunes: Back in Action
has two intrinsic, built-in audiences: kids, and film geeks who believe that the
Looney Tunes
, in the heyday of Frank Tashlin, Friz Freleng, Tex Avery, Robert Clampett, and Chuck Jones are among the finest treasures of American Cinema. The screening I went to on Sunday was full of kids and their parents; I think I was the only one there without a child in tow, as well as the only one who laughed at about half the jokes, but then how can you expect to get kids to laugh at all the ironic sides about product placement (when Wal-Mart suddenly appears in the middle of the Nevada desert), political correctness (Porky Pig and Speedy Gonzalez commiserate in the WB commissary over how political correctness has affected their career), or relatively obscure science fiction references (Area 52 is populated with just about every major 50s B-Movie alien monster, as well as Marvin the Martian; an elderly Kevin McCarthy from
The Invasion of the Body Snatchers
, clutching one of the infamous pods, makes a cameo, escorted through the secret base screaming "There Here Already!").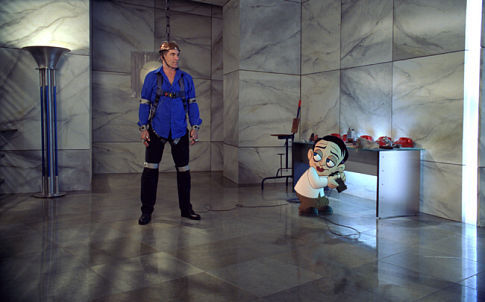 As you can probably tell, what was probably designed as a crass, cynical exploitation of some of the Warner Brothers most beloved properties, like say the boredom-inducing snoozefest called
Space Jam
(referred to here in a throwaway cameo by Michael Jordan), is transformed into something more, a cinematic love poem by director Joe Dante, aptly referred to, in relation to this film, as a "creative filter" by Jonathan Rosenbaum (actually "creative filter" is one of the best shorthand descriptions of what an auteur is, that I have read). It's a real movie-movie, infused with a knowledge and appreciation of the nooks and crannys where you find great cinema. It's not quite a completely appropriate analogy, but
Kill Bill
is to 60s and 70s exploitation film, as
Looney Tunes: Back in Action
is to American classic cartoons and 50s/60s B-Movies, a riff, a primer, a greatest hits collection, in the best sense of the word (it made me want to go out and buy the new DVD collection that was just recently released). Just about every major
Looney Tunes
short is referenced throughout the film, and just about every character, both minor and major makes an appearance (even the Peter Lorre-based mad scientist, but of course, this is a Joe Dante film), even some, shudder, Hanna-Barbara characters (actually, it's pretty funny to see an animated Shaggy and Scooby Doo bitch out Matthew Lillard for his performance in the live-action
Scooby Doo
). Thankfully, the character's voices are fairly close to the originals, though they still fail to live up to the high expectations created by Mel Blanc, who incidentally makes a cameo of sorts in the film, "voicing" Fraser's sputtering car, which is very familiar to any regular
Looney Tunes
viewer. Of course, the car is a Gremlin, which of course, necessitates a reprise of the "Gremlin Theme" in Jerry Goldsmith's score (ah
Gremlins
, along with
Explorers
,
Innerspace
, and
Gremlins 2: A New Batch
, were some of the films I used to watch all the time when I was kid).
But I have to stress that it's not like Dante and the company of gag writers behind the film (and that's what they were, the screenplay is credited to Larry Doyle, a writer who has worked on
The Simpsons
, but apparently there were 28 uncredited writers, and I find it hard to believe that Dante did not have some hand crafting the screenplay) simply copied the old gags, though in some cases they did just that, but instead they riffed on them, from the small (Bugs and Company literally trekking through the desert of the American Southwest, causing him to riff "We should have taken that right at Albuquerque" which could actually be taken literally at that point, unlike in the cartoons) to the big (riffing on
What's Opera Doc?
where Chuck Jones managed to squeeze all of Wagner's
Ring
cycle into a five minute cartoon,
Looney Tunes: Back in Action
includes a riotously funny scene where Elmer Fudd, working for his "dark masters" of the Acme Corporation, chases Bugs Bunny and Daffy Duck through the paintings of the Louvre, including those by Dali, Toulouse-Lautrec, and Seurat, among others).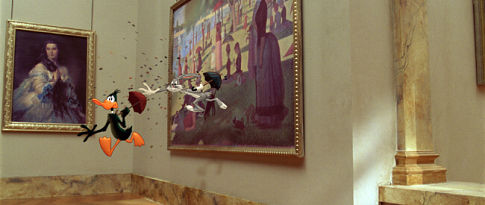 Actually, Dante adopts the
Looney Tunes
attitude and form wholesale, that anarchic, bawdy, irreverent, gag-a-minute approach, where nothing is sacred, to the point of utilizing the short cartoon's scattershot approach to satire (consumerism and corporations operate as the butt of most of the jokes, with Warner Brothers being run by a pair of identical twin siblings who can't make a decision on their own, while Acme has a board with such positions as VP of Bad Ideas, VP of Child Labor, VP of Unfairly Promoted, etc.). Sure one joke might fall flat, but there's four more around the corner, or five or six if you count all the stuff going on in the background.
A lot of films try this approach, but most fail. Why? Well, for one thing, they are not particularly funny, but more importantly, they strain too hard for laughs, instead of making it seem effortless and organic (the only real clinker in the entire film is a joke involving Tweety Bird and "Cry Freedom!"). They ignore their inherent absurdity, instead of embracing it (hell, not only does
Looney Tunes: Back in Action
embrace its own absurdity, it french kisses it, pointing out how bizarre and unlikely this all is at every point, it�s almost a perfect example of self-reflexivity). And most importantly, they don't love the material (and I mean love without stifling it with needless nostalgia or binding fidelity). Dante loves this material, even if it began in the bowels of the Warner Brothers marketing department,
Looney Tunes: Back in Action
is virtually Dante's dream project. As a counterpoint, can you believe that they people behind the recent Dr. Seuss adaptations really "love" their material? If they did, they'd concentrate on releasing a deluxe DVD of Chuck Jones's version of
The Grinch Who Stole Christmas
instead of releasing another Seuss abomination with a cameo by Paris Hilton (try a personally meaningful cameo, like Dante's Roger Corman).
Yep, That's All Folks!!!
SHATTERED GLASS
Does
Shattered Glass
deserve comparison to
All the President's Men
, as
Roger Ebert suggests
? Sure, if the point of your comparison is how superficial
Shattered Glass
is. As a glimpse into the world of journalism, or an exploration of how people like Stephen Glass and Jason Blair managed to pull it off for so long, or a query of whether they're even journalistic aberrations,
Shattered Glass
doesn't even scratch the surface. (At one point, Glass, talking to a high school class, notes that the biggest hole in the fact-checking system is that it relies on the reporter's notes for many facts. Kind of a lame explanation for how the In-Flight Magazine of Air Force One missed a prominent reference to a non-existent corporation in one of its stories.) Still, except for an annoying school room framing device (which is somewhat forgivable in the end, but not entirely), the film is reasonably entertaining. Maybe not a waste of 10 bucks, but, if the holidays have you scrapped for cash, this is one you can wait and catch on cable.
That said, if you've ever worked in an office (not necessarily a newsroom), you might appreciate the film as a portrait of two easily recognized but authentic office characters -- the obsequious, well-liked self-promoter with "people skills," and the quiet, unassuming worker who is mistakenly pegged as aloof and never gets the credit he deserves. Now, let me say, believing as I do that there are very few journalistic saints, I strongly doubt that the real life Chuck Lane was as saintly and unfairly misunderstood as he's portrayed in this film. Nonetheless, as a fictional character who corresponds to authentic types in many offices, I liked him. Hayden Christensen is very good as Glass, but, he has
Star Wars
and "Tiger Beat" to make him famous. So let's not talk about him. The real performance of note here is Peter Sarsgaard in the much less showy role of Lane. The film really cranks it up in its third act when the perspective changes from Glass's to Lane's, and that's due in no small part to Sarsgaard.