Joker Recommends
-Top 20 List
-House of Flying Daggers
-The Aviator
-Bad Education
Yun-Fat Recommends
-Eight Diagram Pole Fighter
-Los Muertos
-Tropical Malady

Allyn Recommends
-Eternal Sunshine of the Spotless Mind
-Songs from the Second Floor

Phyrephox Recommends
-Top 20 List
-Design for Living (Lubitsch, 1933)
-War of the Worlds
-Howl's Moving Castle
Melisb Recommends
-Top 20 List
-The Return
-Spirited Away
-Spring, Summer, Fall, Winter...And Spring
Wardpet Recommends
-Finding Nemo
-Man on the Train
-28 Days Later

Lorne Recommends
-21 Grams
-Cold Mountain
-Lost in Translation

Merlot Recommends
-Top 20 List
-The Man on the Train
-Safe Conduct
-The Statement
Whitney Recommends
-Femme Fatale
-Gangs of New York
-Grand Illusion

Sydhe Recommends
-In America
-Looney Tunes: Back In Action
-Whale Rider

Copywright Recommends
Top 20 List
-Flowers of Shanghai
-Road to Perdition
-Topsy-Turvy
Stennie Recommends
Top 20 List
-A Matter of Life and Death
-Ossessione
-Sideways
Rodney Recommends
Jeff Recommends
-Dial M for Murder
-The Game
-Star Wars Saga

Lady Wakasa Recommends
-Dracula: Page from a Virgin's Diary
-Dr. Mabuse, Der Spieler
-The Last Laugh

Steve Recommends
-Top 20 List
-Princess Raccoon
-Princess Raccoon
-Princess Raccoon
Jenny Recommends
-Mean Girls
-Super Size Me
-The Warriors

Jason Recommends
Lons Recommends
-Before Sunset
-The Incredibles
-Sideways


(c)2002 Design by Blogscapes.com

The Blog:
The Naked Kiss
Samuel Fuller's
The Naked Kiss
(1964) smacks you across the mug like an angry dame with a pocketbook -- which is also how it begins. The first thing we see is the prostitute Kelly (Constance Towers) beating the fool out of some poor sap who tried to rip her off. We watch from his point of view, a man so drunk he can barely stand, as Kelly's blows send him reeling backwards down the hall of his apartment. She swings so wildly, angrily, and literally in your face (as well as his) that you almost think she's going to break the lens, which is frantically trying to keep up with her. Her unfortunate john makes a wild grab at her hair, which turns out to be a wig, and Kelly goes apewire: a bald hooker in black bra and panties beating the son of a bitch senseless and then finishing him off by by spraying a seltzer bottle in his face. She readjusts the wig and stares into a mirror, and at us. As the opening credits appear and the music swoons, she combs her hair into shape, restoring the hard, sculpted beauty of her face. It's one of the most jarring opening scenes in American cinema.
"If a story doesn't give you a hard-on in the first couple of scenes, throw it in the goddamned garbage." Such was the famous advice Fuller gave to Jim Jarmusch. Worshipped by independents, a figure of honor to in both the French and German New Wave -- he appeared in both Godard's
Pierrot Le Fou
and Wim Wenders'
The State of Things
-- Fuller crafted melodramas that push the border of art, and this one throbs with expectancy from the get-go. It's a B-picture of considerable purity - the setting is worm-in-the-apple suburbia, the laughs are mean, the dialogue is lousy and the acting is wretched. It is also operatic; a hyperdrama with an impassioned sensibility and a sense of mood that is masterfully shaped by composition and lighting. Fuller puts his characters in worlds full of extremes. He doesn't peel away social camouflage to reveal the dark side. He starts with the dark side, the place where his people live, and shows the camouflage as it accumulates.
After Kelly's episode with the deadbeat john, we move ahead a few years. Her hair has grown back -- it isn't until much later that we discover how she lost it -- and she moves to the small town of Grantville to ply her trade. Posing as a champagne saleswoman, she meets Griff (Anthony Eisley), the local cop, who quickly puts his moves on her. Griff doesn't learn that the champagne lady is a hooker until she's already popped his cork, whereupon he tells her he doesn't want her type in his town. Griff is the kind of cop you might meet in a
Jim Thompson
novel, a hot-headed defender of public morality who sees no contradiction between his private life and his public one. He's not totally heartless; he even recommends a good bordello in the next county, where "Bon-Bon Girls" with names like Redhead, Marshmallow and Hatrack offer their sweets to the highest bidder.
Kelly isn't interested. Instead, she rather all of a sudden decides to change her life completely. She gives up champagne and whoredom, takes a room with a kindly if dotty old woman, and becomes a physical therapist for handicapped children. She rises in this line of work with lightning speed, tough-loving the youngsters into health and winning the total respect and admiration of all her fellow nurses, who trust her wise, been-around-the-block counsel on all matters.
Naturally, this rise in her fortunes doesn't sit well with Griff, who has a strong, old-fashioned belief in "once a whore, always a whore." What ticks him off even more is when his friend J. L. Grant (Michael Dante), the town's wealthy playboy as well as its leading son, takes a special liking to Kelly. When Griff learns of their upcoming marriage, he threatens to expose the newly-reformed Kelly if she doesn't scram, but Kelly beats him to the punch: she tells Grant everything about her past, he forgives her, and Griff can't do much more than sulk.
Where can the movie go now, you wonder - half way through and the central MacGuffin already MacGuffed? Lots of places, as Fuller is just getting cranked up. The charming, Byron-quoting, good-looking Grant of Grantville proves just as prejudiced against Kelly's past as Griff, only in a much nastier way. Grant, she discovers, is a child molester who needs someone as abnormal as he is for a wife, and figured an ex-whore was as good a place to start as any. When he winds up dead, she gets charged with murder. Life turns bleak and hopeless as it only can in a film noir -- or a D.W. Griffith silent like
Broken Blossoms
or
Way Down East
. Like Griffith, Fuller is violent, achingly sincere, corny, and a true original when it comes to storytelling. He easily glides into extended poetic reveries, such as when he shows groups of children singing or playing at the hospital, without ever once making it seem extraneous. I think Fuller could have gotten in the ring with Griffith and other great silent directors -- he's at his best when he scraps dialogue and becomes strictly visual, such as the end, when we see Kelly's distance from a crowd of townspeople, or earlier, when Kelly discovers Grant with a little girl. Forced by the conventions of his time to be purely suggestive, Fuller lures us into the scene unawares, as Kelly is -- she comes home, hears Grant's tape recording of the children singing at the hospital, sees a child exiting the house, sees Grant, and her slowly stunned face tells us all we need to know.
Tawdry, silly, over-the-top, totally compelling, and brilliantly photographed by Stanley Cortez (one of the greats: he also shot
The Magnificent Ambersons
and
The Night of the Hunter
) this kiss delivers a beginning-to-end knock-out punch.
Question of the Week
The Unofficial Milk Plus Canon, Part III: 1990-1994
Has the franchise exhausted itself? Can the Unofficial Milk Plus Canon, Part III: 1990-1994 match up to the success of the first two installments of the Unofficial Milk Plus Canon saga? We'll just have to see...
In a world gone mad....
Create a list of the Top 10 films releasted between 1990 and 1994, providing rationale for each choice.
Remember, this question is open to all blog members and readers, so get your list in, so your vote will count. Again, because of the variability of release dates, please use the
IMDB.com
as your resource when it comes to a film's actual release date. I will use the same point system as before, with your #1 movie being worth 10 points, your #2 movie being worth 9 points, and so on.
Polling ends at 9pm CST on 12-3. Please have your lists submitted by then.
The Big and The Small
Master and Commander: The Far Side of the World and Electric Eye Cinema
Scale. You can tell from the title of my post that its been on my mind. Actually, it just popped into my head tonight, as I mused over the last 24 hours of my filmgoing experience, but it does make sense. Last night, after work, I had planned on seeing Joe Dante's
Looney Tunes: Back in Action
(side note: is this a marriage between director and subject matter or what? Check out Jonathan Rosenbaum's enthusiastic review
here
), but the release of
The Cat in the Hat
changed the screening schedule (speaking of family films, I'm just put off by the newest Dr. Seuss travesty, since I'm only a hypothetical parent, I would skip the movie and read the book), and dammit, I was going to a movie, hell or high water. Despite Joker's tepid remarks, Peter Weir's new film,
Master and Commander: The Far Side of the World
was the only thing playing at the time that I hadn't already seen, so I plopped down my $8; bought my doughy, lightly-salted megapretzel with a side of cheese, from a surly teenager in an ill fitting polyester tuxedo; and sat down in the plush, reclining stadium seats of the new Ultrascreen (or as I now call it, "Not Quite the IMAX" or the "Guarantee for Motion Sickness"). I wasn't expecting much from the film, but after it was over, I didn't think it was all that bad. Kinda' good actually, not that it was worth my $8 (matinee or cheap theater?...maybe...DVD rental?...definitely).
Until the release of the film, I was unfamiliar with the series of historical novels written by Patrick O'Brian which form the basis of Weir's film, a $130 million opus, with an unwieldily title, backed by three separate Hollywood studios. They certainly sounded promising: a historically detailed, swashbuckling adventure. It's certainly detailed, I guess I could have learned a lot about early 19th century sailing, if (a) I could understand half of what the characters said, and (b) I had a sailor-to-English glossary. Still, I was impressed with both the attention to detail, as well as the what I took to be authentic production design (I was reminded of the Winston Churchill quote "All naval history is nothing but rum, sodomy, and the lash,"
Master and Commander
features lots of rum, and a little of the lash, but unless I blinked and missed something, no sodomy). The
HMS Surprise
was simply beautiful, in my opinion, and it had the feeling of a real, lived in space.
Unfortunately, the "197 souls" which crews the
Surprise
may look and sound like Napoleonic Era British sailors but with only a couple of exceptions, I could barely tell them apart. Yeah, I could pick out a couple of faces, and remember even fewer names, but for the most part, the majority of the characters were a blur of grimy faces and Cockney accents. For example, during one of the film's main set pieces, the rounding of Cape Horn, one of the most popular crew members drowns in the churning, storm-driven surf, the flotsam that could have saved him cut away by the Captain in order to save the ship. The film marks this as a big moment, but for the life of me, I really have no idea which character actually died, it was just too dark and rainy for me to visually identify the character. That's the problem, a lot is made of the crews sacrifice, but again, with a few exceptions, the characters are fairly underdeveloped, if at all, so when they die, you really don't feel anything (i.e. the attempt at the elegiac ending, though the earlier death of the cowardly leftenant is kind of visually haunting, harkening back, like much of the Galapagos sequences, to Weir's earlier Australian work, like
The Picnic at Hanging Rock
).
This would be a much more severe problem if it wasn't for the presence of Russell Crowe, again bringing his literally commanding presence to his role of Capt. "Lucky" Jack Aubrey. Hell, after this role, and his role of General Maximus in
Gladiator
, I�d follow this guy into battle. Aubrey is a good-natured, laid-back, sailor's sailor, a man who deserves and commands respect (a lot of reviews I have read have referred to Aubrey's pursuit of the French privateer
Archeron
as Ahab-like, but this is misplaced, as the film doesn't portray his "obsessive" pursuit as pathological or particularly negative), a natural leader. He's a consummate man of action, and is balanced by the onboard presence of Dr. Stephen Maturin (Paul Bettany), the bespectacled ship surgeon and naturalist. Aubrey and Maturin have an intimate friendship, in several lighter scenes they perform string duets in the captain's cabin (Aubrey playing the violin, Maturin the cello) to the disgust of the salty steward. But more importantly, Maturin, being the only man on the ship outside of the naval chain of command, is the only one who can openly question the captain's decisions, often attempting to act as the voice of moderation and reason (Maturin is presented as something of a precursor to Charles Darwin, if not for duty to crown and country). Not that Maturin is some kind of weakling, this is a man who operates on himself, removing a musket ball, and then goes on a 10 mile trek across the rocky lengths of one of the Galapagos islands. Plus, in a pinch, he proves handy with a saber (this makes more sense in the books, because I guess,
SPOILER for the novels and perhaps future sequels
, Maturin is actually a spy.
End SPOILER
) Of all the other characters, the only other one developed to a significant degree is the young, angel-faced Midshipman Blakeney (Max Pirkis), who loses his arm in the first engagement with the
Archeron
. Throughout the film he straddles the line between the two main characters, Aubrey and Maturin (not that a lot is made of this possible struggle for Blakeney).
These characterizations actually point to what could have been a potentially interesting intellectual conflict, which is set up during the central part of the film, is disappointingly left unresolved. This intellectual conflict, befitting the setting during the late Enlightenment, is between Reason (as represented by the cultured Dr. Maturin, the doctor and scientist) and the irrationality of superstition, which is not only shared by the lower-class men, but the majority of the officers. The conflict comes to a head as the
Surprise
is caught in the equatorial doldrums, and the crew quickly comes to blame their bad luck on an unfortunate Leftenant, which they refer to as a "Jonah" (as in the bible). As I said before, the film sets up this conflict between the rational and the irrational, but it ends up kind of muddled. After the Leftenant commits suicide, the sails almost instantaneously begin to fill. What are we to make of this? That the sailor's superstitions were correct? However, Reason is not totally rejected, it's just used pragmatically by Aubrey when he takes the lesson's of Maturin's proto-evolutionary discoveries to heart, in a bit of subterfuge.
This all may sound kind of negative, but then, I didn't go to
Master and Commander
expecting any sort of intellectual treatise. I did expect an action movie, and there was plenty of action. Personally, I preferred the cat and mouse conflict between the
Surprise
and the
Archeron
, as I found most of the main battle scenes to be extremely confusing. Specifically, I'm referring to the final battle, which consists of quick cuts, whip pans, and blurred images (all obscured by billowing smoke), all of which I'm sure was purposely done so that the audience would experience the shipboard confusion and chaos of the characters. Hell, most of the time, I had no idea who was stabbing or shooting who (those black armbands didn't help).
Back to scale though; even though this film was created on a vast canvass, I valued it much more for it's smaller moments, the mysterious trek through the Galapagos; the look on the battle-hardened, yet increasingly squeamish, face of Aubrey as he watches his best friend operate on himself; the stories about Lord Nelson (I have a new toast that I've cribbed from the film "Here's to our wives and sweethearts, may they never meet!"); the shipboard snowball fight as the
Surprise
sails near the Antarctic; and the musical scenes between Aubrey and Maturin. Yeah, it was those small moments which saved
Master and Commander
from being the thundering mediocrity it had the potential to be.
Speaking of small (nice segue, eh?), tonight, I attended the monthly
Electric Eye Cinema
, Madison's contribution to the
Microcinema Movement
, and it couldn't be more different from Thursday's screening of
Master and Commander
. For one thing, it's held in the back room of a local coffee house, where you have to sit on torturously hard chairs (though they are an improvement over the old metal folding chairs), and endure the dull roar of the cappuccino machine in the background (good food though, I had a nice BLT served to me by a cute hipster chick, though it was made for me by a surly raver dude). I actually haven't been to an Electric Eye Cinema screening for over a year, but since this week's Cinematheque offering was not that interesting to me (actually the second half of the Cinematheque schedule this semester hasn't been all that exciting to me, hopefully it will pick up next year), I decided to check it out. Electric Eye Cinema is principally dedicated to the screening of independently produced and distributed documentaries, which are often politically charged (my two favorite Electric Eye Cinema screenings where back in 2001, two hilarious documentaries by director Jim Taylor, his film
Subdue the Universe
, about the fringe candidates in the 1996 New Hampshire Democratic Primary, and
Run Some Idiot
, where Taylor documents his own foray as a fringe candidate in the 2000 New Hampshire primary).
Electric Eye Cinema is also a venue for local filmmakers to screen their works; the two documentaries are preceded by an hour of "Open Reel" where anyone can submit a video or DVD for screening, as long as it is 10 minutes or less. As you can guess the "Open Reel" films vary in quality, though none tonight were particularly insufferable. The highlights tonight were a pair of computer animated shorts, an excerpt from a documentary which followed a rather unique community radio station fundraiser, and, suprisingly, a film called
Beauty and the Beast
. It was actually sent to the Electric Eye Cinema curator by an art student from Syracuse University, and consisted of reedited segments from the the Disney film
Beauty and the Beast
, which is set to audio interviews given by porn actors (the editing makes it look like the animated characters were mouthing the words, and it was actually done very well). It really didn't add up to much, but it was hilarious, and I was half expecting the Mickey Mouse patrol to burst through the door and confiscate the tape, especially given the fact that they were later screening a documentary that was critical of the Disney Corporation. I figured I was one of about five people, in an audience totaling around 25, who was not in someway connected to one of the "Open Reel" filmmakers, but what I really enjoyed about the experience was the enthusiasm, camaraderie, and encouragement that these small, independent filmmakers share with one another. It was great, and I think I�m going to check out the Kino Club next time it meets, or maybe I'll make my screen debut as an outer space, interdimensional, zombie (one filmmaker was soliciting extras). By the way, anyone want to screen there video to a small yet appreciative audience, feel free to email me so we can make some arrangements (Milk Plus Distribution?)
The two documentaries that are screened at the Electric Eye Cinema are typically grouped together by some common subject. Tonight's screenings were odes to street protest. The first documentary was called
Who�s Not Irish
(d. Lyell Davies, 2002), a short video documentary about the efforts of Irish-American LGBT activists to gain access to the NYC St. Patrick�s Day Parade, as well as their own efforts to create and sustain an "all inclusive St. Patrick's Day Parade" in Queens (which is more of a multicultural festival, but it looks a lot more fun than the Manhattan parade). Identity, both cultural and sexual, is at the center of
Who�s Not Irish
, the LGBT activists and their allies ironically pointing out that romantic fiction that the Ancient Order of Hibernia (the conservative, Irish-Catholic organization that puts on the St. Patrick's Day parade) has about Irish identity and Ireland, where LGBT organizations already march in St. Patrick�s Day parades ("We March in Dublin! We March in Cork! Why Can't We March in New York!"). An interesting film, and a sad statement on the continuing homophobia in America.
The other film was a German documentary (it was on a DVD, and the curator couldn�t figure out how to turn off the German subtitles) about a NYC anti-corporation, anti-globalization activist named Bill Talen. The documentary is called
Reverend Billy & the Church of Stop Shopping
(d. Dietmar Post, 2002), which is in reference to Talen's character; see Talen and his group of activists (he is some sort of college instructor) are practitioners of guerilla street theater; Talen targets the exploitation of Third World workers, the destruction of the local economy by chain stores, and the alienation of consumerism by adopting the dress and mannerisms of an evangelical street preacher named
Rev. Billy
(his "followers" like members of a gospel choir, and they employ the trappings of a revival meeting, lots of "Hallelujah's" and laying on hands). The antics of Rev. Billy is often hilarious, but the ideas behind his politically charged sermons are deadly serious. His modus operandi is to enter his targeted chain store and begin his preaching up until the police escort him from the building, where the protest continues on the sidewalks (I only slightly feel sorry for the employees who have to deal with him, similar to a Michael Moore film; like Moore, but to a lesser extent, there is the hint of self-aggrandizement and the love of the spotlight). His first target is one of the three Starbucks within a block of each other at Astor Place, then the Disney store in Times Square (for the 29th action). Most of the film is actually taken up with his efforts to save the Edgar Allen Poe House (where Poe wrote his famous poem "The Raven"), which was set to be demolished by NYU so that a law school building could be built. Here street theater moves into civil disobedience, as Rev. Billy occupied the building until arrested by the police. Apparently, his efforts paid off, as NYU reached a compromise with the activists which at least saved parts of the building. That's about it, the fight goes on, as Rev. Billy and the Church of Stop Shopping forges on, fighting the good fight.
Yeah, that's it, the big and the small. They both have their place, and I pity the person who can not enjoy both. Though this time, the small won out. And now I'm worn out. Later.
Milk Plus: A Discussion of Television
Well, the last one worked out pretty well, so since it's the middle of November sweeps I thought it would be a good idea to post another "Milk Plus: A Discussion of Television" thread. Feel free to discuss any TV show, TV mini-series, TV movie, or commercial in the comments of this post; don't fret, if you want to post to the main board about a TV-related topic, feel free. Have fun.
Bad Santa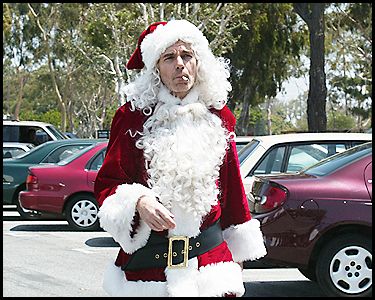 I don't know how many takes director Terry Zwigoff had to shoot before he got the salad leaf to land exactly where it does on Billy Bob Thornton's bottom lip, as he's playing a sour, crude, mean-spirited, alcoholic department store Santa, spit-screams at a mother and her young child, "I'm on my fucking lunch break!" However the scene was filmed, it was blessed with the same magical comic serendipity that shone upon nearly every other moment in the deliciously warped
Bad Santa
.
Virtually a wall-to-wall parade of bile-spewing monologues and freakish outbursts of anger, Zwigoff's grinchy black comedy is the perfect anti-Christmas film. Sure to offend a multitude of viewers (one Campus Christian in my row was so disgusted that she stormed out of the theater 40 minutes into the film), it skewers the warm and gooey Christmas family genre by inserting into the surrogate father formula this self-loathing, volatile character named Willie, played to jaw-dropping perfection by Thornton. Tony Cox (
Me, Myself, & Irene
) is great as Santa's little helper, and John Ritter proves he was still the master of the reaction shot at the time of his abrupt death. But best of all is the uproarious script by John Requa & Glenn Ficarra, rewritten by Joel & Ethan Coen. Possibly setting a record for the use of the word "fuck," its profane indulgence would make Mamet blush. Clever insults and hilarious tirades are vomited from Thornton's mouth every scene, but instead of just being a show-off piece for bitter nihilism, the script serves to consistently and deeply reveal Willie as a redeemable bastard; a rich character as despicable and cruel as he is charming in his anti-heroism.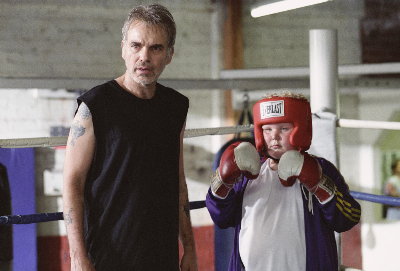 Zwigoff lends his piece a crude visual style, cutting out of rhythm and rarely moving the camera (a similar inertia befell his slightly superior
Ghost World
), but one gets the feeling that it wouldn't be so funny if it were smoother with its editing and mise-en-scene. He knows right when to bolt out to a wide shot or frame a certain body part out of the picture, and the results are constantly gut-busting. While it may turn you off to hear that the plot revolves around Willie's growth and ultimate redemption by looking after a curious, tubby 8 year-old, rest assured that the sap has been drained out and replaced by a rainbow geyser of obscenities so outlandish that the only risk you run seeing
Bad Santa
is the pain in your stomach and empty lungs from laughing so hard at what has to be the most hilariously twisted dark comedy in ages.
Two Days
Two Days
, 2003. Starring Paul Rudd, Karl Weidergott and Adam Scott, written and directed by Sean McGinly.
Photos courtesy of the film's official website.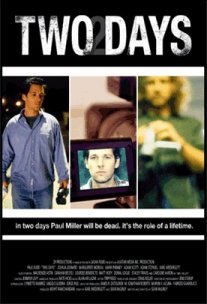 Due to time and financial restraints I didn't think I was going to make it for any of the AFI Film Festival, but at the last minute got some passes for myself and a friend. It was kind of hard to choose just one out of all the tempting films playing, but we finally set our sights on
Two Days
, a black comedy written and directed by Sean McGinly and starring Paul Rudd.
Rudd stars as Paul Miller, an out-of-work and suicidally depressed actor who hires a film crew to follow him around for the final two days of his life before he kills himself. Adam Scott is his buddy Stu, who Paul brings on to direct the project. Stu's "vision" for the film is that his friend Paul will come to an emotional climax at the end of the two days and choose life after all. Karl Weidergott is Charlie, the co-director who resents Stu's influence on the events of the documentary, but who is also torn between being true to the project and helping Paul.
The crew is rounded out by Mark (Mark Phinney), the cameraman who can't stand having anyone else touch his camera; Bill (Joshua Leonard), the laid-back sound guy who can't keep his hands off Stu's girlfriend; and Cameron and Mike (Robert Patrick Benedict and Matt Hoey), two UCLA students whom Stu has hired to make a documentary about the making of the documentary.
Whether it's intentional or not, Cameron and Mike appear to be a nod to Kevin Smith's Jay and Silent Bob – at least they resemble them physically (Cameron is tall with blond stringy hair and Mike is shorter, bearded, and doesn't have one word of dialogue in the whole movie). It might just be coincidental, because that's where the similarities end -- Mike, unlike Silent Bob, doesn't suddenly bust out with "the moral of the story" at the end of the movie, and Cameron is more of a philosophical surfer dude than Jay's hyper, foul-mouthed, weed-scoring misogynist.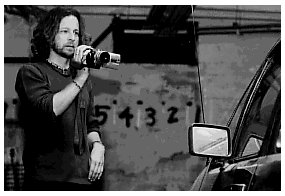 The narrative of the story switches back and forth between the documentary POV of the two cameras operated by Cameron and Mark, and an omnicient third-person POV which catches some more private moments as Paul says goodbye to the people in his life – ex-girlfriends, friends, family, his agent. Each person in his life takes a turn at convincing Paul that things aren't as bad as they seem, that he's never going to kill himself anyway, that he's only doing it for the attention, etc. Some of their arguments are more compelling than others', but Paul remains steadfast to his goal.
Stu, desperate for the film to have the happy ending he's planning on, even arranges for Paul's folks to fly out from New Jersey. Surely, Paul can't look into the faces of the people who bore and raised him and seriously tell them he's killing himself. Can he?
When it finally dawns on the crew that Paul really is serious, that he really means to go through with it, that it's NOT just a plea for attention, that he really understands that when he's dead he's dead and there's no going back but he's doing it anyway – they start to leave the project one by one. As Mark the cameraman puts it, "I don't want to see this. And I certainly don't want to put it on film." Eventually, only Charlie is left, and Paul bitterly reflects, "The only one with me at the end is a guy I've only known for two days."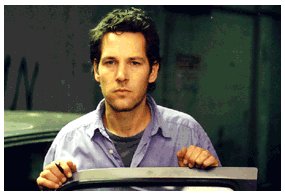 Paul Rudd is an exceedingly charming and warm actor who is easy to watch in anything, but in this role he exhibits a depth of emotion I haven't seen from him before. Paul Miller's reasons for wanting to commit suicide are never specifically stated in so many words. There's the usual stuff – out of work, underappreciated, loss of girlfriend – but no One Big Reason. However, the sadness and misery stands out all over him through Rudd's compelling performance, and even though his friends all seem to think he won't go through with it, the audience can see all along that he's fully willing to go through with it.
The film balances the stark pain of Paul's final days with gentle and ironic humor, most of it aimed at L.A. and the entertainment industry. Paul's ex-girlfriend is now a successful actress in Spike Lee's hit sitcom "Bed-Stuy," for example. If the film has anything working against its chances of a wide distribution, in fact, it might be that it's too L.A.-centric. Near the end of the movie, Cameron, in an attempt to get Paul to ditch his suicide idea, encourages him, "You might want to think about moving over to the West Side. It's a lot less depressing." It got a huge laugh from the AFI crowd, but I don't know if it will travel well. On the other hand, I thought
Seinfeld
was too New York-centric, so what do I know?
Writer-director Sean McGinly has crafted a thoughtful and witty portrait of one man's despair. He successfully builds on Paul's inner turmoil up to the moment of the climax, where I seriously could not tell whether he would go through with it or not. The characters he's created in
Two Days
walk the fine comedic line of mockumentary-style caricatures and real people who are concerned for their friend in his time of need. It sounds unlikely, but it really worked. I hope it gets picked up for distribution. If not, watch for it at a film festival near you.
The Station Agent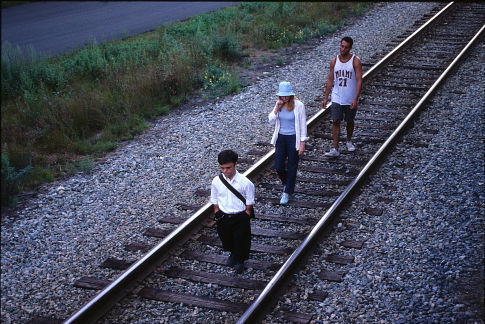 I only had one opportunity to go to the movies this weekend, so I put off seeing
Master and Commander
until tomorrow night, and instead went to a screening of Thomas McCarthy's Sundance crowd pleasing comedy-drama
The Station Agent
(where it won the Audience Award, the Waldo Salt Screenwriting Award, and helped snag Patricia Clarkson, the hardest working woman in US independent cinema, a Special Jury Prize for her acting), which finally opened in Madison this weekend. I'm usually not all that impressed with the films which win awards at the Sundance film festival, but
The Station Agent
is definitely one of the better recent examples. It is not a particularly challenging or visually interesting film, but it does feature three excellent performances from its leads, as well as an unassuming, yet well-written, story about a bunch of lonely people coming together, reevaluating their lives and reasons for their often self-imposed loneliness, and eventually coming together to create new bonds of friendship. It's a story that has been told many, many times before, in fact the only thing that really distinguishes
The Station Agent
from other similar films, at least in terms of narrative, is a taciturn dwarf protagonist and a quirky passion for trains that many of the characters either share or come to share.
Peter Dinklage plays Finbar McBride, who early in the film inherits an abandoned train depot in rural New Jersey. Dinklage's Fin is a man who keeps to largely to himself, years of being stared at and treated differently by those around him have caused Fin to retreat into a figurative self-imposed exile (at one point in the film Fin confides that "It's funny how people see me and treat me, since I'm really just a simply, boring person."); his inheritance initially seems like a literalization of this exile, but instead becomes Fin's tether to the rest of humanity, in spite of his best efforts, Fin can not help but make connections with the people around him (it's not for nothing that Fin's train depot is in Newfoundland, New Jersey; a bit of heavy-handed symbolism with its connotations of hope and a new beginning), starting with a gregarious Cuban-American, a tall, motor mouth named Joe (Bobby Cannavale) who seems the exact opposite of Fin. For some unexplained reason, Joe, operates his father's food cart outside of Fin's abandoned depot, where he literally has almost nothing to do except wile away his days on his cellphone. Once Fin moves in next door, Joe immediately insinuate himself into Fin's daily routine with an almost pathological intensity, to the point of rapidly becoming a train enthusiast himself (case in point, the "train chase" scene, which actually is infectious enough to make train chasing look fun). Despite his openly friendly attitude, it's quite clear that Joe is just as lonely as Fin (his sickly father, who is never seen on screen, is perhaps the reason for Joe's isolation; he spends his days in rural New Jersey instead of his native Manhattan because he has taken over the food cart during his father's illness).
Cannavale plays his character with just the right amount of neediness, so it doesn't become off-putting (it's somewhat childish), and is more than compensated for by his enthusiasm and sweetness, and I really liked how they played the loud, fidgety, constantly curious Joe with and against the soft-spoken, deliberate Fin. Despite their seeming incompatibility, I found their friendship natural and easy to believe (it's good that Dinklage introduces a bit of guarded skepticism, as well as a laconic acceptance, into his character, especially when Joe strays into some uncomfortable territory), which is a testament to the actors and the characterization.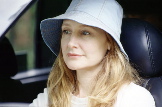 Patricia Clarkson finishes out the trio of main characters, playing a local painter named Olivia who meets Fin by almost literally running into him. Clarkson's Olivia is a nice woman, but a bit of a space cadet, always kind of frazzled and forgetful, rushing to and fro. She enters into friendship with the unlikely duo of Fin and Joe, partly out of a little crush on the handsome Fin, but mostly out of a need to reconstitute a family, which was torn apart following the death of her son (the film makes a point to contrast the much more emotionally open Olivia with the reserved Joe, who struggles to find things to say when Olivia blurts out things, it's both funny and sad). Clarkson, with her soft voice and trace of Southern lilt, has always struck me as a kind of "sad" actress, which plays well into her character, given her back story, and especially when she goes into a third act tailspin (note that her estrangement from Joe and Fin happens after she learns he ex-husband his having a baby, as if her attempts to create a family are not enough, at point dismissing a concerned Joe saying she is not his "girlfriend" or "mother").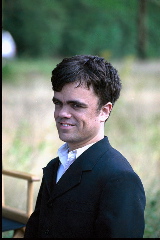 The cast is rounded out by a pair of female characters; a shy young black girl named Cleo (Raven Goodwin, who also appeared in
Lovely and Amazing
) who is just as fascinated by trains as Fin. She spends most of the film pestering an extremely reluctant Fin into speaking about trains in her school class. The other major character is a sweet, young librarian named Emily, played by the always adorable Michelle Williamson (I never saw
Dawson's Creek
, so I only have her role in
Dick
to make a judgment on whether or not she is adorable); the flirtatious Emily spends a lot of the film clumsily pursuing her crush, the somewhat receptive Fin (it's funny how all of the female characters in the film open up to the befuddled Fin, and Emily is no exception).
As I said before, the greatest strength of
The Station Agent
(by the way, the relevance of the title is another bit of symbolism; as Fin explains, the station agent was a sort of a jack-of-all-trades, a bit of everything for everyone; Fin's centralized position in this group of disparate people kind of replicates that relationship) is the characterization and acting. It's good enough that the cliche movements of the plot seem to arise naturally from the characters, and to be fair, the film is more concerned with characters than with it's plot. It's pretty much a forgone conclusion that everyone would end up helping each other, so it's best to sit back and enjoy the often funny scenes which expand on the characters and their relationships. I especially liked how the film ends, without an sort of firm conclusion, but with a quiet, funny moment among the three major characters.