Joker Recommends
-Top 20 List
-House of Flying Daggers
-The Aviator
-Bad Education
Yun-Fat Recommends
-Eight Diagram Pole Fighter
-Los Muertos
-Tropical Malady

Allyn Recommends
-Eternal Sunshine of the Spotless Mind
-Songs from the Second Floor

Phyrephox Recommends
-Top 20 List
-Design for Living (Lubitsch, 1933)
-War of the Worlds
-Howl's Moving Castle
Melisb Recommends
-Top 20 List
-The Return
-Spirited Away
-Spring, Summer, Fall, Winter...And Spring
Wardpet Recommends
-Finding Nemo
-Man on the Train
-28 Days Later

Lorne Recommends
-21 Grams
-Cold Mountain
-Lost in Translation

Merlot Recommends
-Top 20 List
-The Man on the Train
-Safe Conduct
-The Statement
Whitney Recommends
-Femme Fatale
-Gangs of New York
-Grand Illusion

Sydhe Recommends
-In America
-Looney Tunes: Back In Action
-Whale Rider

Copywright Recommends
Top 20 List
-Flowers of Shanghai
-Road to Perdition
-Topsy-Turvy
Stennie Recommends
Top 20 List
-A Matter of Life and Death
-Ossessione
-Sideways
Rodney Recommends
Jeff Recommends
-Dial M for Murder
-The Game
-Star Wars Saga

Lady Wakasa Recommends
-Dracula: Page from a Virgin's Diary
-Dr. Mabuse, Der Spieler
-The Last Laugh

Steve Recommends
-Top 20 List
-Princess Raccoon
-Princess Raccoon
-Princess Raccoon
Jenny Recommends
-Mean Girls
-Super Size Me
-The Warriors

Jason Recommends
Lons Recommends
-Before Sunset
-The Incredibles
-Sideways


(c)2002 Design by Blogscapes.com

The Blog:
Intolerable Cruelty
If it had just been the funniest movie of the year (and it is), I wouldn't like it this much. And if it had just been an expertly crafted statement on romance, equality, battle, cynicism, and institution, I wouldn't like it this much. But it happens to be both of these things as well as containing the added intangible element that makes most Coen brothers films so remarkable: a grace and musicality that's immediately recognizable and distinctly unique.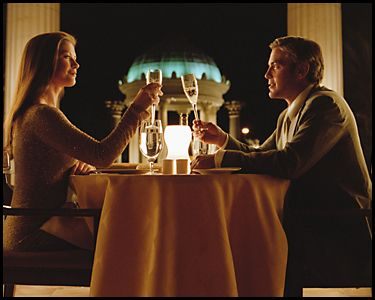 While their best films remain their heaviest – in my opinion,
Miller's Crossing, Fargo
, and
The Man Who Wasn't There
– the Coens' lightweight comedies show off a certain dexterity of dialogue that literally no one else in the industry can match. Their banter goes beyond the mimicry of classic Hollywood rom-coms of the '40s and elevates into a type of dance; the motif of repeated refrains and increasingly complicated one-line choruses, introduced in
The Hudsucker Proxy
and honed to near-perfection here, has an effect not unlike lyrics in a musical. And what better tone to set for such a wicked, sprightly comedy?
Another aspect present in all Coen films, dramatic and comic (and the ones in between), is their precise attention to miniscule visual details, an almost Kubrickian devotion to every spot in the frame. It takes a DP as strict as Roger Deakins to light and color the frame with such acuity, but it takes a creative mind as innovative as Joel Coen's to add flourishes like the one in the greasy-spoon diner: Cedric the Entertainer (the first time this guy has made me laugh, his Spike Lee concert film notwithstanding) says firmly to his employers, "I see an ass, and I nail it!" while right behind him, the most perfectly sweet ass of a hot black chick walks right behind him, and he misses it. Coen even directs the extra to scratch one of her butt cheeks to draw our attention to the lovely derriere, but the absolute ignorance of the characters on screen is a great example of the visual ironies present in the best Coen gags.
Equally impressive is the performance given by George Clooney in the lead role, expertly tailored to his marquee hunk persona. He goes the extra mile, ridding himself of the quirks and forced wackiness of his
O Brother, Where Art Thou?
turn and bringing a confidence that melds spectacular physical comic timing (his race to the elevator in Vegas, his walk through the ballroom during the satirical "slow clap" at Caesar's) with smooth, subtle facial suggestion (an imperceptible left-eye wink in the courtroom, a sly double take at a dinner date). Between this and
Solaris
, Clooney is finally proving himself worthy of the A-list accolades he unjustly received from such mediocrities as
Ocean's 11
and
The Perfect Storm.
Yet what remains in the afterglow of this delightful flick is how bold its voice is, and how sharp its artistic focus is in light of the producer credit of one Brian Grazer (
A Beautiful Mind, Apollo 13
). Where lesser artists might have sold out to Grazer's mainstream demands, the Coens have brought Grazer to them – presenting the audience with the sheen of a mainstream romantic comedy starring two gorgeous Hollywood icons (Zeta-Jones deserves some praise for her low-key work as the feminine calm amidst massive male chaos) along with the underlying brutality of their most aggressively independent work and its refusal to succumb to the softening edges of its peers. That they were able to throw on top of all this a genuinely effective love story that complicates the film's own cynicism is icing on a multi-layered cake and proof that it will take more than a big budget, a plot hole or two, and a greedy, artless producer to tame two of the finest filmmakers of the past 15 years.
Kill Bill, Vol I
...at its best it's a bit like a mix-tape you recorded for your friend...
- Yun-fat.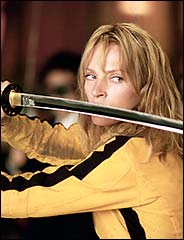 Now that I have seen Tarantino's latest opus, I have to say that this is probably the most apt description of
Kill Bill, Vol I
. A mix-tape is something you create in order to share a musical experience with others, a sense of discovery, of exuberance, of love, and of wonderment. The various songs which comprise mix-tapes might seem disparate to the uninitiated, but to those who are knowledgeable, there is a larger thematic and formal strand running throughout the tape, no matter how divergent the various genres may outwardly appear to be (btw, thanks for the metaphor, Yun-fat).
Kill Bill, Vol 1
is a cinematic mix-tape, an homage to just about every frame of film that went through the gate of a grindhouse movie projector in the last 40 years (in many ways, though the films are completely different, Tarantino's film reminded me John Waters's last, great film,
Cecil B. Demented
). Blaxploitation, Spaghetti Westerns, Kung Fu movies, Yakuza and Samurai picks, even art films (I swear that the final showdown between Uma Thurman's The Bride and Lucy Liu's O-Ren Ishii is evocative of the final scenes of Oshima's
Gohatto
), are pureed into the blender of Tarantino's mind, and spat back out into the form, to use lingo Tarantino himself might be comfortable using to describe his film, "a kick ass action film, starring cool, kick ass chicks." Can one really, honestly fault him for that?
Kill Bill
is not the cinematic equivalent of the cure for cancer, but it was never meant to be so, and to hold his film to a level that it was not meant to reach seems kind of misplaced.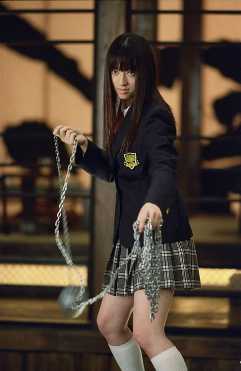 That said, is
Kill Bill, Vol I
a perfect film? No, far from it. The film's main problem is not that it is derivative, but that it seemed to me to be oddly paced. The more I think about it, the more I believe that the pacing problems seemed to be caused by the decision to cut a three hour film into half. The cutting itself works. Tarantino's decision to tell the story in episodic chapters, which are not told in chronological order, made it quite easy. Though the film nicely builds up to it's climatic action sequences, followed by a denouement which points in the direction of the to the supposedly more "complex" sequel,
Kill Bill Vol I
is hampered by a lot of exposition scenes and set-up. Now, in a three hour film, a lot of exposition and set-up in the first half would be more acceptable, as we would expect a more immediate pay-off in the second half, but in two separate films, well the pacing seemed to drag. Also, for future consideration, when we watch
Kill Bill, Vol II
, we have to remember all the salient parts from the first volume, even though there is a five month gap between the two releases. Even though the revenge narrative that drives the film is quite simple, Tarantino's real choice of communication, his dense pattern of allusions, would seem to suffer in this case. Personally, I would have released the film in it's three hour entirety (then again, I can sit through a three or four hour movie with no problems);
Kill Bill, Vol I
surely takes the cake as the strangest "mainstream" movie to be released this year with it's scrambled chronology, abrupt changes in style (I liked the anime sequence telling O-Ren Ishii's backstory, particularly the way the animators chose to use a style which emphasized the pencil strokes composing each drawing), ultra-violence (there is no way this movie would have been released with an R-Rating if Tarantino had not switched to B&W and silhouetted combat in the House of Blue Leaves sequence), and announcement that this is a cult movie plain and simple (the opening Shaw Brothers logo, the appearance of Sonny Chiba, Chiaka Kuriyama's giggling schoolgirl assassin, the brightly colored Pussy Wagon, which seems to announce it is from some bad 70s movie; the prominence given to the 5, 6, 7, 8s [I would like to give a shout out to all the kitschy Japanese bands I listened to in the 90s, Shonen Knife, Supersnazz, and Pizzicato 5]), so I'm not exactly sure how the marketing geniuses at Miramax came to this decision.
That being said, I would like to riff on some of the things I noticed in the film:
*I loved the fact that we never actually see David Carradine's face in the film; you only see his arm and hear his voice. He's got a calm, smooth menacing voice which I'm just not accustomed to; I'm more used to his soft-spoken, halting English that he used in the 70s TV show
Kung Fu
. Even though he spoke gentle words to Sophie, I was so sure that he was going to snap her neck in close-up, since he was so gentle, yet so brutal in the opening scene, as he swabbed blood of The Bride's face before putting a bullet in her head. It's nice that Carradine is getting some exposure among genre nuts. JJ Abrams cast him as a Himalayan Monk in a S2 episode of
Alias
, where he imparts key information about Milo Rambaldi to Arvin Sloane [/end of digression].
*The opening scene, the fight between Vivica A. Fox's ex-assassin, suburban homemaker, and Uma Thurman's was the most brutal, and realistic of the film. It seemed that every shard of glass broke their skin, and it's fairly unusual to see so much sweat dripping from a character after an action sequence. The scene's realism is a nice counterpoint to the more cartoonish, stylized violence of the finale. It also displays Tarantino's knack for black humor hasn't been lost, with the return of Fox's young daughter, and the character's abrupt changes of demeanor (my other favorite moment of black humor, is the long shot from the balcony of the House of Blue Leaves, as Thurman looks out over her post-swordfight carnage, there's that one guy that clearly was blinded by the slash of a sword, who keeps walking around in circles, bumping into things). Then the surprise gunshot (well it surprised me at least) and knife into the chest. Man, did the sound of gurgling and spraying blood get a workout in this film. Thurman's final speech to the daughter, who witnessed her mother's murder, makes me wonder if she will not factor somehow into the ending of the film.
*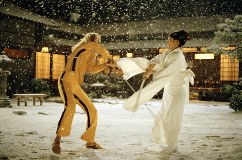 For some reason, the sequence of shots showing Lucy Liu and her yakuza minions striding down a hallway is one of the coolest shots I've seen. It's a great series of shots, composition, actor demeanor, slo-mo, rhythm, and music that I've seen in a while. It's bravura technical filmmaking, just like the long, steadicam shot, which snakes through the hallways of the House of Blue Leaves. I guess Tarantino wants to join the party with Scorsese, De Palma, and PT Anderson. Contrast this flamboyant camera movement with the stillness of the subsequent fight in the snow-covered garden, where it seems the snow is falling in perfect aesthetic harmony, silhouetted against the inky blue-black sky.
*I loved the usage of models for the jetliner and skyline of Tokyo. It's just so old-school and fits perfectly.
*Gordon Liu was kind of wasted in his role of Johnny Mo, the leader of the Crazy 88s, though he does get a few nice close-ups. I hope that he makes a reappearance in the second volume.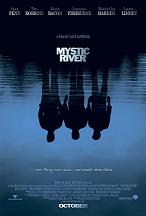 With sweeping bird's eye shots of the Mystic River colliding and splitting the city of Boston, and cast of characters cut simple and clean but containing a history of immense sorrow, Clint Eastwood's
Mystic River
feels like the embodiment of new kind of American epic myth humbled by suburban roots. It centers itself around a trio of men, Jimmy, Dave, and Sean, once tight boyhood friends, now mere acquaintances who still drawn to the old neighborhood. Jimmy (Sean Penn) is an ex-con who seems to have a local control on the neighborhood -perhaps legitimate, perhaps not- and when his nineteen-year-old daughter is found murdered detective Sean (Kevin Bacon) is sent to investigate, while Jimmy instructs hoodlum friends to solve the mystery their way. Caught between them is Dave (Tim Robbins), who returned home the night of the murder with blood on his hands and a flimsy story for his wife.
While the murder investigation is the centerpiece of
Mystic River
's surface mystery the film's real focus lays in the oblique personal history of pain and tragedy that inextricably determines the behavior of these characters. This theme is represented in the movie's opening scene, taking place during the men's childhood, where child molesters posing as cops abduct Dave. Though Dave's imprisonment and subsequent sexual abuse is only vaguely shown and does not directly affect the other two boys, the event is a watershed moment in explaining
Mystic River
's characters. Along with Laura Linney as Jimmy's ultra-supportive wife, Marcia Gay Harden as Dave's withering spouse , and Tom Guiry as the dead girl's boyfriend, the cast is given terse characterizations, which both simplifies the narrative and allows it to deliver powerfully straightforward emotions. Each is given crystal clear motivations that define their characters in the most basic terms. Dave is the only one with a visible past, something we can actually see that legitimates his meek, apathetic behavior; yet each character displays a similarly deep internal affectation based on a past that is only alluded to. Jimmy's for example is told blandly-two years in the slammer for a robbery rap-and Sean is separated from his pregnant wife, but details are spare. All that can be seen is the here and the now, but it is clear that the drama of
Mystic River
is something built upon from long ago and is now coming to the surface through the pain of loss. The interrelationships between the characters of the film go far beyond what is merely shown in the exposition of the murder mystery. Sean for example is quick to refute any suggestion that Dave or Jimmy are still his friends; Jimmy, while denouncing his criminal past, is still painfully quick to use underhand methods to find his daughter's killer, and Dave's wife is similarly quick in fearing her husband instead of supporting him.
Eastwood's film is incredibly literary in its presentation, and he effortlessly crafts it around letting his actors visualize the film through their performances. Details of the Boston suburb are atmospheric but general and abstract; it is the characters that have lived there and who have a living past that makes the place what it is, not the other way around.
Mystic River
is an actor's showcase and the variance in performance types in amazing, speaking for the multitude of ways one can be haunted by tragedy. While Laurence Fishbourne, who plays Bacon's partner, remains aloof from the personal ordeal of the locals, the girl's death and the mystery surrounding it produce a truly eerie range of reactions in the neighborhood. Marcia Gay Harden leaps from worried mother to hysterical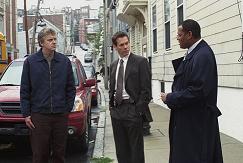 in a horrifically short period of time; Laura Linney, after her initial cry, retains the same odd remoteness as Bacon, who seems unwilling to restart his old friendships through the tragedy. Robbin's fleshy, crooked eyebrows have usually been used to comic effect, but here they contain a craziness and a supreme weakness that speaks better than Dave's few half-swallowed lines of dialog. The standout of the group is Sean Penn, who seems to bleed an affecting, sincere inner pain from his small eyes and tight facial features, always ready to break in an unexpected way, and the line between sorrow and retributive violence for him is all too brittle.
At one xpoint in the film Jimmy utters to his dead daughter "I know I am responsible for your death, but I don't know how," which precisely sums up the colossal but also indistinct importance of past actions on present events. The tragedy of
Mystic River
is its innately cyclic nature; just as the men are still haunted by their pasts, the brutal murder of Jimmy's daughter will only perpetuate the cycle and setup a whole new history of sorrow for the neighborhood. Eastwood has delivered a powerhouse of American suburban grief, the rare film that suggests far more than it shows, and
Mystic River
's suggestion is a heartbreaking picture of suburban life.
Notes on Owning Mahowny
Just some quick comments on
Owning Mahowny
, which I saw earlier today. Going back through the archives, I found
Joker's review from April
; I was not a huge fan of Kwietniowski's earlier film,
Love and Death on Long Island
, so it was principally his review which drew me to the theater, and I have to say, after reading it again, I almost completely agree with what he wrote. Phillip Seymour Hoffman is amazing, as usual; Hoffman is a chameleon; even though he has the same body type in each film, it used differently in each instance ( I also read all of the various comments, which mainly concerned Hoffman's physicality). Here he is a schlepp, a pale, pasty man, who walks around with downcast eyes and an expressionless face, breathing continuously threw his nose (Mahowny's most indelible physical trait); Mahowny is that nice, anonymous guy who gathers a modicum of trust because nobody gives much thought to him. But at the blackjack or craps table, there's a focus, a scary intensity (which garners him the nickname "Iceman" from the Atlantic City casino employees), he's like the shark that has to keep moving to stay alive, just betting for the sake of betting.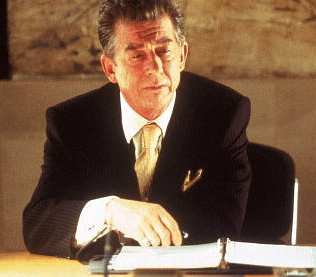 However, I have to admit that I was more taken with John Hurt's flashier Mephistophelean turn as the casino boss, Foss. Hurt has just the right combination of flamboyance and malevolence necessary for the role. Hurt all but cackles evilly as he watches the casino's surveillance footage, amazed that Mahowyn is a "purist" interested only in gambling. It's an interesting performance, which I think gains depth as the film compares the blood-sucking impulses of Foss to the bank managers that Mahowny works for; in particular the scene, where they conspire to have a customer's wealthy father guarantee a line of credit so that they can bleed them dry.
It's one of many parallels that film draws between the banking world and the gambling world (if anyone misses the parallels in the narrative, there is a tag at the end of the film of a vault wheel spinning around to the sound of a roulette wheel spinning), where it seems nobody questions the source as long as it appears the money will keep flowing (it's interesting to note that Mahowny gets away with his embezzlement for so long out of dumb luck; he's in effect gambling when he steals, and is very good at it, only to lose it at the casino table, even at games which relatively favor the player). But more importantly, Kwietniowski captures both the visceral thrill and dull, reckless compulsion of gambling. Gambling is such a part of Mahowny's existence, that his willingness to live a life of experiences that only rate "20" (a therapist asks him what kind of thrill gambling gave him, on a scale of 1 to 100, and he replies "100," when asked what the best experience of his life rated, he replies "20") seems like Hell.
The Real Cancun
[
Editors' Note: The following is an excerpt from "Go Ask Ebert: The Diary of an Anonymous Bad-Movie Addict", due to be released to bookstores everywhere this November. We present this text unvarnished and unedited so that you may see and understand the horrors of this wicked addiction. This is not a sight for the weak-hearted, but it is a pressing and important issue. We thank you for your time.
]
Oct. 2, 2003 --
Woke up jonesing. I've been trying to resist it lately -- only renting classics, avoiding my bad-movie friends, listening to music more often -- but today I had to score. The monster in my belly would not rest until it was fed some crap. I had an emergency film ready for the occasion, a cheeseball alien-slasher flick called "It Came". So I put that on, but halfway through I realized that it just wasn't doing it for me. It wasn't bad so much as just lame. Thus, I was forced into the street, trying to hustle up enough spare change to rent something of titanic awfulness. Lucked out, I guess... as I was standing in the park, a kung-fu-junkie I know walked up to me and said, "Man, you look awful. Here, take this. It's not to my taste, but maybe it'll get YOU high."
And into my shivering hands he pressed a DVD of "The Real Cancun".
I'd heard about this film, and frankly it didn't interest me much. Reality television doesn't get me off like a good zombie film does. But I was in a bad way. I needed a fix. And this unwrapped disc was my only chance to shake my DT's. So instead of protesting, I mumbled a thank you and scurried home, tearing at the plastic as I went.
My hands trembled as I inserted the disc into my DVD player. I thought to myself, well, Richard Roeper liked it. And everybody knows that if it gets Roeper's seal of approval, it's probably terrible. Terrible is good. We like terrible. Not five minutes later, I realized that I was in for one long, bad trip.
The film opens with interviews of the kids who'll be jetting off to Mexico, and the first thing I noticed is that none of these people are interesting. Not in the least. The second thing I noticed is that there's way too many kids -- sixteen of 'em, I think. Now how exactly is a film is expected to tell the tale of sixteen different people interacting with each other and their environment in the span of 90 minutes? That's right -- it's not. A lot of these kids could have been left home, which would have made for a more interesting movie. Still, I attempted to search for an identification figure among the morass of interchangeable horndogs. The way the film is edited, it appears the filmmakers wanted us to identify with Alan, the nice-guy-turned-drunken-party-animal. But I knew exactly where his character arc (and I do call it a character arc, since I don't buy for a minute that Hedonism Boy was ever in actuality a shrinking violet) was headed and it didn't interest me. No, it turns out the only guy I liked was Jorell, the larger of the two black guys. He stood as a voice of sanity in the midst of the hormonal chaos -- which naturally meant that he got as little screentime as possible. Really, he was only on camera when he was either tolerating Alan's poor-me whining or bearing witness to his best friend's sad-ass attempts to score with Token Black Chick. So, I'm stuck with fifteen jerks and one interesting guy. Bad ratio.
But okay, so it's not Quality Entertainment. I knew that. That's what I wanted, right? A bad movie? Aargh.... that's the problem. This isn't an endearingly bad movie. It's not entertainingly sleazy, despite what the ad campaigns want you to believe. It's not "Blood Diner" or "Nude for Satan" or "Zombie Lake" or anything like that. No, this is film is bad as in obnoxious-pushy-annoying bad. I sincerely believe my kung-fu-friend was trying to slip me a hotshot with this beastly thing. For starters, the sex/nudity quotient is far lower than you'd expect. There's a wet T-shirt contest that comprises the entirety of the film's breast content, and the sex is limited to furtive under-the-covers rutting -- hardly what you'd call Grade-A titillation. The human drama element is almost completely missing, save for a couple spats involving one person's amorous expectations on another person -- and that junk doesn't really pop up until the end. Pretty much anything that is supposed to "develop the characters" is insufferable; I can't decide whether the nadir is Token Black Chick's arrogant insistence that she is a "
mystery
" or Lame-Ass John-Mayer-Wannabe Guitar Boy's clueless (and tuneless) ode to the '80s as "the best decade ever". And that 90 minutes... oh, that abbreviated runtime! Anything that could be interesting (i.e. Lame-Ass John-Mayer-Wannabe Guitar Boy and his Generic Female Platonic Friend's obvious sexual chemistry) gets edited into oblivion so that the filmmakers can include more shots of Alan doing body shots like someone who's done them before. I mean, I understand that trying to cram a week's worth of carousing into an hour and a half is a tall order. But the editor should be shot for this slaphappy mess. Sixteen kids, all horny, all stupid and all ready to be unleashed on a tourist town where you can legally purchase absinthe and hookers... and we get a "This Cuervo's for You" commercial with a dash of soap opera mixed in. Jesus. Not even an STD. What happened to the promised sleaze?
I guess this is what I get for being a junkie, but man... this is not happy trash -- this makes you feel like trash for watching it. It's a cheery ode to voyeur-culture gone insane. The only possible happy ending for this would have been Snoop Dogg spraying the crowd with gunfire during a performance of "Murder Was the Case" and managing to wipe out all these wastes of genetic material. I'm gonna hafta mainline a zombie flick to clean this toxic junk out of my blood -- in fact, I think I have "Shatter Dead" upstairs right now...