Joker Recommends
-Top 20 List
-House of Flying Daggers
-The Aviator
-Bad Education
Yun-Fat Recommends
-Eight Diagram Pole Fighter
-Los Muertos
-Tropical Malady

Allyn Recommends
-Eternal Sunshine of the Spotless Mind
-Songs from the Second Floor

Phyrephox Recommends
-Top 20 List
-Design for Living (Lubitsch, 1933)
-War of the Worlds
-Howl's Moving Castle
Melisb Recommends
-Top 20 List
-The Return
-Spirited Away
-Spring, Summer, Fall, Winter...And Spring
Wardpet Recommends
-Finding Nemo
-Man on the Train
-28 Days Later

Lorne Recommends
-21 Grams
-Cold Mountain
-Lost in Translation

Merlot Recommends
-Top 20 List
-The Man on the Train
-Safe Conduct
-The Statement
Whitney Recommends
-Femme Fatale
-Gangs of New York
-Grand Illusion

Sydhe Recommends
-In America
-Looney Tunes: Back In Action
-Whale Rider

Copywright Recommends
Top 20 List
-Flowers of Shanghai
-Road to Perdition
-Topsy-Turvy
Stennie Recommends
Top 20 List
-A Matter of Life and Death
-Ossessione
-Sideways
Rodney Recommends
Jeff Recommends
-Dial M for Murder
-The Game
-Star Wars Saga

Lady Wakasa Recommends
-Dracula: Page from a Virgin's Diary
-Dr. Mabuse, Der Spieler
-The Last Laugh

Steve Recommends
-Top 20 List
-Princess Raccoon
-Princess Raccoon
-Princess Raccoon
Jenny Recommends
-Mean Girls
-Super Size Me
-The Warriors

Jason Recommends
Lons Recommends
-Before Sunset
-The Incredibles
-Sideways


(c)2002 Design by Blogscapes.com

The Blog:
Quick Notes
Well, it's been a busy week and half for me, but I did manage to see two films in the meantime (hopefully I will have time to see
Irreversible
and
The Hulk
this weekend), so here are my short takes on the two films, in the order that I saw them:
Intacto
(d. Juan Carlos Fresnadillo)
An interesting, metaphysically tinged Spanish thriller (though large parts of it are in English, and one of it's stars is Max Von Sydow) which imagines a world where luck is less an ephemeral belief or statistical probability, and more a commodity that can literally be won or lost. However, in this world, a surfeit of luck is, ironically, not all it's cracked up to be; as one person's luck goes up, others, usually surrounding loved ones, goes down, often with horrible results. The luckier you are, the more you seem to syphon luck away from others, almost vampirically (a metaphor perhaps aided by the fact that when one person who possesses more luck touches one who has less, the later is "jinxed" and loses all of their luck to the former; when Sam takes away his protégé Frederico's luck, there's almost an erotic charge to the event): Tomas survives a plain crash that kills everyone else on board; Federico survived an earthquake that killed his entire family; Sara's husband and young daughter were killed in a car crash, which spared her; while Sam (Max Von Sydow) the so-called "luckiest man in the world," was a Jew, and the last survivor of a Nazi concentration camp. Devoid of all real contact with other people, the luckiest seem to exist in a gray zone, with only empty material comforts. Sam lives in a decadent casino, filled with people, but the casino is in the middle of nowhere, and Sam himself, seems to exist in the shadows and neon lights of the casino's underground labyrinth of hallways and chambers, forever alone. Despair and survivor's guilt hangs over many of the character's heads, especially the two characters in the film that are posited as the "luckiest" of all, Sam and Sara (Luck is also visualized throughout the film, by such visual metaphors as forks in the road, or narratively by the emphasis on gambling and actuarial science).
Since luck is presented in the film as some sort of commodity, a secret subculture of gamblers has grown up around it. Taking place in back rooms and alleyways, the lucky participate in bizarre games where skill is no consequence, and luck is all that matters (characters sit in a room with treacled hair, and then a insect is released, whoever it lands upon is the winner; later, characters run full speed through a forest while wearing blindfolds, the last one standing being the winner). Though the players pay at first for riches, the truly professional players play for one thing, the luck of others, represented by a picture of a person, hoping to get a shot at the ultimate game: going to the casino in Uranca to play against Sam (of course the game is Russian Roulette, though in this version, five of the six chambers of the revolver are filled with bullets). It's this underground syndicate that fuels the plot. Tomas is a bank robber who survives a plane crash; he's recruited by Frederico, who, having lost his own luck to Sam, has become something of a manager to other players (his earlier find killed himself running blindfolded across a busy highway as a test of his luck). Tomas, having escaped police custody with the help of Frederico, is being pursued by the policewoman Sara, who in turn, is guided through the underworld of the lucky by an ex-matador who lost his house to Tomas and Frederico. Frederico believes that Tomas is a contender for the luckiest man in the world, and gambles a picture of his beloved Ana without the increasingly cocky Tomas's knowledge. However, he then proceeds to lose his next contest to the ex-matador, who is given his own shot at Sam (when he loses his game of Russian Roulette, Ana loses too, she's accidentally shot by her police escort in a freak accident). When Tomas's learns of Frederico's duplicity, they go to Uranca to play Sam, even though Tomas is a loser; Sam agrees to play Tomas because he has never met a person who plays out of love. Sara follows Tomas to Uranca, which participates a showdown between the two "luckiest" individuals, a blood bath ensues which liberates Sam from his burden, and which allows Sara to assuage her guilt by replaying the key event of her life as she is about to die. Tomas escapes, by default, the "luckiest" person in the world, but he is literally cast out, as he ends the film wandering alone in the desert.
Hollywood Homicide
(d. Ron Shelton)
I really like the films of Ron Shelton, and since I missed his earlier 2003 film,
Dark Blue
, I wasn't going to miss this one (especially since it was playing at the downtown theater for $3 a pop). A mismatched buddy-cop movie starring Harrison Ford and Josh Hartnett, as well as pretty interesting cast of character actors: Bruce Greenwood, Keith David, Lena Olin, Lolita Davidovich, Lou Diamond Phillips, Martin Landau, Master P, Dwight Yoakam (who once again proves he can play bad really good), Gladys Knight, and Isaiah Washington. The plot (which is about the investigation of the onstage murder of a rap group by a Suge Knight-esque rap mogul who employs crooked LAPD officers as security) is more or less of an excuse for a series of scenes featuring Shelton's trademark colorful characters interacting in a series of often funny vignettes. Harrison Ford is the gruff experienced cop, who, with three ex-wives and two kids to put through college has turned to real estate to make some money (most of the movie he's trying to unload a hideously kitschy neo-classical house on Mt. Olympus, or brokering a deal between a down on his luck movie producer, played by Martin Landau, and a rising young nightclub owner looking for class, played by Master P; Hartnett is the rookie cop who has aspirations of acting in the movies, and who is also a part time yoga instructor (basically to meet women). Also, his father, also a cop, was killed in the line of duty.
I found the film to be very funny, though not
Bull Durham
funny. It's refreshingly cynical, as police corruption is pretty much taken for granted, and the hero's real estate dealings seem inappropriate, at best. Ford turns in one of his best performances in a long time, and he's well served by Shelton, who continues to excel at the depiction of adult sexuality (Ford is seeing a radio psychic named Ruby, played by Lena Olin), creating, perhaps 2003's most indelible movie image: Harrison Ford getting down with Lena Olin while wearing aviator sunglasses and eating a donut. It's both quite funny and sexy. Lena Olin has always turned my crank, especially now after her stint on
Alias
; Ford, on the other hand, seems to have lost his spark in many of his recent roles, just look at his recent romantic comedies like
Six Days, Seven Nights
, or his recent, and rather boring, action roles. I think you've got to credit Shelton for bringing out the playful side of Harrison Ford.
Lost in La Mancha
Keith Fulton and Louis Pepe's documentary
Lost in La Mancha
, the story of Terry Gilliam's failed attempt to put
Don Quixote
on screen, has to be one of the best documentaries about film-making ever made. It's about the fragility of film-making; not so much about the artistic struggles but the financial and logistical ones, and, in this case, the insurmountable, unplanned difficulties that can sink a production altogether.
Those difficulties can be summed up quickly: herniated disk, F-16s, and act of God.
As you might expect, Gilliam's film wasn't a straight version of the book, but a rather imaginative one titled
The Man Who Killed Don Quixote
; it was to feature Johnny Depp as (if I remember correctly, and I can't claim I do) a modern-day advertising salesman who somehow gets thrown into the story. For cost reasons alone, odds are against the movie from the start, but Gilliam and his producers manage to patch together a somewhat wobbly international consortium of backers. The French actor Jean Rochefort is casts as Quixote; he absolutely looks the part, and spends seven months learning English to play it.
Rochefort no sooner arrives than he becomes ill with a prostate problem that makes horse-riding all but impossible. When he flies back to France to see his doctor -- for a stay that becomes increasingly longer -- Gilliam and crew try to make do by shooting some desert scenes with Depp. Then things really start falling down: shots are ruined when huge NATO planes fly overhead, and a flash flood turns into a mudslide, with the crew struggling helplessly to keep their equipment from floating away. The rain ruins the look of the landscape, making further shooting impossible for weeks. The roof, in other words, falls in on the project.
I don't recall ever having seen a documentary that pulls you in so closely into all the fascinating details of pre-production: storyboarding, script conferencing and run-throughs with actors, digicam screen tests, and the close working relationship a director has with his first assistant director. Fulton and Pepe manage to make all this look intensely interesting, and they pull together a broad, all-encompassing picture not only of the Cervantes novel but also what Gilliam was trying to do with it. The story, the filmmakers remind us, plagued Orson Welles for ten years of his life as well, in another production that also went nowhere. (Oddly enough, the film does not mention another sterling example: the Oscar-winning screenwriter Waldo Salt, who obsessively worked on a
Quixote
script for well over a decade, and died without seeing any results.)
I'm not a huge Gilliam fan, and the movie is very much of a love-letter to him: frame after frame is filled with his huge giddy face and mad eyes, in which we are presumably supposed to read the glint of true genius. (I can't decide if Gilliam was playing up to this idea or merely mocking it by wearing a T-shirt that reads "Fellini" in big letters.) A closing note lets us know that Gilliam is still hoping to get the picture re-financed and somehow made; you can't help but hope that he succeeds, and that this documentary -- superb as it is -- won't be his epitaph.
The Shield

Vic Mackey's head is big and bald and hard, and inside it is a brain that is even worse. As played by Emmy-winning Best Actor Michael Chiklis, the lead character on FX's exceptional cop series
The Shield
is a 5'8" phallic symbol of masculine rage. A true dickhead if there ever was one, Mackey is a dirty cop that spends 45 minutes in the pilot making sure you never forgive him, and then he spends the next 12 episodes getting you to root for him. A strike team detective in the LAPD, Mackey has the same goals as most other cops: he wants to take bad guys off the streets and keep innocent people safe. He just has a different way of going about it. He'll beat the living shit out of suspects, he'll steal drugs and sell them back to his dealer friends in order to quell gang violence in the neighborhood, he'll destroy evidence, falsify reports, lie to his superiors, manipulate witnesses, and even murder to cover his own tracks. This is all bad shit, but at the end of the day he's the most successful cop in L.A. on those rigid terms -- stopping crime. The question that
The Shield
asks is: how valuable is safety to the citizens? How much are we willing to overlook in order to stop crime?
It's not a big step from the question posed by Stanley Kubrick (from Anthony Burgess) in
A Clockwork Orange
, which centered around whether or not the government should censor the free will of criminals in order to keep its society free of violent crime. The problem with Vic Mackey is that he's every bit the criminal of those he arrests, yet his own moral code is so strict and sacred, he rarely comes off as the bad guy in any given episode. In fact, by the end of the first season, Mackey has set his sights on an even shadier cop and you are biting your fingernails hoping that Mackey keeps his badge and doesn't get caught doing things you knew he should get busted for just 11 episodes prior.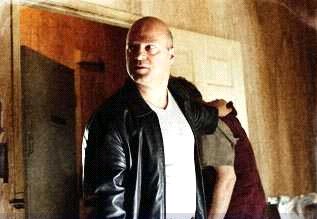 The genius of creator Shawn Ryan's show is that it never once tells you how to think. It presents what might be the most complex and conflicted protagonist in television history, and lets the viewer make up her own mind on how to evaluate that protagonist's actions. Ethics are so gray, so flexible, so relative, that there's no black and white in this police department: the Farmington district of L.A. has every single color in it and they all blend together. Vic Mackey is a funny center for that world created by Ryan -- he's a starkly white Anglo, a thick-accented Boston native with a bodybuilder's torso and a dildo's noggin, yet he's running around sunny Southern Cal protecting Hispanics, Koreans, blacks, Jews, Muslims, and Armenians. Out of place and living by a different set of rules, Mackey is the ultimate outsider creating his own identity by standing out as a cop -- he is so charismatic, so intense, so devoted to his goals, that it's hard to doubt his conviction to the job. He's both the worst good guy and the best bad guy you've ever seen on TV. An anti-hero to end all anti-heroes. And he struggles with an endless barrage of troubles -- some self-inflicted, others totally random. He has a wife (on whom he cheats), a daughter, and a son who has just been diagnosed with autism. He has a politically-motivated captain (Benito Martinez) trying to bring him down, a team of loose-cannon strike team partners (the most memorable of which is Shane, played brilliantly by Walton Goggins), and a dangerous partnership with the district's most lucrative drug dealer. How will he dig himself out of every hole in which he finds himself? And more importantly, does he deserve to?
Vic Mackey is just the beginning of what
The Shield
has to offer in terms of 21st century art on television. The directors (including
Homicide
's Clark Johnson and
The Salton Sea's
D.J. Caruso) bring a gritty, visceral ugliness to the look of the show that has the effect of de-stylizing it rather than stylizing it. It's so realistic that you forget there's a camera there. The photography, contrasty and colorful and unsteady and focused, is both perfect and invisible. Unlike the pathetic attempt at tripod-jerking on the lame
NYPD Blue
or the Hollywood psuedo-Bruckheimer beer commercial aesthetic from McG on
Fastlane
, the look of
The Shield
is authentic and perfectly pitched. It reeks of immediacy and run-and-gun speed.
Then there's the writing. The team of authors Ryan has assembled are fantastic at lending the show its sharp sense of humor, often dark and twisted, but always present in order to leaven the grim brutality of the stories. And there are some horrific acts of violence on screen here -- an old man has his foot nailed to a floor; a pregnant woman is shot in the stomach and dies; a truck driver is kicked in the face within an inch of his life; a cop is shot in the face and his eyes close an inch above the bullet wound as he dies; a 13 year-old girl is raped behind fiberglass in an underground sex show, another 8 year-old girl is trapped in a basement cage awaiting molestation at the hands of a pedophile (who, at the time, is getting his throat knocked in by Mackey). It goes on. But all throughout this ugly parade of horrors, there's an air of optimism that good things can still happen. This isn't Tom Fontana's
Oz
where there is no escape from death and despair. It's just a world where you can sidestep death but you can't ignore it.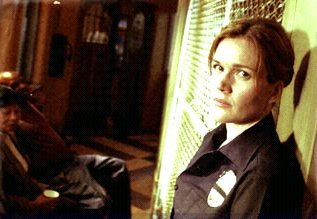 And what an ensemble of characters! In only 10 hours of screen time, the first season keenly develops its eight central characters with detail generally reserved for novels or a half dozen seasons of the best shows television's ever seen. There's Officer Julien Lowe (Michael Jace from
Boogie Nights
) struggling with an enormous number of minority handicaps: he's a rookie, he's black, he's gay, he's Christian. And you'll never believe where they take his character by the end. There's Dutch Wagenbach (a terrific Jay Karnes), the Tim Bayliss (from
Homicide
) character who tortures himself over a serial killer that might never be found, and also suffers a lack of respect from his colleagues. Yet even when he triumphs at his job, he collapses in his car and sobs like a baby from the truth of his own insecurities. Goggins, Martinez, and CCH Pounder also turn in great performances, as does Catherine Dent as the female beat cop with very complicated relationships to Mackey and Lowe that are stressed nearly beyond repair.
It's not just that these characters have their own shit going on -- the scripts constantly force these arcs to come into conflict during the most dramatically intense parts of the crime stories. You think you're just watching a few cops bust a dealer, but during the bust there are glances and lines that reveal deep seeds of betrayal and discord among the participants. Like all great drama,
The Shield
has layers of subtext under every seemingly insignificant plot detail. That's what makes the mounting tension from episode to episode so unbearable. By the end of the first season, only a riot could release it.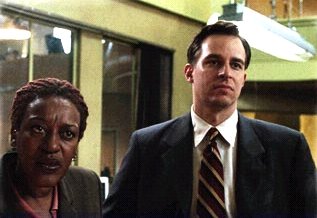 While each episode has its own stand-alone merits, the season as a whole stands as a sensational 10-hour journey through a few months in the life of a troubled police department. The viewer is constantly confronted with the reality of this Los Angeles -- it's not Beverly Hills or Malibu or Mann's Chinese theater. It's back alleys, studio apartments, and every ethnicity in the world crammed into a district that has no idea how to keep harmony. Yet everyone wants a piece of safety, and it's up to an entire spectrum of cops to maintain that. Who you think are good cops and bad cops will totally change over the course of the season, so that by the end the entire system is one giant grey zone of morality. Your expectations are always thwarted -- one episode begins with Mackey getting a lap dance in a strip club, and just as you're thinking to yourself that you'd believe this guy would do this, you realize he's undercover and pulling a bust on a robbery ring. In another scene, an emotionally volatile widow picks up Dutch's gun while he's in the shower, and just as you think she's going to use it, you realize she's just cleaning up the place -- and she hangs Dutch's jacket in the closet next to those of her late husband's.
There's nothing else to say other than the command that you must go rent (or buy or steal or trade for or copy or borrow) the 4 DVDs that make up the first season of
The Shield
. Even the songs used in touching montages are on the ball of good current music (The Magnetic Fields and Coldplay are just two bands used in the first season to brilliant effect, especially the former), and there's commentary for every episode plus featurettes and deleted scenes. If you couldn't tell by the previous words, the show owes a huge debt to Fontana's
Homicide
, which is still the single best one-hour drama ever broadcast in the United States. Since that show isn't on the air anymore, Shawn Ryan's successor is a worthy (if slightly less talented, moving, or philosophical) replacement -- not only is it the second best cop show I've ever seen, but it might be one of the five best dramas in television. Period. Then again, Vic Mackey would tell you that critical evaluations and armchair comparisons are meaningless. He would tell you to shut up, watch it, live it, and survive it. And you'd listen to him and obey, or else.