The Last Samurai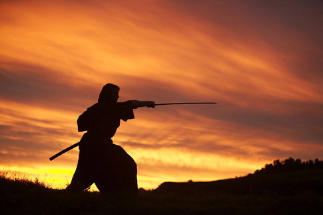 I'm of two minds when it comes to Tom Cruise's newest film. One one hand
The Last Samurai
is a handsomely mounted, moderately engaging action film (I mean, it does have ninjas). Of course, despite the prestige film trappings,
The Last Samurai
really doesn't have a brain in its handsome head; despite the relatively good acting on display here (and, for the record, I kind of liked Tom Cruise in the role) the characters are fairly one-dimensional and the stabs, pardon the pun, at psychological complexity are fairly laughable (which it too bad, since Edward Zwick and Marshall Herskovitz are fairly adept at doing so when it comes to the American bourgeois characters who populate their TV melodramas), while the story is fairly basic, if not common place (disillusioned soldier finds something to fight for once he is taken captive by the "enemy"). Which is OK, as I said before, the film was moderately engaging: the action scenes were fairly good, even if they suffer in comparison to the sword-fighting films of Japan and Hong Kong (the fight scenes in
The Last Samurai
lack the fluidity and coherence of their Asian counterparts, mostly because the latter relies on uninterrupted sequence shots, while the former uses a lot more quick edits), it's often kind of funny ("Can I call you Bob?" "Bob, are you a ladies man?") and somewhat touching, and as I said before, it is handsomely mounted. Everything is quite pretty, courtesy of John Toll's photography, as well as the production design and art direction. Now, back to my two minds. On the other hands,
The Last Samurai
is one of the most ideological suspect films that I have seen in quite a while.
Critical comparisons to
Dances With Wolves
are apt (I kind of liked the critical pun
Dances With Samurais
, too bad I didn't think of it myself); as
The Last Samurai
is basically the same film with a Zen and Bushido whitewash.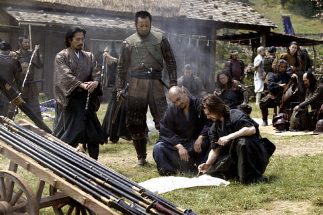 Again, we have a White character becoming a key figure, if not outright savior, of a non-White Other (the Great White Hope), but
The Last Samurai
doesn't just stop with the rebellious samurai; no, Cruise's character, Capt. Nathan Algren, plays a key role in the Meiji Restoration, thus becoming something of a savior to the Japanese people (in the film, it plays out in a rather predictable, schematic fashion resolving all the conflicts presented in the film; however laughable the film's conclusion, it is interesting to note that Algren's message to the Emperor, in effect, lays the groundwork for the mixture of tradition and modernization which would transform Japan into an aggressive imperial power in Asia...) Well, let's put it this way, if it wasn't for Algren, all the Japanese samurai would have either just committed seppuku or rushed head long into battle, without any strategy, against the American provided guns of the Imperial Army (they end up doing this any ways, but Algren's efforts make the final "sacrifice" that much more meaningful to the other Japanese characters). The only reason why this doesn't become glaringly offensive during the course of the film itself, is the ballast provided by the central non-White character. These performances, in effect, serve to temporarily obscure the imbalance; just as
Dances With Wolves
had the strength, humor and intelligence of Graham Greene, these same qualities are embodied in
The Last Samurai
by Lord Katsumoto, the samurai leader, as portrayed Ken Watanabe, in an excellent performance.
But lets not stop there, as there are more than one way to compare
The Last Samurai
to the bankrupt
Dances With Wolves
. For one thing, there's a cross-cultural romance between Algren and Taka, the widowed sister of Lord Katsumoto; even though it's largely a chaste relationship, I still found it hard to believe that the sister of a Imperial official and samurai leader would ever be permitted to have a relationship with a gaijin, but things have to be squeezed into the Hollywood template, especially when Tom Cruise is concerned (the fact that Algren is also responsible for Taka's husbands death is pretty much glossed-over; sure, Taka protests a couple of times, but a lecture about karma and duty by her brother, as well as an apology by Algren, smooth things out ASAP; strangely, the kids warm up to him right away). Getting away from that relatively minor point, let�s turn to perhaps the most troubling aspect of
The Last Samurai
.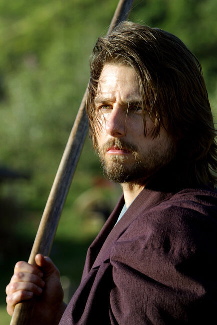 In
Dances With Wolves
we are presented with a romanticized portrait of Lakota Sioux culture, an update of the Rousseauian Noble Savage with a contemporary New Age-spin, which is counterpointed with the evil, modern White Culture. More damningly
The Last Samurai
, which pretty much drains away any historical context, in effect romanticizes a culture and way of life which ruled Japan as a rigid, feudal, often corrupt, military dictatorship for hundreds of years. Despite the liberal credentials of Zwick and Herskovitz (who, by the way, helpfully provide a White bad guy, played by Tony Goldwyn, who forced Cruise's sensitive Capt. Algren to slaughter helpless and innocent Indians; rest assured, he gets his on the battlefield), this just seems, well, kind of reactionary, especially when it is welded to a simplistic tradition vs. modernity narrative, and guess which side wins out? (It's not like the film exactly plumbs the depths of the Bushido, or examines any contradictions between philosophy and practice). In fact, the historical personage whom Lord Katsumoto is based upon, Saigo Takamuri, became something of a hero to Japanese ultra-nationalists and right-wing traditionalists. Sure, sure, Zwick and Herskovitz wanted to make a movie about "Duty," "Honor," "Compassion," "Destiny" and "Sacrifice" (notice how I capitalize those words, yep it's a pretty declarative statement, and fits in nicely with much better films by the duo, like
Glory
and
Courage Under Fire
), but did they really have to pick a militaristic cult with a penchant for suicide (the final charge into the howitzers and blazing Gatling guns was like the Charge of the Light Brigade, but more positive)? Hey, I'm not saying that modernization or Westernization is perfect; far, far, far from it, but in
The Last Samurai
it's represented by a uncaring, genocidal American officer and a simpering, sniveling Japanese official, a character about as subtle as Snidley Whiplash. How can that possibly compare with noble warriors who spend most of their time praying to Buddha or composing poems about cherry blossoms, while the peasants tend to the fields without complaint, totally compliant under the enlightened, benign leadership of the samurai? (I'm having a
Gone With the Wind
flashback.) My god, this movie is so thick with Orientalism, that Edward Said and my college Asian-American literature professor are probably spinning in their respective graves.
You know who else is probably spinning in their grave? Akira Kurosawa.
The Last Samurai
would never have been made if it wasn't for his films, but they languish in relative (I'm stressing relative) obscurity. Everyone should do themselves a favor and rent one of his jidai-geki, which touch on many of the topics brought up in
The Last Samurai
, but give them a much more complex treatment. Hell, at least in his films, the peasants are completely terrified of the samurai, even when they are on the same side. Yep,
Throne of Blood
,
Seven Samurai
,
The Hidden Fortress
,
Yojimbo
,
Kagemusha
, and
Ran
, that's a good starting place.