Two Days
Two Days
, 2003. Starring Paul Rudd, Karl Weidergott and Adam Scott, written and directed by Sean McGinly.
Photos courtesy of the film's official website.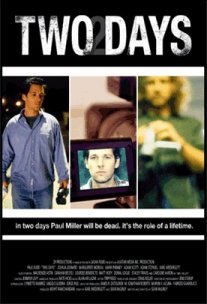 Due to time and financial restraints I didn't think I was going to make it for any of the AFI Film Festival, but at the last minute got some passes for myself and a friend. It was kind of hard to choose just one out of all the tempting films playing, but we finally set our sights on
Two Days
, a black comedy written and directed by Sean McGinly and starring Paul Rudd.
Rudd stars as Paul Miller, an out-of-work and suicidally depressed actor who hires a film crew to follow him around for the final two days of his life before he kills himself. Adam Scott is his buddy Stu, who Paul brings on to direct the project. Stu's "vision" for the film is that his friend Paul will come to an emotional climax at the end of the two days and choose life after all. Karl Weidergott is Charlie, the co-director who resents Stu's influence on the events of the documentary, but who is also torn between being true to the project and helping Paul.
The crew is rounded out by Mark (Mark Phinney), the cameraman who can't stand having anyone else touch his camera; Bill (Joshua Leonard), the laid-back sound guy who can't keep his hands off Stu's girlfriend; and Cameron and Mike (Robert Patrick Benedict and Matt Hoey), two UCLA students whom Stu has hired to make a documentary about the making of the documentary.
Whether it's intentional or not, Cameron and Mike appear to be a nod to Kevin Smith's Jay and Silent Bob – at least they resemble them physically (Cameron is tall with blond stringy hair and Mike is shorter, bearded, and doesn't have one word of dialogue in the whole movie). It might just be coincidental, because that's where the similarities end -- Mike, unlike Silent Bob, doesn't suddenly bust out with "the moral of the story" at the end of the movie, and Cameron is more of a philosophical surfer dude than Jay's hyper, foul-mouthed, weed-scoring misogynist.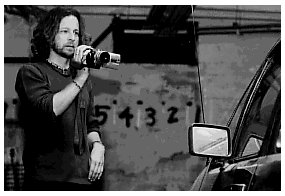 The narrative of the story switches back and forth between the documentary POV of the two cameras operated by Cameron and Mark, and an omnicient third-person POV which catches some more private moments as Paul says goodbye to the people in his life – ex-girlfriends, friends, family, his agent. Each person in his life takes a turn at convincing Paul that things aren't as bad as they seem, that he's never going to kill himself anyway, that he's only doing it for the attention, etc. Some of their arguments are more compelling than others', but Paul remains steadfast to his goal.
Stu, desperate for the film to have the happy ending he's planning on, even arranges for Paul's folks to fly out from New Jersey. Surely, Paul can't look into the faces of the people who bore and raised him and seriously tell them he's killing himself. Can he?
When it finally dawns on the crew that Paul really is serious, that he really means to go through with it, that it's NOT just a plea for attention, that he really understands that when he's dead he's dead and there's no going back but he's doing it anyway – they start to leave the project one by one. As Mark the cameraman puts it, "I don't want to see this. And I certainly don't want to put it on film." Eventually, only Charlie is left, and Paul bitterly reflects, "The only one with me at the end is a guy I've only known for two days."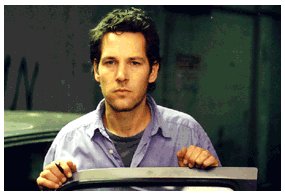 Paul Rudd is an exceedingly charming and warm actor who is easy to watch in anything, but in this role he exhibits a depth of emotion I haven't seen from him before. Paul Miller's reasons for wanting to commit suicide are never specifically stated in so many words. There's the usual stuff – out of work, underappreciated, loss of girlfriend – but no One Big Reason. However, the sadness and misery stands out all over him through Rudd's compelling performance, and even though his friends all seem to think he won't go through with it, the audience can see all along that he's fully willing to go through with it.
The film balances the stark pain of Paul's final days with gentle and ironic humor, most of it aimed at L.A. and the entertainment industry. Paul's ex-girlfriend is now a successful actress in Spike Lee's hit sitcom "Bed-Stuy," for example. If the film has anything working against its chances of a wide distribution, in fact, it might be that it's too L.A.-centric. Near the end of the movie, Cameron, in an attempt to get Paul to ditch his suicide idea, encourages him, "You might want to think about moving over to the West Side. It's a lot less depressing." It got a huge laugh from the AFI crowd, but I don't know if it will travel well. On the other hand, I thought
Seinfeld
was too New York-centric, so what do I know?
Writer-director Sean McGinly has crafted a thoughtful and witty portrait of one man's despair. He successfully builds on Paul's inner turmoil up to the moment of the climax, where I seriously could not tell whether he would go through with it or not. The characters he's created in
Two Days
walk the fine comedic line of mockumentary-style caricatures and real people who are concerned for their friend in his time of need. It sounds unlikely, but it really worked. I hope it gets picked up for distribution. If not, watch for it at a film festival near you.