The Station Agent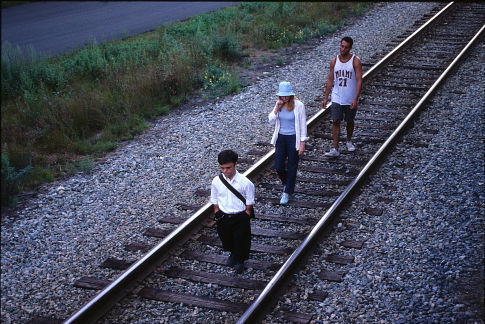 I only had one opportunity to go to the movies this weekend, so I put off seeing
Master and Commander
until tomorrow night, and instead went to a screening of Thomas McCarthy's Sundance crowd pleasing comedy-drama
The Station Agent
(where it won the Audience Award, the Waldo Salt Screenwriting Award, and helped snag Patricia Clarkson, the hardest working woman in US independent cinema, a Special Jury Prize for her acting), which finally opened in Madison this weekend. I'm usually not all that impressed with the films which win awards at the Sundance film festival, but
The Station Agent
is definitely one of the better recent examples. It is not a particularly challenging or visually interesting film, but it does feature three excellent performances from its leads, as well as an unassuming, yet well-written, story about a bunch of lonely people coming together, reevaluating their lives and reasons for their often self-imposed loneliness, and eventually coming together to create new bonds of friendship. It's a story that has been told many, many times before, in fact the only thing that really distinguishes
The Station Agent
from other similar films, at least in terms of narrative, is a taciturn dwarf protagonist and a quirky passion for trains that many of the characters either share or come to share.
Peter Dinklage plays Finbar McBride, who early in the film inherits an abandoned train depot in rural New Jersey. Dinklage's Fin is a man who keeps to largely to himself, years of being stared at and treated differently by those around him have caused Fin to retreat into a figurative self-imposed exile (at one point in the film Fin confides that "It's funny how people see me and treat me, since I'm really just a simply, boring person."); his inheritance initially seems like a literalization of this exile, but instead becomes Fin's tether to the rest of humanity, in spite of his best efforts, Fin can not help but make connections with the people around him (it's not for nothing that Fin's train depot is in Newfoundland, New Jersey; a bit of heavy-handed symbolism with its connotations of hope and a new beginning), starting with a gregarious Cuban-American, a tall, motor mouth named Joe (Bobby Cannavale) who seems the exact opposite of Fin. For some unexplained reason, Joe, operates his father's food cart outside of Fin's abandoned depot, where he literally has almost nothing to do except wile away his days on his cellphone. Once Fin moves in next door, Joe immediately insinuate himself into Fin's daily routine with an almost pathological intensity, to the point of rapidly becoming a train enthusiast himself (case in point, the "train chase" scene, which actually is infectious enough to make train chasing look fun). Despite his openly friendly attitude, it's quite clear that Joe is just as lonely as Fin (his sickly father, who is never seen on screen, is perhaps the reason for Joe's isolation; he spends his days in rural New Jersey instead of his native Manhattan because he has taken over the food cart during his father's illness).
Cannavale plays his character with just the right amount of neediness, so it doesn't become off-putting (it's somewhat childish), and is more than compensated for by his enthusiasm and sweetness, and I really liked how they played the loud, fidgety, constantly curious Joe with and against the soft-spoken, deliberate Fin. Despite their seeming incompatibility, I found their friendship natural and easy to believe (it's good that Dinklage introduces a bit of guarded skepticism, as well as a laconic acceptance, into his character, especially when Joe strays into some uncomfortable territory), which is a testament to the actors and the characterization.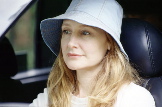 Patricia Clarkson finishes out the trio of main characters, playing a local painter named Olivia who meets Fin by almost literally running into him. Clarkson's Olivia is a nice woman, but a bit of a space cadet, always kind of frazzled and forgetful, rushing to and fro. She enters into friendship with the unlikely duo of Fin and Joe, partly out of a little crush on the handsome Fin, but mostly out of a need to reconstitute a family, which was torn apart following the death of her son (the film makes a point to contrast the much more emotionally open Olivia with the reserved Joe, who struggles to find things to say when Olivia blurts out things, it's both funny and sad). Clarkson, with her soft voice and trace of Southern lilt, has always struck me as a kind of "sad" actress, which plays well into her character, given her back story, and especially when she goes into a third act tailspin (note that her estrangement from Joe and Fin happens after she learns he ex-husband his having a baby, as if her attempts to create a family are not enough, at point dismissing a concerned Joe saying she is not his "girlfriend" or "mother").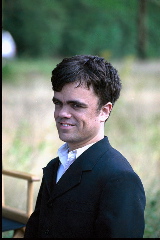 The cast is rounded out by a pair of female characters; a shy young black girl named Cleo (Raven Goodwin, who also appeared in
Lovely and Amazing
) who is just as fascinated by trains as Fin. She spends most of the film pestering an extremely reluctant Fin into speaking about trains in her school class. The other major character is a sweet, young librarian named Emily, played by the always adorable Michelle Williamson (I never saw
Dawson's Creek
, so I only have her role in
Dick
to make a judgment on whether or not she is adorable); the flirtatious Emily spends a lot of the film clumsily pursuing her crush, the somewhat receptive Fin (it's funny how all of the female characters in the film open up to the befuddled Fin, and Emily is no exception).
As I said before, the greatest strength of
The Station Agent
(by the way, the relevance of the title is another bit of symbolism; as Fin explains, the station agent was a sort of a jack-of-all-trades, a bit of everything for everyone; Fin's centralized position in this group of disparate people kind of replicates that relationship) is the characterization and acting. It's good enough that the cliche movements of the plot seem to arise naturally from the characters, and to be fair, the film is more concerned with characters than with it's plot. It's pretty much a forgone conclusion that everyone would end up helping each other, so it's best to sit back and enjoy the often funny scenes which expand on the characters and their relationships. I especially liked how the film ends, without an sort of firm conclusion, but with a quiet, funny moment among the three major characters.