Love Actually
In the opening scene of Richard Curtis's self-consciously overblown romantic ode to optimism, a lonely, aging pop singer is covering an old Troggs song in a studio and he keeps trying to sing the word "love" when he's supposed to sing "Christmas." The manager stops the recording and forces him to do it over until he forgets "love" and remembers "Christmas." Both artist and businessman admit that the song is shit. Commercially successful shit, but shit. The rest of the film is set up to explain to us that the singer was right all along – Love is the right word, Christmas is commercial shit.
Set in the month preceding Western culture's most nauseating holiday that centers around frenzied consumerism and the open sores of family,
Love Actually
seizes the emotional center of the season back from the brink of cynicism. If love as we know it is a feeling or an action that can't exist without overkill – that can't be half-assed or subtle or controlled or tempered by restraint and intellect – then why make a film with those qualities? The overkill of sentimentality and shameless optimism in Curtis's movie is not only appropriate: it's necessary. Not that there haven't been great subtle love stories; but the extent to which those films (many of which are more successful overall than the admittedly flawed
Love Actually
) are restrained and darkened is the extent to which they are about things other than love. But this flick has one thing on its mind, and it communicates it with a terrific flair for capturing the humanity in every gesture.
While nearly a dozen stories are interwoven throughout the film, a few stand out as centerpieces around which the fluffier stories revolve. Liam Neeson plays a widower raising his 10 year-old son alone, a son whose main concern is a schoolboy crush he has on a classmate. Rather than force his son to face the harsh realities of life, a reality where death can invade a perfect romance, Neeson chooses to encourage his son's ludicrous flight of fancy. The bold romantic gestures the boy indulges in, like learning the drums to impress the chick and then defying airport security to sprint to the gate at the last minute, are stupid indeed – but Neeson would rather raise a child with values that contradict our adult leanings towards pragmatism; as Cameron Crowe would say, optimism as a revolutionary act. And in fact, because of this form of parenting, Neeson is able to find new love for himself, because he has opened himself up from grief towards a better future.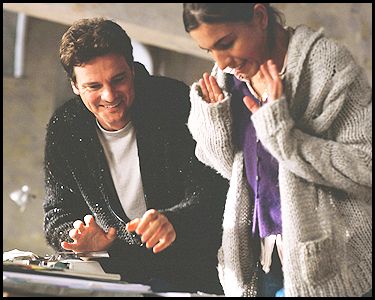 Colin Firth anchors another great sub-section, as a writer who stumbles with words around his Portuguese-speaking maid, and then has to re-learn language in order to communicate his love. One would think this kind of arc contrived and shallow, but Firth suffers a dagger in the opening act – seeing his girlfriend fucking his brother – that makes his death and rebirth completely natural and organic (and sets up his dismissal of said open sore of family at Christmas in order to seek out a stranger). And witnessing Firth act so beautifully in his opening scene, declaring his love for the sick girlfriend (physically ill from the flu, but also emotionally cold and deceitful), makes the wound all the more painful and real.
Curtis (writer of the modern classic
Notting Hill
) extends his optimism to politics in the film's cheekiest subplot, starring Hugh Grant as the newly elected prime minister. Curtis knows that when we see Tony Blair and George Bush hugging like two peas in a pod, what we really want to hear from Britain's leader is the speech Grant gives in this film, a fantasy attitude about strength and culture that just hints at a deeper truth regarding the rift between the two nations. America is also the butt of a cute joke wherein a loser English dork goes to Wisconsin and, using only his accent, brings back Shannon Elizabeth and Denise Richards.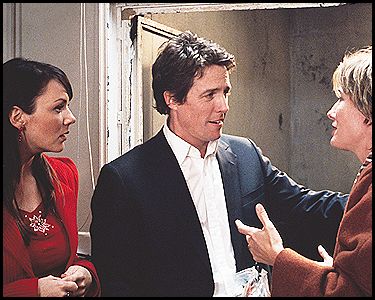 Of course, Crowe also says you can't have the sweet without the bitter. And Curtis brings us the story of Mark (Andrew Lincoln), who has a severe crush on the girl who just married his best friend. The pain he'll endure for the rest of his life is left for us to imagine, as he can only ache at the sight of the perfect girl (Keira Knightley, whose job is to mostly shut up and show us her gorgeous face, since she can't act for shit) around him all the time. Then there's the crumbling marriage between Emma Thompson and Alan Rickman, a lifetime of curiosity and opportunity etched in their faces (the commerce of Christmas leads to a gift-buying scenario that reveals Rickman's betrayal of his wife); and Laura Linney's character, who can't seem to find a guy that's more important to her than the calls she gets from her mentally ill brother, to whom she is fated to be attached forever.
Love Actually
doesn't always hit every note it goes for, and the little moments of character humor aren't quite as riotous (or rich and endearing) as they were in
Notting Hill
. A subplot about two porn film stand-ins too shy to even go on a chaste date feels undercooked and one-joke. But it's the grand, sweeping intensity we remember leaving the theater – Curtis's acceptance of a cruel and often downbeat world that gives us two choices: either submission into retreat and loneliness, or balls-out optimism in the face of logic, a sort of drunken reliance on love that may be ephemeral and may be false, but always justifies the sprawling, fearless action it takes to achieve it.