Looney Tunes: Back in Action
Don't laugh, but
Looney Tunes: Back in Action
is assured a place on my list of the ten best films of 2003. OK, go ahead and laugh if you want, but I'm telling you that
Looney Tunes: Back in Action
is brimming with such good natured fun and a sheer love of movie-making, that more than makes up for the nonsensical plot (basically a set-up for non-stop gags and riffs on pop culture,
Looney Tunes
shorts, 50s and 60s Science-Fiction, horror, and spy movies) and somewhat bland lead human characters. Which isn't to say that the human characters aren't very good, Brendan Fraser is game for playing another living cartoon (he even provides the voice for The Tasmanian Devil and the Tasmanian She-Devil; plus he's more than willing to send himself up in a hilarious bit of self-mockery which pays off at the end), but of course, when matched up with such cartoon luminaries as Bugs Bunny and Daffy Duck, one is bound to suffer in comparison; Jenna Elfman tries, but is given precious little to do, except stand around and look cute. But the real diamonds in the rough are Steve Martin, mugging exceptionally well in the role of the nefarious Chairman of the Acme Corporation; Timothy Dalton as a ridiculously assured super spy who also happens to be both the biggest action star at Warner Brothers and Brendan Fraser's father, though it's never explained exactly how a suave British man has an American lughead for a son (it's also a nice send up of Dalton's underrated turn as James Bond); and Joan Cusack exercising her matter of fact comedy timing and goofy, yet strangely normal, delivery in the role of the spy-master/scientist "Mother," head of Area 52 ("Keeping Secrets from the American People Since 1947").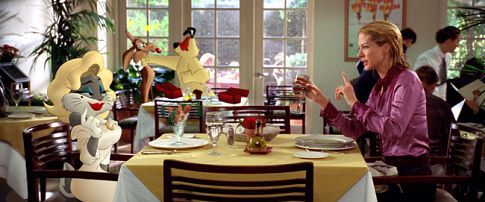 Looney Tunes: Back in Action
has two intrinsic, built-in audiences: kids, and film geeks who believe that the
Looney Tunes
, in the heyday of Frank Tashlin, Friz Freleng, Tex Avery, Robert Clampett, and Chuck Jones are among the finest treasures of American Cinema. The screening I went to on Sunday was full of kids and their parents; I think I was the only one there without a child in tow, as well as the only one who laughed at about half the jokes, but then how can you expect to get kids to laugh at all the ironic sides about product placement (when Wal-Mart suddenly appears in the middle of the Nevada desert), political correctness (Porky Pig and Speedy Gonzalez commiserate in the WB commissary over how political correctness has affected their career), or relatively obscure science fiction references (Area 52 is populated with just about every major 50s B-Movie alien monster, as well as Marvin the Martian; an elderly Kevin McCarthy from
The Invasion of the Body Snatchers
, clutching one of the infamous pods, makes a cameo, escorted through the secret base screaming "There Here Already!").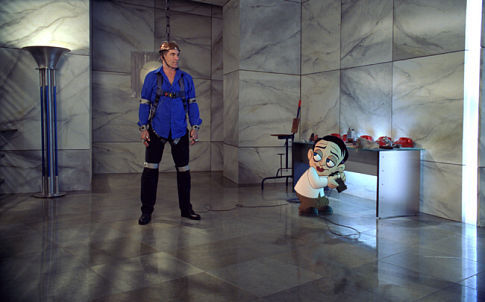 As you can probably tell, what was probably designed as a crass, cynical exploitation of some of the Warner Brothers most beloved properties, like say the boredom-inducing snoozefest called
Space Jam
(referred to here in a throwaway cameo by Michael Jordan), is transformed into something more, a cinematic love poem by director Joe Dante, aptly referred to, in relation to this film, as a "creative filter" by Jonathan Rosenbaum (actually "creative filter" is one of the best shorthand descriptions of what an auteur is, that I have read). It's a real movie-movie, infused with a knowledge and appreciation of the nooks and crannys where you find great cinema. It's not quite a completely appropriate analogy, but
Kill Bill
is to 60s and 70s exploitation film, as
Looney Tunes: Back in Action
is to American classic cartoons and 50s/60s B-Movies, a riff, a primer, a greatest hits collection, in the best sense of the word (it made me want to go out and buy the new DVD collection that was just recently released). Just about every major
Looney Tunes
short is referenced throughout the film, and just about every character, both minor and major makes an appearance (even the Peter Lorre-based mad scientist, but of course, this is a Joe Dante film), even some, shudder, Hanna-Barbara characters (actually, it's pretty funny to see an animated Shaggy and Scooby Doo bitch out Matthew Lillard for his performance in the live-action
Scooby Doo
). Thankfully, the character's voices are fairly close to the originals, though they still fail to live up to the high expectations created by Mel Blanc, who incidentally makes a cameo of sorts in the film, "voicing" Fraser's sputtering car, which is very familiar to any regular
Looney Tunes
viewer. Of course, the car is a Gremlin, which of course, necessitates a reprise of the "Gremlin Theme" in Jerry Goldsmith's score (ah
Gremlins
, along with
Explorers
,
Innerspace
, and
Gremlins 2: A New Batch
, were some of the films I used to watch all the time when I was kid).
But I have to stress that it's not like Dante and the company of gag writers behind the film (and that's what they were, the screenplay is credited to Larry Doyle, a writer who has worked on
The Simpsons
, but apparently there were 28 uncredited writers, and I find it hard to believe that Dante did not have some hand crafting the screenplay) simply copied the old gags, though in some cases they did just that, but instead they riffed on them, from the small (Bugs and Company literally trekking through the desert of the American Southwest, causing him to riff "We should have taken that right at Albuquerque" which could actually be taken literally at that point, unlike in the cartoons) to the big (riffing on
What's Opera Doc?
where Chuck Jones managed to squeeze all of Wagner's
Ring
cycle into a five minute cartoon,
Looney Tunes: Back in Action
includes a riotously funny scene where Elmer Fudd, working for his "dark masters" of the Acme Corporation, chases Bugs Bunny and Daffy Duck through the paintings of the Louvre, including those by Dali, Toulouse-Lautrec, and Seurat, among others).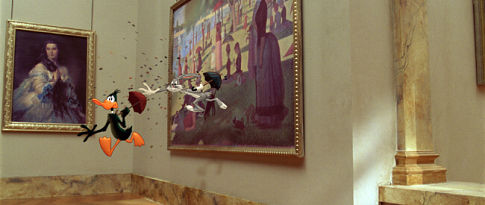 Actually, Dante adopts the
Looney Tunes
attitude and form wholesale, that anarchic, bawdy, irreverent, gag-a-minute approach, where nothing is sacred, to the point of utilizing the short cartoon's scattershot approach to satire (consumerism and corporations operate as the butt of most of the jokes, with Warner Brothers being run by a pair of identical twin siblings who can't make a decision on their own, while Acme has a board with such positions as VP of Bad Ideas, VP of Child Labor, VP of Unfairly Promoted, etc.). Sure one joke might fall flat, but there's four more around the corner, or five or six if you count all the stuff going on in the background.
A lot of films try this approach, but most fail. Why? Well, for one thing, they are not particularly funny, but more importantly, they strain too hard for laughs, instead of making it seem effortless and organic (the only real clinker in the entire film is a joke involving Tweety Bird and "Cry Freedom!"). They ignore their inherent absurdity, instead of embracing it (hell, not only does
Looney Tunes: Back in Action
embrace its own absurdity, it french kisses it, pointing out how bizarre and unlikely this all is at every point, it�s almost a perfect example of self-reflexivity). And most importantly, they don't love the material (and I mean love without stifling it with needless nostalgia or binding fidelity). Dante loves this material, even if it began in the bowels of the Warner Brothers marketing department,
Looney Tunes: Back in Action
is virtually Dante's dream project. As a counterpoint, can you believe that they people behind the recent Dr. Seuss adaptations really "love" their material? If they did, they'd concentrate on releasing a deluxe DVD of Chuck Jones's version of
The Grinch Who Stole Christmas
instead of releasing another Seuss abomination with a cameo by Paris Hilton (try a personally meaningful cameo, like Dante's Roger Corman).
Yep, That's All Folks!!!