The Last Three Movies That I Watched...
Yeah, that's about it, nothing too earth shattering in the mix, so I've decided to just sum up my thoughts in a bunch of capsule reviews:
I Walked With a Zombie
(d. Jacques Tourneur)
I'm a big fan of the most famous Jacques Tourneur-Val Lewton collaboration, 1942's
Cat People
, so I was excited to learn that TCM was broadcasting this film in the early morning last week. I taped it and ended up watching it on Sunday morning. This 1943 film, an uncredited voodoo take on Bronte's
Jane Eyre
, with a script by Curt Siodmak, is a good film in it's own right, but isn't quite up to snuff when compared with
Cat People
. Frances Dee plays a Canadian nurse hired to tend to the semi-comatose wife of a local sugar magnate, the descendant of the island's original slave holders; there she becomes embroiled in the family's sexual jealousies, as well as the voodoo practices of the islanders. The film lacks the scariness of the famous "bus" scene from
Cat People
, as well as that film's more interesting psychosexual ideas, but it gets by on plenty of romantic (and morose) atmosphere, making great use of the incessant drumming, as well as the stiffly moving, extremely lanky and tall Carrefour. However, the creepiest moment of the film is when Dee's character sits at an outside cafe with her passed out acquaintance, the brother of her employer; a man with a guitar, a calypso singer seen in the previous scene, slowly emerges from the darkness, advancing towards Dee as he strums his guitar and with a not so subtle attempt at a warning, gently sings about the terrible events of the film's backstory. Who knew that calypso could be so inherently creepy? It's right up there with pale British children. Brrrrr....
Once Upon a Time in the Midlands
(d. Shane Meadows)
Just like Robert Rodriguez's
Once Upon a Time in Mexico
, Meadows film is evocative of the Sergio Leone Spaghetti Westerns, that is, to a point. The plot is something that has been seen a million times in many an oater: a woman has to choose between the attractive, dangerous outlaw from her past (in this case, Robert Carlyle as Jimmy) or the steady, nice-guy shopkeeper of the present (Rhys Ifans, the Welsh actor best known in the US for playing the crazy roommate in
Notting Hill
), while the shopkeeper has to find that mixture of primal courage and strength within himself to face down the outlaw and win back the woman he loves.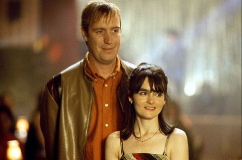 Yeah, there's that, and some other trappings of the Spaghetti Western: a faux-Morricone score, a couple of iconic Western poses, and a singing cowboy. At the start of the film, Ifans proposes to the soft-spoken Shirley (Shirely Henderson), a young single-mother, on a British version of the Jenny Jones show, only to find himself heartbroken when she turns him down. This is all witnessed on the television by her ex-husband, Jimmy, a smalltime Glasgow hood who split on her a couple of years after the birth of their daughter, Marlene (Finn Atkins). After a heist goes wrong, Jimmy absconds with the money to Nottingham, where the rest of the characters live, first imposing on his foster sister Carol (Kathy Burke), who just happens to be friends and neighbors with Shirley and Ifran's Dek (who is the manager of small garage). Despite his halfhearted efforts, as well as the emotional support of Marlene, Dek can not stop Jimmy from intruding back into Shirley's life; his increasingly desperate efforts serve only to further alienate her. Dek is about to leave town, until at the last moment, he decides to stand up for himself and win Shirley back (who by this time has already become disillusioned with the more loutish Jimmy).
What is really striking about this film is that despite being something of a comedy, it is an extremely sad film, and this air of romantic melancholy won me over. Most of this is provided by Ifans, whose Dek is the consummate nice guy, a gentle giant who is thoughtful and caring (so much so, that it sometimes appears to be weakness). Ifans performance is the film's greatest asset, since he is so adept at conveying his characters hurt, lovelorn feelings and desperation. Great stuff.
Tamala 2010: A Punk Cat in Space
(d. t.o.L.)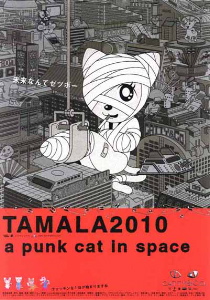 This is the second anime film I've seen in recent weeks, and let's just say that it didn't quite reach the levels of
Millennium Actress
. Actually, it's quite the bizarre film, which I described to a friend today as "
Hello Kitty
on acid." This film, directed by a Tokyo-based collective of animators, computer programmers, and musicians known as t.o.L. , was ironically both too weird and too cutesy-poo for my tastes, and I'm not even sure if I liked it or not. It's certainly visually interesting, to some extent; one one hand, most of the action is created using relatively crude, 2-D B&W drawings and animation techniques (with the occasional usage of bright, colors), and on the other, when the characters dream, they do so in full-color, 3-D computer animation. Don't even get me started on the "story" which seems to involve Tamala, a one-year old female cat who lives in Meguro City on Cat Earth, in the Feline Galaxy. Despite her human mother's wishes, Tamala wants to return home to the planet Orion, and one day blasts off, only to be waylaid by a feline postal worker, the representative of an omnipresent galactic super-conglomerate called Catty & Co, who diverts her ship to Planet Q. On Planet Q, the cat population is almost on the verge of revolution against the ruling Dog Party; there Tamala befriends a male cat named Michelangelo (or as she insists on calling him, Moimoi). Though Tamala is eventually killed by a vicious dog policeman (the dog keeps a young female mouse named Penelope imprisoned in a birdcage at home; wearing only a pair of girlish panties and a bow in her hair, the dog presumably is some kind of sexual predator; the walls of his house are covered with polaroid pictures of Penelope in various "situations"), Michelangelo reveals that Tamala is actually the immortal, living embodiment of the Catty & Co. logo, though there is a twist, as Catty & Co. is the surface manifestation of the cult of Minerva, who seeks total domination (Tamala has a bionic double named Tatla, who exists only in the computer-animated dreams of the characters). After a revolution results in the overthrow of the dogs, Tamala is reborn, finds an escaped Penelope, and blasts off again heading for Orion. There's actually more bizarre stuff, including a rotting, maggot infested animated corpse, but you get the picture. Pretty much, the film relies almost totally on it's weirdness, and it's strange mixture of childish and adult attributes, which ended up being a trying experience on my patience. I can say one thing for certain,
Tamala 2010
is one of those films which must improve mightily under the influence of drugs.