In My Skin
In My Skin
, actress
Marina de Van's feature length debut, takes the irresistible, irritating habit of scab picking to incredibly disturbing new heights. When Esther (de Van) stumbles in the backyard of a party it's not until later that night she realizes some piece of garden detritus gashed a nasty chunk out of her leg. In fascination Esther picks at it, feeling nothing. Her doctor, her boyfriend Vincent (Laurent Lucas), and her girlfriend at work Sandrine (Lea Drucker) all think it abnormally weird that she was not in pain; she admits she is neither numb or shocked, her wound simply did not hurt her. One day at work Esther gets a strange desire, and she retreats into a storage closet to scratch and pick at her healing leg wound. Finding the sensation intriguing and pleasuring Esther finds a metal object on the floor and picks harder, deeper. Getting more involved in the sensation Esther makes the critical jump from invigorating her old wound to using the metal object to cut new gouges in her leg.
At first Esther declares her cutting like she found a mysterious sexual pleasure to share, but Vincent and Sandrine are more worried about rationalily than sensations and they pester Esther with questions. Why can't you feel pain? Don't you think that's weird? Can you feel this? Do you need to see a doctor, get pills? Are you depressed? Esther, like de Van the filmmaker, steadfastly refuses to rationalize what she is doing and provide answers to her abnormal behavior. All the more baffling is Esther's psychological motivation. She has a warm and caring boyfriend and is advancing quickly in a job practically tailored for her special interests. Early scenes in the film with Esther pulling at the loose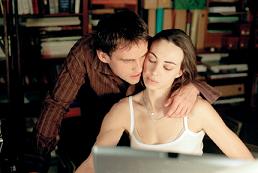 flesh around her belly and playing and tearing her nylon stockings from her leg emphasize her growing interest in literally getting beneath the surface of herself.
Despite promising Vincent she will stop her self-mutilation Esther increases the intensity of her stimulation. She gets distracted at a business dinner with her arm goes numb, appearing disconnected from her body; only a jabbing with a steak knife and a gentle sucking reattaches the arm to Esther's body. With previous mutilations already appearing masturbatory through de Van's careful framing and her quasi-erotic performance, Esther pushes herself by getting a hotel room and digging deep, deep into her arms and legs, tearing small chunks of skin out of herself. As she gouges open a new wound on her unharmed leg Esther curls up into a fetal position, lapping at her wound as her twisted leg dribbles warm blood on her face in a disconcerting picture of self-absorbtion.
With this scene and a handful of subjective point-of-view shots of Esther disoriented by the exterior world, one must read Esther's behavior as finding sudden, strange self-fascination. This can especially be seen as Esther's exploration of her wounds turns into self-consumptive cannibalism, as she eventually eats bits she gouges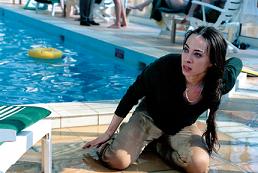 out of herself, and later gnaws on her arm and leg. As Esther's fascination evolves de Van's film, which wisely turns into itself instead of giving any hint at psychological explanations, grows more abstract and ambitious along with her. Utilizing an inexplicable split screen technique Esther becomes as interested in her own image as the audience is-presuming the viewers have not already walked out at the film's incredibly unsettling visual depiction-peering at her bleeding body in a mirror and taking pictures of her mutilations, eventually culminating in her attempts to lovingly preserve severed pieces of skin.
Though missing a clear conclusion-the film ends in a bizarre middle ground between Esther reentering the exterior world and Esther becoming lost in herself-
In My Skin
remains a searing and marvelously directed picture of growing self-obsession. Supremely unsettling is de Van's all involved aspect in the film, from writing and directing it, as well as giving a beautiful, mysterious, and squirm-worthy performance, and then topping it off by including vague self-referentiality through both Esther's photographs and the title's implication of the film being a completely personal, intimate work. This is indeed the effect, letting the audience in on an unusual path of self-searching. Though Esther never seems to find what she is looking for, if she is really looking for anything at all, her search is horrific and disturbingly, revealing that self-satisfaction may only come from within.