The Ghost Breakers

UCLA Film & Television Archive presented
The Ghost Breakers
last night as part of its "Archive Treasures" series. As they explain it: "Archive Treasures, sponsored by the Ted Mann Foundation, is dedicated to recreating the classic 'night at the movies' that drew peak audiences during the heyday of the Hollywood era. Each program will team newsreels and shorts with choice selections from the vaults of the UCLA Film and Television Archive, and present original and restored prints in their full glory on the silver screen the way they were meant to be seen."
A fun idea, and I'm really glad I went. The evening started with a Warner Bros. cartoon short, "Malibu Beach Party," in which "Jack Bunny" invites the Hollywood elite to his Malibu home for a party. Hollywood stars with cartoon cameos included Jack Benny's wife Mary Livingstone (pictured), Bob Hope, Bette Davis, Claudette Colbert, Clark Gable, Carole Lombard, Fred MacMurray, Cesar Romero, Mickey Rooney, Astaire & Rogers, and lots more -- some of them I didn't recognize.
After the cartoon was a short subject called "London Can Take It," depicting life in London during the blitz, narrated by war correspondent Quentin Reynolds. Presented with no musical score, and in fact no sound at all except the sounds of the planes and the bombs, and Reynolds's quiet narration, it was a very moving portrayal of courage, and I'd imagine very effective propaganda in 1940 when it was first shown.
Then a newsreel, also all about the war in Europe, which then segued into a review of the US troops and their superior Navy and air forces, which elicited a grim chuckle from those of us who knew what was coming just a year or so later for that American Navy.
And then the main feature – the Bob Hope/Paulette Goddard horror-comedy spoof
The Ghost Breakers
. The print was not as good as I was expecting -- there was a line down the middle of the picture the entire time, and lots of missing frames which could be quite jarring, and one or two scenes were pretty spotty. But I'm not a huge quality hound anyway, as long as it's in focus and I can hear it, I'm usually happy enough as long as the movie is good.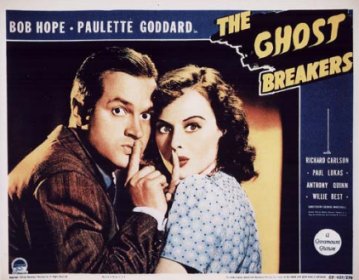 And the movie IS good. This is probably my favorite Bob Hope movie so far, just edging out
The Lemon Drop Kid
and
Sorrowful Jones
. In the
Road
movies, and in fact in most of Hope's comedies, he has a habit of dropping in-jokes and breaking the fourth wall -- sometimes it's funny, but after watching about four or five of his movies earlier this year I found myself wishing he would just play a character straight for a change -- he might actually be a pretty good actor if he did.
The Ghost Breakers
is one of the few movies where he does just that -- plays the role straight, no relying on jokes about Paramount, Crosby or Pepsodent (his radio sponsor) to get by.
Paulette Goddard is Mary Carter, a woman who has inherited a haunted castle in Cuba. She doesn't believe in the ghosts that haunt it, and she ignores death threats and handsome offers of remuneration -- she's determined to go to Cuba to see her castle. Hope is Lawrence Lawrence Lawrence ("my folks had no imagination" – he goes by Larry Lawrence), a radio gossip columnist who, through a series of improbable mishaps, believes he has murdered a man and is trying to beat a hasty retreat. He ends up going to Cuba with her (as part of her luggage), and when he starts to get the feeling she is in danger, assigns himself as her protector and official "Ghost Breaker."
Almost all the best lines go to Alex, Hope's manservant (Willie Best), who does an awesome job with the material, despite the fact that Alex is portrayed with all of the racial stereotyping of the time.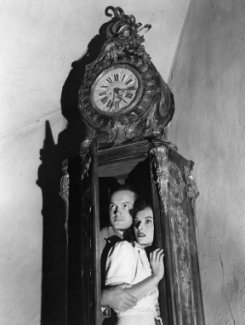 There were not a lot of laugh-out-loud moments, which surprised me. It turned out to be a pretty effective blend of light comedy, thriller and mystery. Aside from most of Alex's lines, the biggest laughs of the evening came from an accordion-folded travel brochure, and Hope's and Goddard's failed attempts to read about the "flashing-eyed senoritas" of Cuba.
LARRY: "Flashing-eyed senoritas" (turns page) "-- with red peppers and spices..." Is that legal? (He refolds the brochure and tries again) "Flashing-eyed senoritas" (turns page again) "-- spread out Continental style over the sidewalk."
MARY: (takes the brochure, refolds it) "Here we go. Flashing-eyed senoritas" (turns page) " -- equipped with red and green flashing lights to control the traffic."
Also this little throw-away line drew a surprisingly positive reaction for a UCLA crowd:
JEFF: "Zombies have no will of their own. You see them walking around with dead eyes, following orders, not knowing what they do, not caring."
LARRY: "You mean like Democrats?"
Hope was good and very consistent, Goddard was stunning and beautiful as usual. Anthony Quinn was menacing in his role of "the heavy." The pacing was quick but not forced. A delicate balance is required here – comedy goes fast and thrillers take their time. George Marshall did an admirable job of blending both, although I did find myself wishing they would get to the castle already.
There were a couple of things I didn't get, like who was the zombie and what was he doing there in the first place, for example, but overall, a fun night at the movies for Halloween.
For anyone in the L.A. area, there are a lot of good movies coming up this month at UCLA, including a month-long tribute to Frank Borzage, and five days of Erroll Morris – which I can't find on the damn schedule, unfortunately. Check out the schedule
here
.